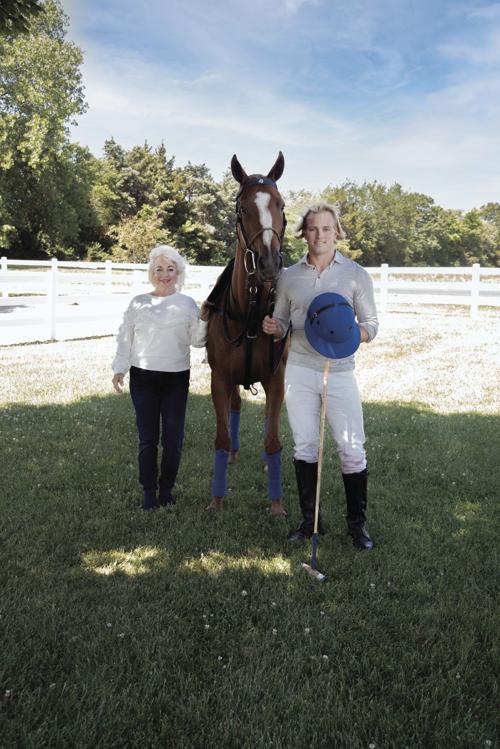 A treasured tradition in St. Louis, the Old Newsboys organization is bringing back the annual in-person polo match, in an effort to raise funds for at-risk children who are supported by local charities.
"Old Newsboys donates to over 150 children's charities throughout the St. Louis area," says Gussie Busch, event co-chair of the polo match. "These are children who need basic human necessities … that most people take for granted."
His fellow co-chair, Missy Hill concurs: "That need has always been there," she says. "These charities need food, school supplies, beds, blankets – nitty-gritty items."
The 2021 charity polo match benefits Old Newsboys, and promises excitement for all in an open-air environment.
"The star attraction is the polo match," Hill says. "It's exciting to have Gussie Busch, a world-known outstanding polo player, … on the field [and] also heading up the event."
Busch will join some of the best players from around the country, according to the sportsman, on one of the top fields in the world at August Busch Polo Club in Defiance.
"I find polo to be an extremely exciting sport," Busch says. "These magnificent, 1,000-pound animals run up to 30 to 40 miles per hour, making the sport not only a thrill to play but also to watch. The competition on horses is unlike any other."
Hill credits Busch for the addition of a band to close out the day's events. "My co-chair is young and vital, and has fresh ideas," she says. Griffin & The Gargoyles will take the stage at 3:30 p.m., post-game.
Open to all, the polo match can be experienced in a multitude of ways, from an all-inclusive VIP tent to tailgating field-side to $25 per carload tickets, which offer seating in the grandstand or picnic-style on the lawn.
Expect fun for all ages, including a children's area, complete with bounce houses and activities, and a friendly competition for adults to see who will win for sporting the most creative hat, or "Top Topper."
Included among the attractions will be a special ceremony to honor this year's "Sweetheart Award" recipients, Jay and Maria Shields. "This is our second year giving this award, and we are so thrilled that Jay and Maria have accepted this, because no one is more deserving," Hill says.
The Shields have been devoted to the cause for more than two decades, note the co-chairs. Jay Shields was first recruited to lead the Old Newsboys' Business Edition leaders and President's Club members, notes Busch, the latter of which Shields founded.
"Old Newsboys is a charity that is extremely close to my heart," Busch says. "My family has been involved for many generations, beginning with my grandfather, August Busch, Jr., who was always proud to support and sell newspapers on Old Newsboys Day.
"My father, Billy Busch, followed in his footsteps and became chairman of the charity for multiple years. His dedication to the cause and his selflessness to the community is always something I have admired. My family and I have been honored to host the Old Newsboys Polo Match and [we] hope to continue this great tradition for many years to come."
And, if after the match, guests are still itching to pay court to the "sport of kings," they can contact augustjbusch@aol.com for polo lessons at August Busch Polo Club, Busch adds.
"People like Stan Musial, August Busch, Chuck Knight, Lou and Jackie Brock, William Danforth, the Schnucks, Ted Wetterau, Billy Busch, Marilyn Fox – key St. Louisans – supported the organization as campaign chairs," Hill says. "With outstanding leaders who want to see the children in our community be healthy and happy and have all things they need, this charity has been able to stay going for 65 years."
Take part in the tradition on October 3.