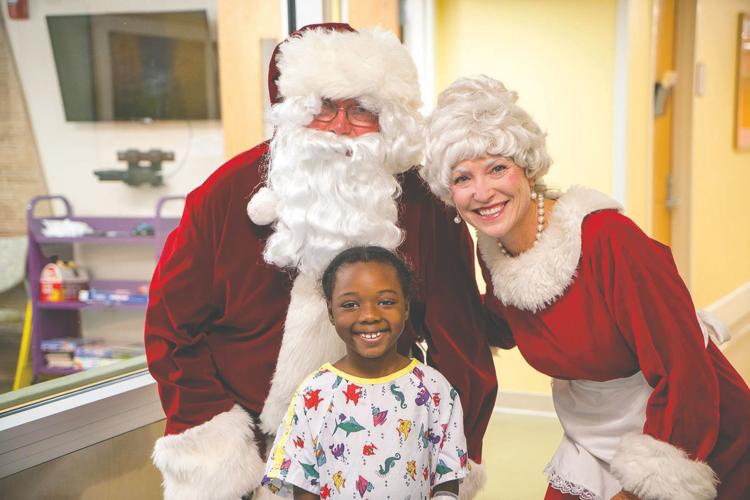 Love Light Festival: This annual celebration takes place on the Tuesday after Thanksgiving at St. Louis Children's Hospital to bring the joy of the holidays to its young patients. Fredbird, Disney princesses, Santa, big-league athletes and more visit the children for a special day, with one patient chosen to pull the master switch and officially turn on the hospital grounds' holiday lights.
Mission: For more than 100 years, St. Louis Children's Hospital has been doing what's right for kids. The nonprofit hospital enlists the charitable support of a growing community of donors to become Guardians of Childhood. "Thanks to donor support, we are able to protect childhood moments and allow kids to be kids even while in the hospital," St. Louis Children's Hospital president Joan Magruder says. "That includes playing with dogs, losing themselves in games, art and music or laughing with our clown docs."
HISTORY
In 1879, downtown St. Louis welcomed St. Louis Children's Hospital, the first children's hospital west of the Mississippi River and the seventh oldest in the country. Founded by a group of eight pioneering women, it opened in a small space – a rented house with only 15 beds. Today, St. Louis Children's Hospital has clinical and community outreach programs that touch more than 250,000 patients annually.
COMMUNITY IMPACT
St. Louis Children's Hospital not only serves children and families from St. Louis but also aids children across the world. It offers nationally recognized programs for physician training and research as the pediatric hospital for Washington University School of Medicine. Children receive special therapies and programs unique and tailored to them, thanks to support from donors and volunteers. Donor funds also support community outreach programs, such as Healthy Kids Express, which reach more than 10,000 children each year. With the help of donors, the hospital is proud to say it has never turned away a child based on a family's ability to pay for services.
Pediatric care is complex, requiring state-of-the-art medical equipment and supplies to accommodate the tiniest premature babies to teens on the verge of adulthood. It requires care teams with specialized expertise and child-friendly facilities. It requires special services to meet the unique psychological and emotional needs of children while providing support to their families. And it requires pediatric research to advance care for tomorrow's children.
Philanthropy covers the cost of programs, services and treatments, which are proven to improve patient outcomes. All of these valuable resources are ineligible for reimbursement by insurance companies, yet through donations, are made accessible to those who will benefit from them the most. The hospital can then make decisions, not according to what makes fiscal sense, but based around what is in keeping with its children-focused mission.
ON THE BOARD: PATRICK KOZNEY
Patrick Kozeny, president and CEO of Kozeny Wagner, found the decision to join Children's Hospital Foundation as development board chair "an easy yes." After all, he witnessed firsthand St. Louis Children's Hospital's complete dedication to its patients. "My daughter, our middle child, was diagnosed in 2005 at the age of 10 with brain cancer," Kozeny says. "Elizabeth was vacationing to see her cousins in Santa Monica at the time, and we had no connections back here for care."
It seemed, however, Kozeny's daughter was in the right place at the right time. "When we met with the team of professionals at the Los Angeles Children's Hospital, they were happy to hear where we were from because the chief oncologist's mentor, Dr. Josh Rubin, had just moved to St. Louis Children's Hospital," Kozeny explains. "We met with him, and he orchestrated our daughter's care with Siteman Cancer Center and St. Louis Children's Hospital. Fast-forward to today, and my 21-year-old daughter is a thriving student, thanks to the hospital team."
The hospital's commitment to children became evident to Kozeny as he watched Rubin comfort his daughter during her first spinal tap. He recalls Rubin taking a unique approach to avoid the use of heavy sedatives. The doctor shared a story from his childhood about an adventure he took on his farm with his four dogs, a family of rabbits and a raccoon. As his daughter fell peacefully asleep during her procedure, Kozeny recognized the compassion he had witnessed, given by Elizabeth's medical team, was a hospital standard. St. Louis Children's Hospital set the bar high for health care – and he knew just how to show his appreciation for that kind of dedication.
"My company holds an annual golf tournament in which St. Louis Children's Hospital is one of the beneficiaries. We've raised $100,000 in the last five years," Kozeny shares. "From 2013 to 2015, I became chairman for the fundraising effort known as KIDstruction Week. It's an idea developed to be very simple for those in my industry. We ask people to donate $1 for every hour they work on just one week out of the year. We've raised more than $400,000 in the last year, with 152 companies and 2,400 individuals donating." Kozeny attended Christian Brothers College High School and earned his business degree from Maryville University.