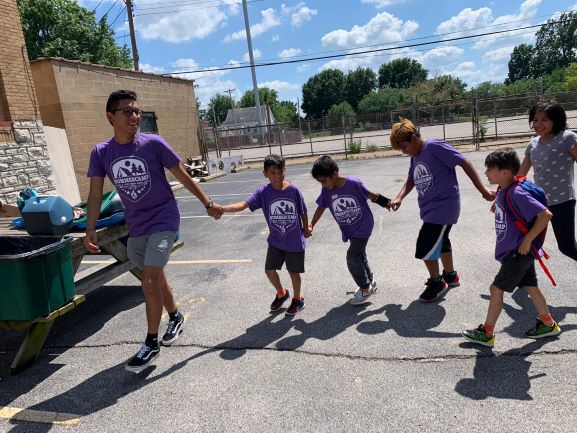 Mission
In times of crisis, communities need to support their most vulnerable members. The mission of St. Francis Community Services is to create opportunities, build resiliency and advocate for justice in impoverished areas in and around St. Louis.
Founded in 2011, St. Francis Community Services offers free legal representation for people in poverty through family law, immigration law, and housing justice. The organization also provides bilingual services to immigrants, including mental health counseling, youth programming, tutoring and case management.
"[We] help families overcome poverty and become self-sufficient," says executive director Karen Wallensak. The organization works in the same region as the Archdiocese of St. Louis throughout St. Louis city, county and nine surrounding counties. "We reach out and serve people of all faiths in [those] areas," Wallensak adds.
Currently, the COVID-19 crisis has caused St. Francis Community Services to pivot and offer their services online and through video chat. The organization is supplying families that would not normally have access to the necessary technology with the equipment they need for virtual therapy or tutoring.
"Our staff has been really creative in finding a way to work with our clients," Wallensak says. "Our art and music instructors have had sessions with children via Zoom. The children have created amazing art in this time."
Seeds of Hope Virtual Fundraiser
When the stay-at-home order hit in March, St. Francis Community Service faced a difficult choice regarding their summer fundraiser.
"We were concerned about the wellbeing of our supporters [but] didn't want to postpone or cancel – this was too important to our agency," Wallensak explains. "The only way to have some certainty was to have it online. We want our guests to have fun but not put themselves at risk doing that, and still [be able to] support a great cause."
The virtual Seeds of Hope fundraiser will be held on Saturday, June 20, and the platform link will be live the Friday before. The program begins at 6 p.m. after a 5 p.m. live stream of a virtual Mass and will include live music and the presentation of the Instrument of Peace Award to Archbishop Robert Carlson. Raffle tickets for various travel packages, all redeemable within the next two years, are available for purchase online prior to the event.
For those unable to attend the digital event, the St. Francis Community Services website also has a tab for donations. "We're very grateful to the community," Wallensak says. "We're determined to continue our mission – and we really need the community support to help our clients as they regroup. This year more than ever."
St. Francis Community Services, 4445 Lindell Blvd., St. Louis, 314-932-3300, sfcsstl.org, sfcs@ccstl.org
---
WHAT/WHEN/WHERE
Seeds of Hope
Virtual Fundraiser
Saturday, June 20
6 to 8 p.m.
How to get involved: For more information, visit sfcsstl.org/seeds20.
Be the first to know
Get local news delivered to your inbox!