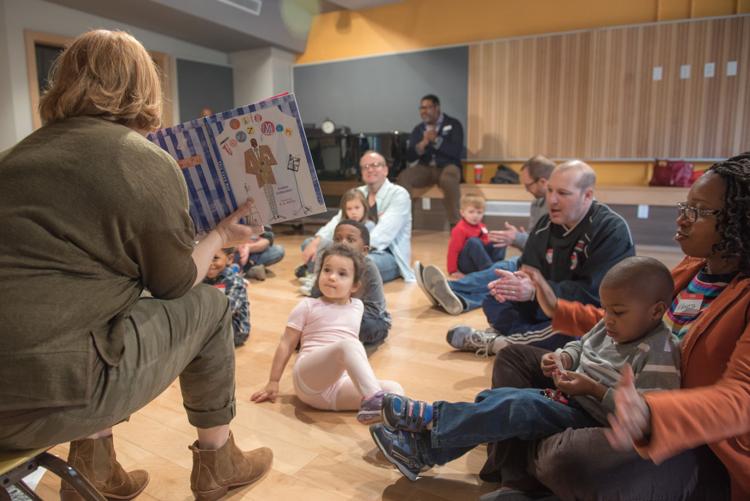 There's just something about jazz that gets your feet to tapping and fingers to drumming. It makes you want to sway to the rhythm and get swept up in its diverse sounds. What better way to incorporate the invigorating qualities of jazz into your life than through your child's education? Jazz St. Louis presents that unique opportunity through educational programs, like WeBop, an 8-week lesson plan introducing children, ages 3 to 5, to the world of jazz.
"The focus isn't on teaching the mechanics of music. It really is more of a social development program," Phil Dunlap, director of education and community engagement at Jazz St. Louis, explains. "The 45-minute classes serve the purpose of strengthening the bond between child and caregiver."
This multi-purpose exposure to the music genre creates a partnership between child and caregiver as together they learn different forms of expression. "This [Fall] term, the ABCs of Jazz will cover specific jazz concepts, including swing, the blues and improvisation," he says. "We will explore those concepts through the music of important individuals, such as Louis Armstrong and Duke Ellington. Each week will feature different music and artists."
A new term brings a new focus with it. The 2016 spring term highlighted specific artists to give children a lesson in some of the jazz greats. "The kids get to add lyrics to a song by a jazz artist, which really connects all the concepts [we're teaching] together," Dunlap says. "Last term, the students added the ABCs to a John Coltrane song."
Students work through a storybook based on the new term's theme. Beginning and ending with a song, every day incorporates music designed to encourage participation and self-expression. In the middle of the lesson, an opportunity to create and explore each child's favorite form of expression arises. "During Move, each child gets to pick how they want to move. The song and movements that follow are reflective of that choice," Dunlap explains.
A pianist and teacher lead each class, with the exception of a couple of weeks. "The [band weeks] are always fun, cool weeks," Dunlap says. "The instruments and musicians chosen make up a standard jazz quartet, with piano, trumpet, bass and drums. The live band takes over the classroom and follows the same [lesson plan]." Two out of the eight weeks promise interactions with the live quartet, giving children a feel for how the music they've been learning about can all come together.
"The program is very interactive. Kids are always moving, always participating – and music is involved in every aspect of each class. It was created by Jazz at Lincoln Center in New York City, where teachers attend training. We do a lot of work with them through various programs and it is my desire for Jazz St. Louis' educational programs to have something for all ages," Dunlap says. "Ideally, kids can start with us in elementary school and stay with us all the way through high school…maybe even college graduation."
Learn more about Jazz St. Louis by visiting The Harold & Dorothy Steward Center for Jazz at 3536 Washington Ave. or calling 314-571-6000. To register for WeBop, visit jazzstl.org.
WeBop at Jazz St. Louis. 2016 Fall Term: The ABCs of Jazz
September 28 to November 19. Registration now open at jazzstl.org.