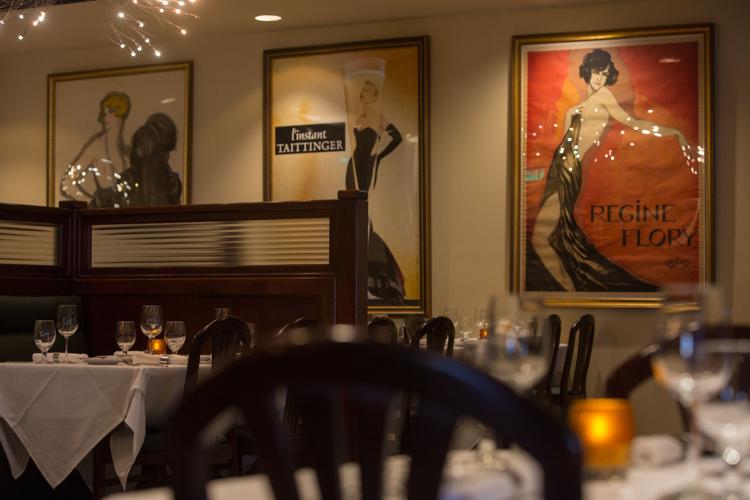 In May, Herbie's Vintage 72 in the Central West End announced plans to move to Clayton and take over the historic Cardwell's space at the southwest corner of Brentwood and Maryland. Owner/chef Aaron Teitelbaum says when the restaurant's lease was up in the Central West End, the opportunity came up.
"It was one of those business opportunities we couldn't pass up," he says. "Because of the location and the facility, it was just like a perfect storm for us to make the move."
One big draw for Teitelbaum and his team was the 100-seat patio the new space in Clayton offers.
"Having a patio is huge for us, and it's something we didn't have in the Central West End," he says.
In addition to the patio, the Cardwell's space consists of the main dining area, four private dining rooms and an expanded bar.
"I really think the décor has become a meld between what was Cardwell's and what Herbie's is and was," Teitelbaum says.
So far, feedback on the new space has been "better than we could've hoped for," he says. "The team has jelled, the food is coming out in a professional manner, and we've heard comments that the atmosphere is unmatched."
Teitelbaum notes that New Year's Eve will be special at Herbie's, with a festive environment and a Champagne toast at midnight, along with the special menu that will be available.
"New Year's Eve is full of special-occasion-type food," says executive chef Chris Vomund. "We'll do a special presentation on lobster, along with multiple oyster specials to give that rich, warm feeling you need to start the new year off right."
Aside from the holidays, the restaurant's menu has turned into a "great seasonal representation of what Herbie's has always been about."
Vomund notes that although there are a few changes, the classics are ever-present. For lunch, they took some of the Cardwell's favorites and incorporated them into the menu. Lunch also consists of fantastic salads and a smoked-brisket grilled cheese "that's almost selling out every day."
"We have all the menu items people have become familiar with, along with seasonal changes to go with the classic dishes," Vomund says.
Teitelbaum says the Herbie's crew is enthusiastic about how unbelievable the welcome from the city of Clayton has been.
"It's been busier than we expected, and we're very excited," he says.
8100 Maryland Ave., St. Louis, 314-769-9595, herbies.com