April showers bring May flowers, but sometimes those showers also bring cantankerous kids longing to play outside. So while you're waiting for the sun to shine again, keep touchy tykes busy with books celebrating the rain. These stories, chosen to intrigue and enchant children of all ages, may fire their imaginations and inspire indoor rainy-day fun.
For the youngest kids, consider Rain, Rain, Go Away! by writer/illustrator Caroline Jayne Church. This board book sports a dazzling, shiny foil cover, and its sturdy pages should hold up through repeated readings under eager toddler fingers. Despite its sparse text, Church's endearing illustrations offer many colors, textures and characters that may inspire attention and discussions. Even the littlest listeners should joyfully anticipate the final "Hooray!" and may follow that exclamation with the request to read Church's book again!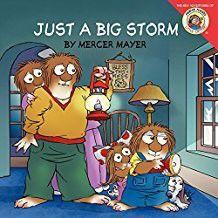 Mercer Mayer has been captivating preschoolers with his stories and art for more than 50 years. Following the well-known characters in his Little Critter series, Just a Big Storm reminds readers that inclement weather can be seen as fun and exhilarating, though perhaps a bit scary. Told from a 4-year-old "boy" perspective, the book shows the excitement and feigned bravery of Little Critter as he, his sister and his parents gather tools to weather a storm and subsequent power outage.
Children should relate to Little Critter's uncertainty as the wind upends sturdy objects outside the window, his pride at helping his father ready the wood stove and the thrill he feels playing flashlight games with his sister in a dark living room. Really – what child wouldn't want to camp out in front of the fire while dad tells ghost stories and mom gives tight hugs?
Mayer has a gift for capturing the magic of everyday occurrences and the innocence of childhood, allowing adults to reminisce and relive the simple joys of family and love.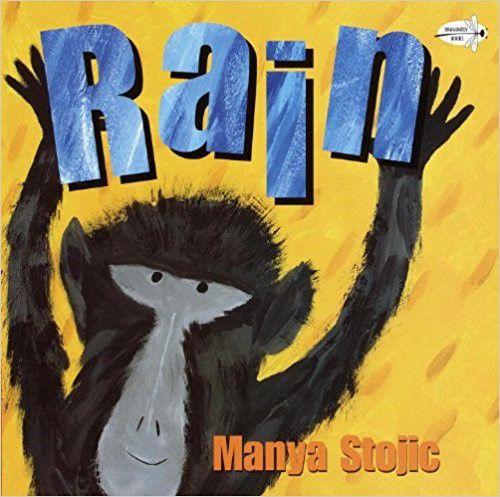 Rain, this month's third recommendation, marks a beautiful debut picture book from writer/illustrator Manya Stojic. Telling the story of long-awaited precipitation on the parched African savannah, Rain introduces readers to a land much different from ours and the wildlife that lives there. Stojic uses bold text in various sizes to convey emotion and intensity, and the illustrated anthropomorphic animals aptly embody those emotions.
This multifaceted concept book offers something for every age: Toddlers should be attracted to the bright, saturated colors of the painted illustrations and the myriad of animals pictured; preschoolers should discover and gleefully recite the building and repeating refrains of the animals' sensory clues to the impending storm; and school-aged children should recognize the passage of time, the changes in landscape and the importance of rain to the entire habitat. This beautiful book should continue to enthrall children as they grow.
At Ready Readers, we know that "Kids Who Read Succeed!" Visit our website (readyreaders.org) to learn how you can support our efforts to ensure a brighter future for our community's most vulnerable children by providing new books, early literacy experiences and more.