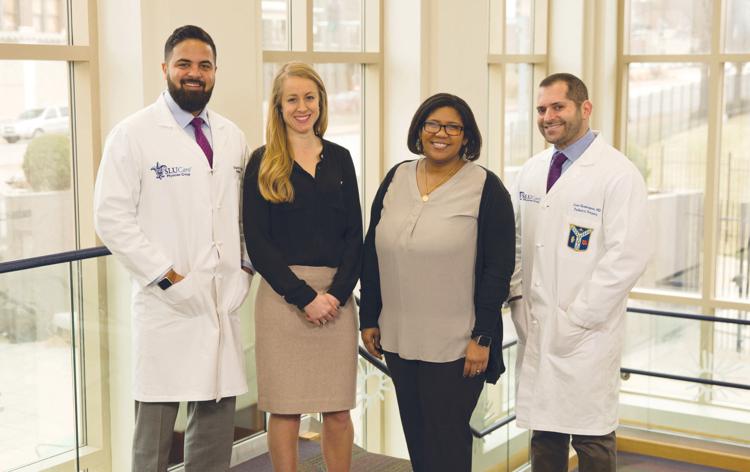 A staple of the medical landscape in St. Louis, SSM Health Cardinal Glennon Children's Foundation helps to launch pioneering programs for patients at SSM Health Cardinal Glennon Children's Hospital. The nonprofit organization recently played a pivotal role in introducing the first adolescents-only bariatric surgery program in Missouri.
Serving ages 13 to 21, this trailblazing initiative utilizes a multidisciplinary team to address an issue that afflicts many youths into their adulthood: obesity. Tackling weight management from an early age can positively affect related health problems, such as diabetes and sometimes even depression.
"Many patients have tried plenty to lose weight," says Dr. Jose Greenspon, one of the two pediatric SLUCare surgeons in the bariatric program. "They had no success and don't understand why. The operation almost resets their metabolism. In a week, some patients are off medications that they have been taking for years, and cholesterol [typically] goes down quickly."
Program participants undergo an extensive review to determine their best weight-loss maneuver. Most often, SLUCare surgeons perform a sleeve gastrectomy to reduce the stomach to 15 percent of its original size. The surgery is considered less invasive and offers a faster recovery time than the familiar gastric bypass, although the latter procedure is recommended in rare cases.
"Being a pediatric facility, we naturally take care of the patient and their family," nurse practitioner Cierra Crowley stresses. "It's not just patients who are going through this – it's the whole family."
SSM Health Cardinal Glennon differs from other hospitals by offering a bariatric program that focuses only on the adolescent population to better serve this unique age group. "Adolescents face a different social stigma," Greenspon explains. "Many lag in emotional maturity. Before we consider a candidate for surgery, we make sure everything at home is optimal for them to succeed after [the procedure]."
The program's multidisciplinary team comprises the SLUCare surgeons alongside other medical professionals, including psychologists, dietitians and nurse practitioners. Together, they educate patients and their families on best diet practices and ways to incorporate fitness into their daily routines – all before going under the surgical knife.
"We are helping families to change their lives for the better," Crowley says. "Watching them grow and gain confidence as they take control of their lives is just amazing."
Without the impressive fundraising efforts of SSM Health Cardinal Glennon Children's Foundation, this new advancement in pediatric care might not exist. Contribute to the nonprofit organization, and you, too, can make a difference in the health of the St. Louis region.
SSM Health Cardinal Glennon Children's Foundation, 3800 Park Ave., St. Louis, 314-577-5605, glennon.org