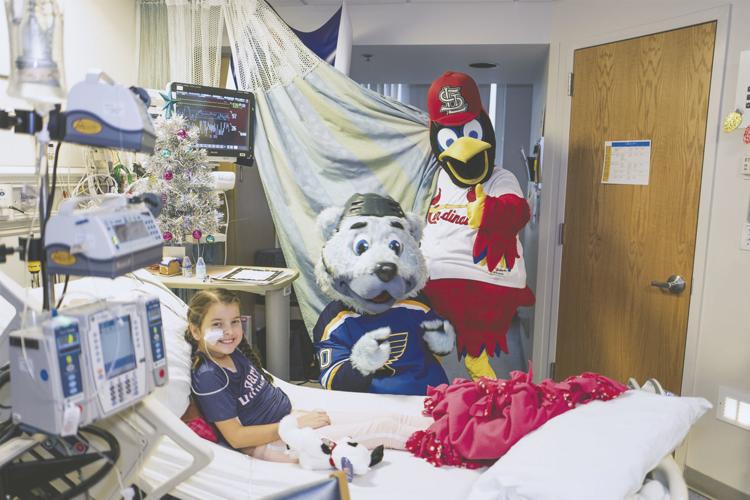 History
A light in the window. A light through the storm. A light to bring peace in dark times. Lights offer warmth and inspire hope worldwide, especially throughout the winter months. At St. Louis Children's Hospital, that significance burns even brighter.
The first children's hospital west of the Mississippi is also the seventh oldest in the country. Founded by eight pioneering women in 1879, St. Louis Children's Hospital grew from a rented house with 15 beds to treating 250,000 patients annually.
Over afternoon tea, the founders of the hospital discussed a bold idea: to build a center for care that catered solely to children. From its conception to today, St. Louis Children's Hospital remains dedicated to doing "what is right for children."
Community Impact
Each year, St. Louis Children's Hospital shines a light on the wonderment of childhood by hosting a special festival to bring holiday cheer to its young patients and their loved ones.
"Love Light [fosters] excitement through the lighting of the hospital," says Christy Merrell, music therapist and team lead for the 2018 Love Light festival. "Not only are we providing these children with the utmost professional healthcare, but we are also giving them an opportunity to be kids."
Famous faces, in both local sports and entertainment, pop by to join in the celebration and to bring joy. "The biggest thing for me is [seeing] the faces of the patients and their families as celebrities come through," shares Merrell. "There are favorite characters like Peppa Pig and PJ Masks, Santa, and Louie from the St. Louis Blues and Fredbird from the St. Louis Cardinals – always a big hit."
The hospital's outstanding care encompasses both the emotional and physical well-being of its patients. It also leads the medical field nationwide in total pediatric organ transplants and worldwide with the largest pediatric lung transplant program. In addition, the hospital has been recognized for its newborn intensive care and as the country's most comprehensive cerebral palsy center.
"I appreciate our outreach and impact on the community," details Merrell. "Our transgender clinic is the only one in the region. We're making huge strides in [offering resources] to a diverse [population]. I'm proud to work for an organization that does what's right for kids."
St. Louis Children's Hospital, One Children's Place, St. Louis, 314-454-6000, stlouischildrens.org
---
Love Light
Tuesday, Nov. 27 at St. Louis Children's Hospital
The Love Light festival kicks off the holiday season, with the support and collaboration of the Friends of St. Louis Children's Hospital and the Child Life department. Entertainment and a festive meal comprise the evening, ending with an inspiring ceremony and special lighting of the hospital's facade by one of its very own patients.
To learn more about making a difference during the holidays for children at St. Louis Children's Hospital, visit stlouischildrens.org/giving.