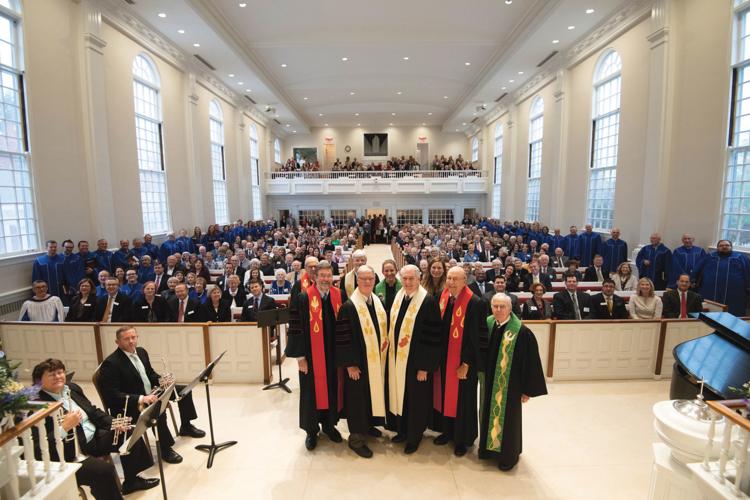 Advent Services & Programs:
At Ladue Chapel Presbyterian Church, all are made to feel welcome and included in celebrating the Christmas season. Beginning on Dec. 2, Watcher's Eve launches the season with a joyous start.
"There's a lot going on [at Watcher's Eve]," describes Rev. Anastassia Sharpe. "Teams [of decorators] set up the church's Christmas décor. We have Advent wreath-making, as well as crafts for the younger set. An in-house artist makes cards for our homebound members, which are then completed by the congregation and delivered along with poinsettias." In addition, attendees can participate in a worship service, followed by wassail and bells, and ending with a catered dinner.
For those experiencing sorrow during the holidays, the Dec. 5 Service of Remembrance provides an alternative form of worship for people who need space to lament. "People who are struggling often don't have a way to express that," shares Sharpe. "This is our way of acknowledging people's grief."
Christmas Services & Programs:
Bring the children to the Dec. 9 Christmas pageant for a fun program that showcases the talents of the youngest congregation members. At the Christmas Cantata on Dec. 16, soak up the beauty of the season.
"The cantatas are different each year," remarks Sharpe. "This year is Handel's 'Messiah.' Our music director, David Erwin, pulls in musicians from the St. Louis community. The score is played out [as if from] a choir of angels. It is phenomenal."
During the four-week season, a candle is lit in the Advent wreath at every worship service. Each candle symbolizes the light of God coming into the world through the birth of his son, Jesus Christ, whose candle – the Christ candle – is lit on Christmas Eve.
"These are beloved traditions and how we celebrate Christmas Eve," says Sharpe. "We move through gospel lessons on the birth narrative. During the final closing hymn, 'Silent Night,' the pastor lights his candle from the Christ candle, and then passes the light to the congregation. It is a very moving service."
This Christmas, come to Ladue Chapel Presbyterian Church, where a spirit of community welcomes all.
Ladue Chapel Presbyterian Church, 9450 Clayton Road, St. Louis, 314-993-4771, laduechapel.org
---
Advent Season at Ladue Chapel Presbyterian Church
Dec. 2: Watcher's Eve from 4:30 to 7 p.m.
Dec. 5: Service of Remembrance at 6:15 p.m.
Dec. 9: Children's Christmas Pageant at 10 a.m.
Dec. 16: Chancel Choir sings the Christmas section of Handel's "Messiah" at 11 a.m.
Dec. 24: Christmas Eve Candlelight Services
4:30 p.m.: Family Service with children's choirs
7 p.m.: Candlelight & Carol Service
9:40 p.m.: A Nativity Concert
10 p.m.: Candlelight & Communion Service
Dec. 30: Service of Lessons and Carols at 10 a.m.