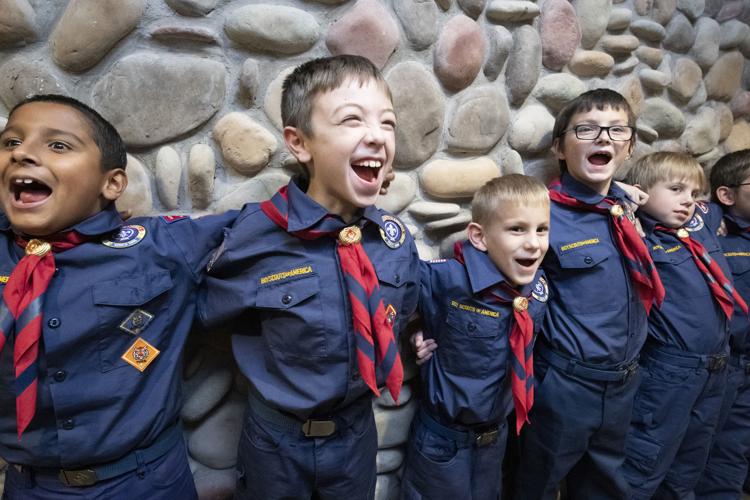 HISTORY
"When I look at the world today, I see such a need for the development of our youth," says Mark Burkhart, board president of the Greater St. Louis Area Council of the Boy Scouts of America (BSA). "I believe that this Council has, by far, the greatest youth development program across the organization," he declares.
As one of the nation's largest BSA-chartered groups, the Greater St. Louis Area Council serves almost 70,000 youth across 63 counties in Missouri and Illinois. In 2017, the Council joined with the Metro East's Lewis and Clark Council and it is now in the midst of another merger, this time with Lincoln Trails Council of Decatur, Illinois. "The Greater St. Louis Area Council is run very efficiently, with a great board and staff," affirms Burkhart. "We will continue to grow geographically because we have the foundation of leadership that is necessary for a successful council."
COMMUNITY IMPACT
While the great outdoors remain an integral part of scouting, the BSA's Greater St. Louis Area Council has grown increasingly focused on three specific initiatives: STEM education (science, technology, engineering and mathematics), workforce development, and urban and rural outreach.
The Greater St. Louis Area Council now provides more than 50 STEM and STEAM (science, technology, engineering, arts and mathematics) badges in subjects ranging from animation and architecture to nuclear science and public health. Last year alone, the Greater St. Louis Area Council offered 200-plus STEM-related activities at area organizations and BSA-owned campsites. "Our camps aren't just used during the summer," adds Dean Mueller, VP of development for the board.
The Exploring program also gives area scouts an opportunity to discover diverse career paths and to gain real work experience in fields such as aviation, business and healthcare, among others. More than 3,000 "explorers" across the region participate in the program, which counts local companies like Boeing, Edward Jones and Mercy as partners.
For Burkhart, the Greater St. Louis Area Council's efforts to reach out to young people living in urban and rural communities are especially vital. "Last summer, I had the opportunity to visit Beaumont Scout Reservation, one of our biggest camps," he shares. "There for the day were 500 inner-city kids from the St. Louis Public Schools. It was amazing to see these kids who had never seen a horse or explored a creek bed be out in Mother Nature. To me, making an impact on these kids will have such a positive effect on the greater St. Louis area, as well."
Programs and outreach efforts like these are made possible through funds raised from the annual Friends of Scouting (FOS) campaign. "The FOS campaign provides foundational support for everything that we do," says R.J. Crunk, chief development officer for the Greater St. Louis Area Council. This year's campaign raised nearly $3 million, and the Greater St. Louis Area Council seeks to meet, if not exceed, that number in 2019. "We're here to help youth of every kind," maintains Burkhart. "That's simply what the BSA is here to do. "
---
Annual Friends of Scouting Campaign
Beginning January 2019
This January, the Greater St. Louis Area Council will launch its annual fundraising campaign. Proceeds will help the organization further its mission of helping boys and girls build self-confidence, develop leadership skills and nourish their talents.
For more information or to support the Boy Scouts of America, visit stlbsa.org/give or call 314-361-0600.