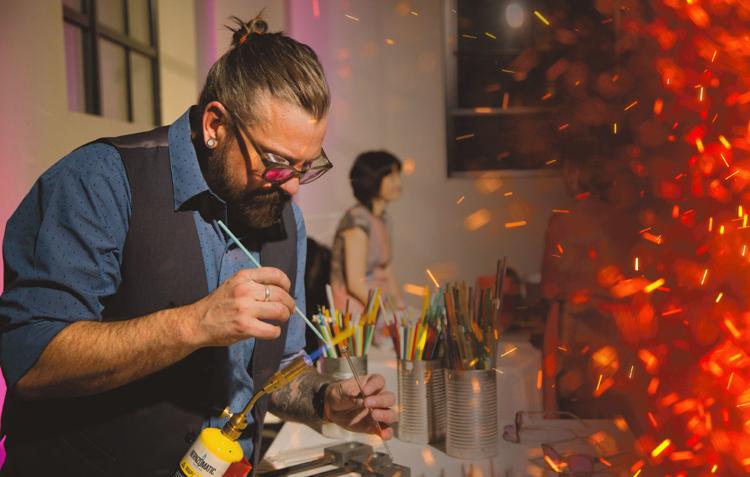 History
Craft Alliance Center of Art + Design is a nonprofit arts center in St. Louis. What began as a cooperative art gallery more than 50 years ago has expanded to offer workshops and classes, free community programs, a popular gallery gift shop and artist exhibitions and residencies. With a mission to educate, Craft Alliance focuses on its namesake – "craft" – or the creation of objects using metals, glass, fibers, woods and clay. There are workshops designed for all skill levels, all ages and all backgrounds. Adult classes, children's classes, summer camps and private lessons range from jewelry and metalsmithing, to silk scarf painting, wood turning and throwing clay on the wheel.
Community Impact
"Our goal is to make sure that everyone has the opportunity to be exposed to the arts," says Mark Witzling, Craft Alliance's executive director. He explains that Craft Alliance works with more than 20 schools in the area, providing student scholarships for art workshops and reaching out to underserved parts of the community like juvenile detention centers.
Craft Alliance offers programs like ArtSmarts, a free, three-visit opportunity that brings high school and middle school students to visit both the Grand Center and Delmar locations of Craft Alliance. "ArtSmarts serves students in the schools – we actually go to the schools and bring the students here to expose them to art – especially schools in the city or county where the art programs may have lost funding," Witzling explains.
Craft Alliance also offers a mentoring program called Crafting-A-Future (CAF) that provides concentrated education in craft media to high school students in the metro area who are seriously interested in the arts and want to hone their skills in contemporary craft and build a portfolio.
"To see a student touch and work with a material and create something that's never been created before – their eyes light up," Witzling says. "You've shown the student that they have real value."
Makers Ball
The Makers Ball, an annual evening of celebration benefiting Craft Alliance, is a gala with a goal. The event highlights Craft Alliance's commitment to community and provides a unique opportunity for partygoers to explore the wide breadth of programming and education the organization delivers.
Karen Foss, award-winning St. Louis broadcast journalist and patron of the arts, will be the honorary chair and emcee of the 2019 Makers Ball. Foss is even a former student of Craft Alliance workshops.
Appropriately themed On Fire!, an element that plays a role in a lot of different craft media, the 2019 Makers Ball will include live flaming demonstrations by local craft artists, live and silent auctions, and other surprises. Hopefully, this event will ignite passion in attendees to assist Craft Alliance's mission.
"The Makers Ball is important because the funds that are raised at the event go to support the programs that reach out into the community," Witzling says. "Craft transforms lives."
6 to 11 p.m. May 3 at Four Seasons Hotel St. Louis, 999 N. Second St., St. Louis
Dress code: Crafty cocktail attire
For more information, visit craftalliance.org/makers-ball
---
Craft Alliance Center of Art + Design, 6640 Delmar Blvd., St. Louis; 501 N. Grand Blvd., St. Louis, 314-725-1177, craftalliance.org