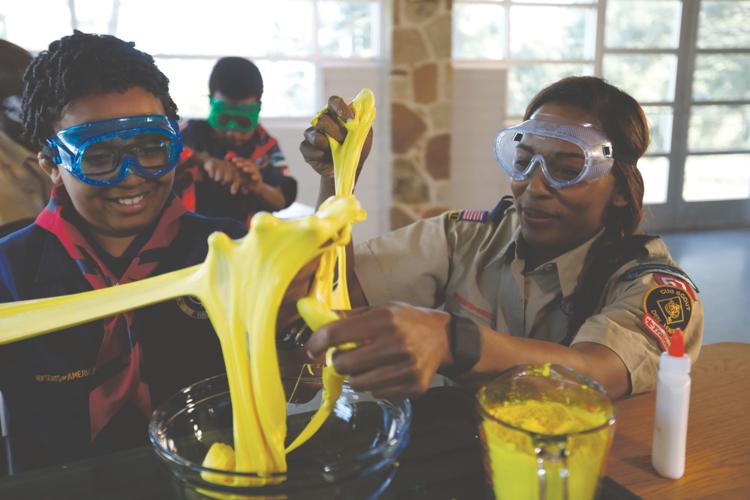 Many who hold the title of Eagle Scout, the highest honor awarded by the Boy Scouts of America [the BSA], look back at their time in the merit-based program with a great sense of accomplishment. One of the largest youth organizations in the country, the BSA examines its history of success in preparing youth for life as it builds hope for the future generations of America.
"For 109 years, the Boy Scouts has built character and citizenship through [teaching] life skills to the young people it serves," Tom Kroenung, director of workforce development, states. "[Incorporating a focus on STEM] has been easy to implement as it's a natural part of our advancement program."
Out of almost 140 merit badges that scouts can earn, close to a third are related to the fields of science, technology, engineering and math. The BSA introduces youth to exciting potential career paths, such as in robotics or rocketry, through partnerships with companies and universities, including Boeing, Microsoft, Edward Jones and Saint Louis University.
"We further [educate] through hands-on activities," Kroenung shares. "We help them identify their interests and aptitudes, and find that a lot of young people discover their niche."
The Greater St. Louis area chapter of the BSA currently serves approximately 5,500 children through its urban outreach program, with plans to expand to as many as 18,000 in the next five years, presenting unique opportunities in STEM-related fields that may have seemed out of reach.
"We raise money and reach out to donors to support the program," Claire Nordmann, assistant director of field service, explains. "Our target population is children in schools where 85 percent [of the student population is on a] free or reduced lunch plan. We have activities in housing developments, the Boys and Girls Clubs, St. Louis Public Schools and East St. Louis Public Schools."
The outreach program recruits, hires and trains program aids to conduct the scouting program in the more hard-to-reach communities. "We are excited about our partnership with Harris-Stowe University and hiring program aids or den leaders from the student population," Nordmann shares. "A number of these kids don't have consistent, positive adult role models that they can look up to and count on to be there. Scouting is about leadership and teaching life skills, but the most valuable thing we do is provide someone for children to look up to."
Community support can remove barriers for children to allow participation, which proves a critical part of how the BSA continues to operate.
"We can't do this job without the support and partnerships across the community," Kroenung says. "It allows us to give children the opportunities to participate in our program, which we believe builds the next generation of leaders."
Boy Scouts of America – Greater St. Louis Area, 4568 W. Pine Blvd., 314-361-0600, scouting.org