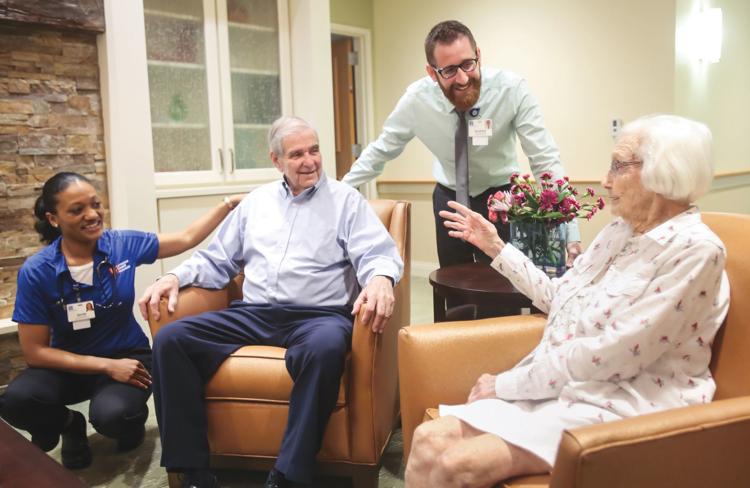 Older adults are at the heart of everything Mason Pointe does each day. That singular focus has long been a hallmark of Mason Pointe's parent company, Lutheran Senior Services [LSS]. As a trusted not-for-profit in the senior living industry, LSS serves older adults through senior living communities, short-stay rehabilitation, in-home care, affordable housing, community-based services and outreach programs.
"As part of LSS, Mason Pointe is focused on service excellence," says Drew Redman, executive director at Mason Pointe, the newest LSS senior living community. "We're on a journey of continuous improvement, always learning best practices that we can share across the organization. That's how LSS continues to grow in its service to seniors."
For Redman, it is all about learning. His education in senior living began after his formal education ended. "I had graduated from college knowing I wanted to be in healthcare," he says. "My grandparents lived in a nursing home, so I was interested in senior care. I was drawn to LSS because of its reputation. I reached out to the executive director at Breeze Park, another LSS senior living community, and that's where it all started."
Redman's entrance into the senior living industry began with an internship at Breeze Park. In his time there, he was continually impressed with LSS's dedication to residents and commitment to staff. In time, he would benefit from the latter, receiving training through the organization and finding new opportunities for growth. A short time later, he was promoted to administrator – first at LSS's Jefferson City communities and then at Meridian Village in the St. Louis metro area. He was later named director of clinical quality at the Home Office before assuming his current role at Mason Pointe.
In all LSS communities, Redman finds a common theme. "This is an organization that truly lives by Christian core values," he says. "We are faith-inspired and people-first. We always strive for service excellence, and we're responsible with the resources that have been entrusted to us. Most importantly, we serve with generous hearts. The fact that we are not-for-profit helps us check all those boxes, and it keeps our business plan and core values aligned. That's what has kept us growing for 160 years."
A 160-year tradition is nothing trivial. LSS understands senior living because it has helped to build the industry. Now one of the largest not-for-profit senior living providers in the country, LSS makes it a point to focus on the individual. Every resident of a senior living community, every client of home-and-community-based services and every guest of short-stay rehabilitation is part of the LSS story. All benefit from the organizational knowledge that has been built up over time.
To Redman, though, the organization's past matters less than its future. "I am confident in the future of Mason Pointe," he says. "Since we're not-for-profit, we constantly reinvest earnings back into our buildings, our programs and, most importantly, our people.
"We have one of the best staffing ratios in the industry, which means residents get lots of personal attention," Redman adds. "Our certified nursing assistants, our housekeepers, the individuals who make and serve the meals...these are the people who are closest to our residents. These are the people who have the greatest opportunity to make them happy."
And that is what it is all about, he says. "Our residents had wonderful, rich experiences before they came here. It's our job to make sure they have wonderful, rich experiences now. For so many of us at Mason Pointe, serving seniors is a calling – and a privilege."
Mason Pointe, 13190 S. Outer 40 Road, Town and Country, 314-434-3330, masonpointeliving.org