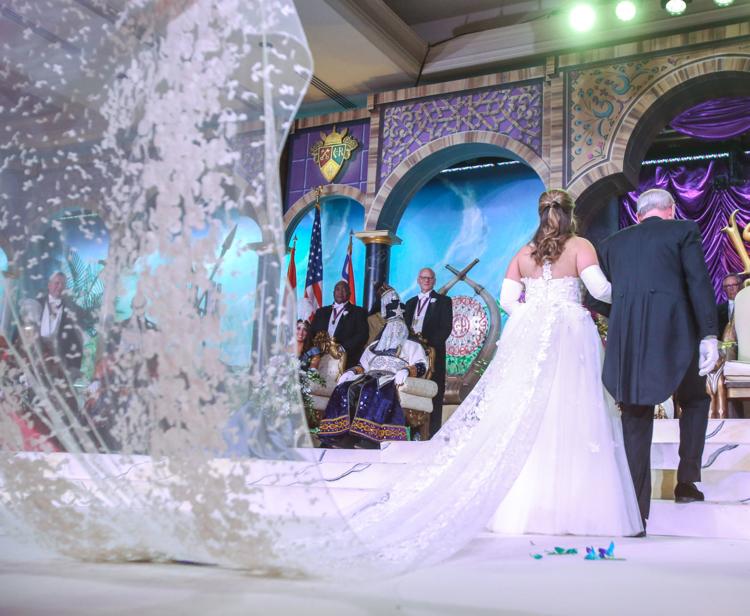 An ultraluxurious Italian tulle gown with hand-sewn, three-dimensional lace flowers and a 13-foot train wowed guests at the 2018 Veiled Prophet (VP) Ball on Dec. 22.
Months in the making, the 2018 VP Queen of Love and Beauty's dress was custom-created by St. Louis designer Emily Brady Koplar, founder of the Wai Ming design brand and a member of the Saint Louis Fashion Incubator for emerging design talents. "It's feminine and modern at the same time," Koplar says of the bespoke gown.
For the first time, the VP partnered with the Saint Louis Fashion Fund for the creation of the Queen's dress. Last spring, the incubator designers were asked to submit sketches for consideration for the VP Queen's dress, and Koplar's design was ultimately chosen by 2018 VP Queen, Miss Cecelia "Cece" Ann Fox.
Koplar, whose pieces have been worn by celebrities including Ellie Kemper, Emma Roberts, Jessica Alba, Kerry Washington, Taylor Swift, Emily Blunt and Carrie Underwood, compiled a look book featuring a selection of her most lavish red-carpet gowns and custom creations, as well as sketches of what she envisioned for the Queen's gown. "I wanted to see her in a beautiful gown that was modern, yet fresh and feminine," Koplar says. "I love updating classic lines with interesting fabrics and unexpected details."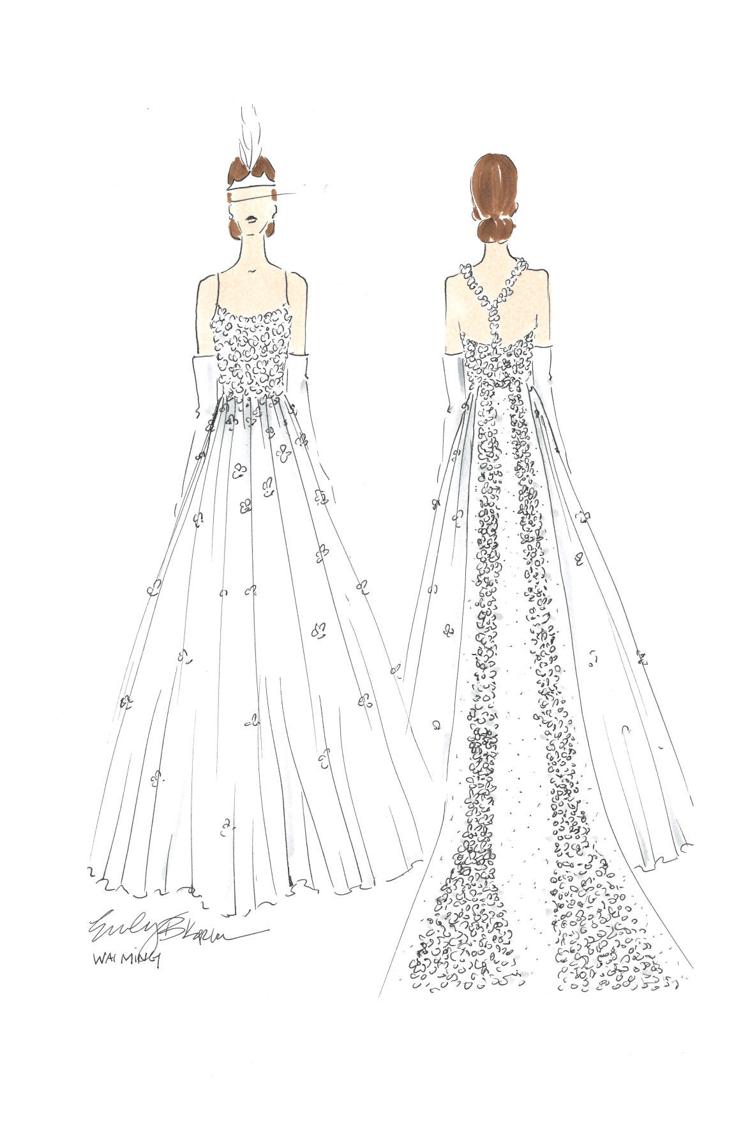 Koplar met privately with Fox and her mother, Lotta, last summer for an initial consultation. "Cece brought some inspiration images, and we discussed what she liked and disliked about different styles," Koplar says. "From there, I went to work and started sketching and sourcing fabrics. We knew that we would do something with a tulle skirt and floral detail."
After meeting with Fox for multiple muslin fittings – where a mock-up of the dress in less expensive fabric is cut and pinned to perfect the pattern and fit – the gown was ready for its VP Ball debut.
The stunning result was a design featuring a fitted scoop-neck bodice with hand-sewn three-dimensional lace flowers along its straps and a dainty Y-back detail, a full tulle skirt made with 30-plus yards of Italian fabric with hand-placed lace flowers dissipating in a scattered pattern, and a breathtaking 13-foot tulle train embroidered with three-dimensional flowers arranged in two long strips down its length, yielding a "slightly unexpected architectural nod in this very feminine look," Koplar says.
The goal was to go "above and beyond" in creating a custom gown that would be truly unique, make Fox feel confident and feminine, and stand the test of time, Koplar says. "We achieved something special with the simple, clean cut of the gown, combined with the exquisite fabric and beautiful back detail," she says. "I had such a wonderful time working with Cece and her mother – they are so warm and fun, and it's been such a rewarding experience getting to know them."
Koplar's contemporary, clean and feminine brand, Wai Ming – the designer's given middle name, meaning "gift of light" in Chinese – launched in high-end specialty boutiques in 2012 and offers bespoke design services on request. A fashion designer of more than a decade, Koplar loves collaborating directly with clients to make one-of-a-kind pieces, from gala gowns to red-carpet looks and bridesmaid dresses, which can be treasured for years to come.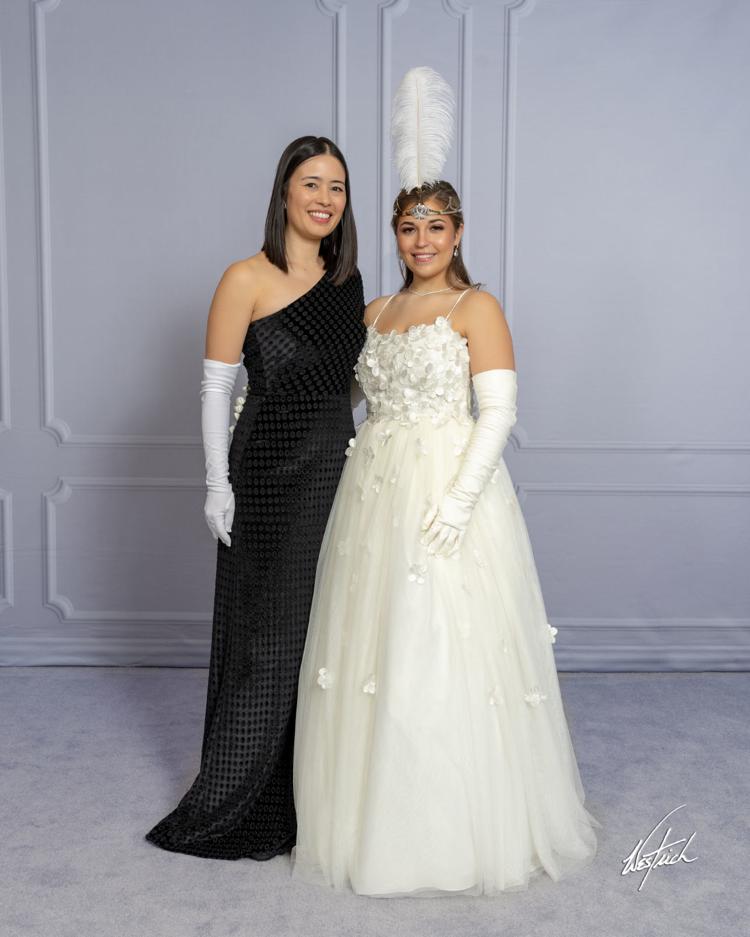 VP spokesman Matt Schumacher says partnering with like-minded organizations such as the Saint Louis Fashion Fund helps the Veiled Prophet achieve more across the region. "We are honored to collaborate with the Saint Louis Fashion Fund to help this diverse group of designers grow their businesses and spotlight the amazing talent in our region," he says.
The collaboration between the Saint Louis Fashion Fund and the VP was fitting, agreed Kathleen Bibbins, executive director of the Saint Louis Fashion Fund. "With the VP's history of celebrating the St. Louis community and the Fashion Fund's mission to enrich and re-create its historical reputation as a fashion and design powerhouse, the collaboration seemed like a natural fit," she says.
One of the key elements of the Saint Louis Fashion Incubator is to support emerging designers by providing design opportunities like this one with the VP, Bibbins says. "Having our designers considered to style the VP Queen's gown for this year's VP Ball, which in and of itself is one of the most preeminent fashion events in the region, has been a great example of the collaborations and connections the Fashion Fund has provided to the incubator designers," she says, noting that some of the incubator's other designers also created gowns that were worn by other 2018 VP Ball attendees.
Bibbins adds: "Our hope is this effort will attract additional interest and understanding of the Fashion Fund and the many opportunities it provides for designers, as well as the broader St. Louis community … and inspire others to get involved with the Fashion Fund and attend our many programs and events scheduled for 2019."