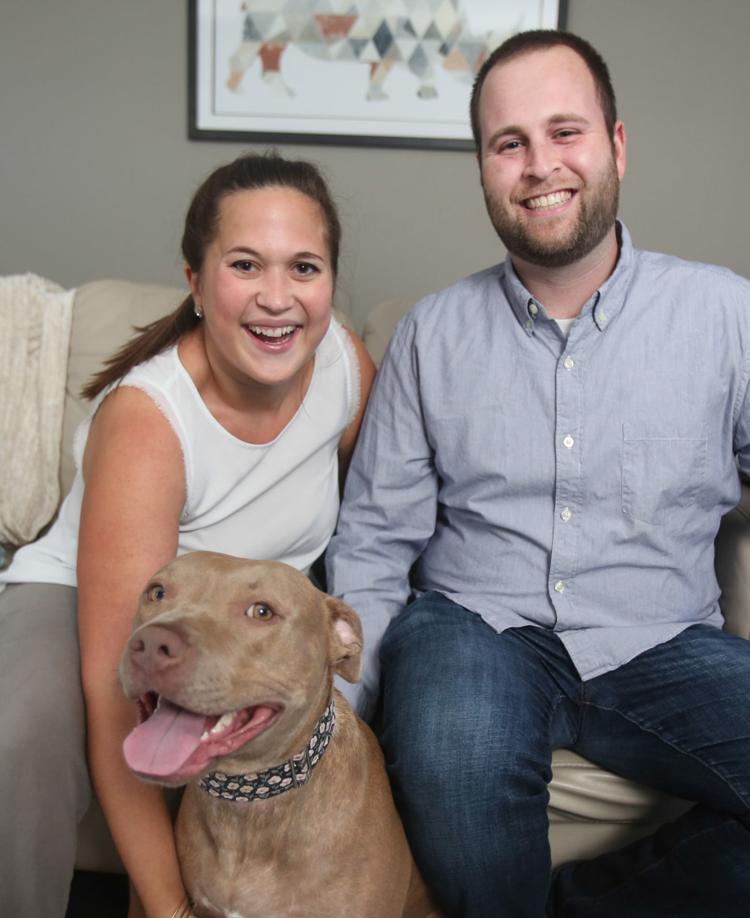 Once upon a time, Erin Mann wanted a dog. After she and her husband, Ben, got married, she wanted the next addition to the family to be a dog. Ben's family used to foster dogs when he was younger, but Erin's family didn't get a dog until she was away at college, and she wanted one of her own. She knew that she didn't want a puppy and that she wanted a pit bull mix of some sort from a shelter. Once she started perusing Petfinder.com, she discovered Even Chance Pit Bull Rescue. She saw two dogs that piqued her interest, and she messaged the group's vice president, Heather Roberts. Though the two dogs had been adopted that day, Roberts had another dog in mind for the newlyweds.
Fiona had been found running around East St. Louis with a pack of smaller dogs. She was brought to Even Chance and was adopted. Unfortunately, she was returned to Even Chance only a week later. The then-2-year-old pit bull mix didn't fit well with her previous family because of her high energy levels, but Erin and Ben were intrigued by the sweet-faced pup.
"We went to meet her and really liked her," Erin says. "She was super-hyper and chasing squirrels in the yard."
They didn't adopt her just yet, though. The Manns left for their honeymoon just two days after seeing Fiona at her foster family's house and decided to mull her adoption over while they were gone. The day they got back, though, Ben mentioned he wanted to go see Fiona again.
"We were ready to sign the papers and were going to adopt her on a Wednesday," Erin says. "But we got a call on Tuesday morning that there had been a fire at the foster family's house."
Fiona had been in a crate in the master bedroom, but if her crate had been anywhere else, she wouldn't have survived. She licked the firefighter who rescued her all the way out of the house through her crate.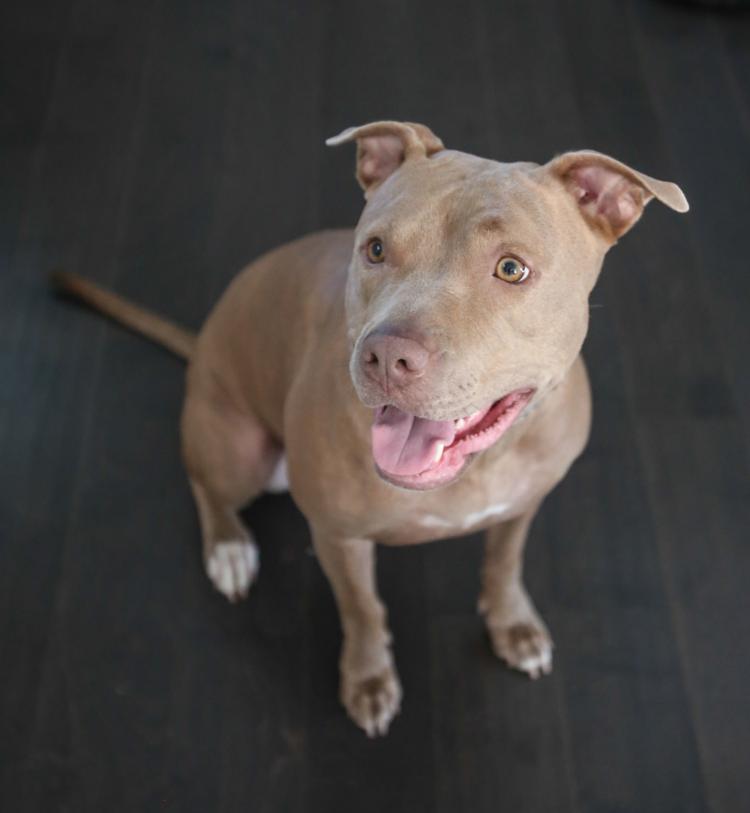 The Manns brought Fiona home shortly after, on Jan. 10 of this year. The first night they had her wasn't easy, though.
"The first night in her crate, she was thrashing around," Erin recalls. "I think she had a little [post-traumatic stress disorder] from the fire."
After that first night, though, Fiona has been a model citizen. She just turned 3 years old and went through training with No Leash Needed, where she picked up manners and tricks in just a short amount of time.
"We dropped her off in the morning, and by that afternoon, she'd already learned so much," Erin says.
Fiona's favorite things include going for walks and "any toy we give her, even though they're usually destroyed within 10 minutes," Erin says. Fiona has never met a stranger and loves everyone she meets. Although her energy levels are high, she crashes at the end of the day and turns into a snuggle bug.
"She adds so much life to our life and is so much fun," Erin says. "We have a lot of love to give, and I'm glad she's the one receiving it."
For your own fairy-tail ending …
Even Chance Pit Bull Rescue
1407 Ridgefield Drive
St. Louis, MO 63131