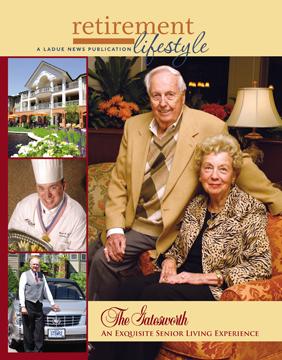 Admiring the Jules Pierlow wedding portrait of his bride of 54 years, Charlie Brown's eyes light up. "Isn't she just beautiful?" he says. The framed photo is just one of the elegant touches in the Browns' beautiful apartment in the West Wing of The Gatesworth.
    The couple moved to their new home from Des Peres in February 2010. The decision to move was difficult, Brown says, but the process was smooth and perfectly orchestrated by Gatesworth moving coordinator Mary Kidwell. "This is only the second time we've moved in our life," he explains. "June and I lived in our Des Peres house for 32 years, and the process seemed so daunting. What could we take? How could we make it feel like home? Mary manages those concerns down to the smallest detail." As part of her services, Brown says, Kidwell photographed the entire house and developed a master list. "Every lamp, every table, everything had a number on it. It was so easy to make decisions with that information," he says. "Mary really listened to us and created two different layouts—one formal, one casual—for our new home." The couple ended up choosing a combination of both plans, including their two 'must-have' pieces—an ornate fireplace mantel and a majestic breakfront.
    "Those were non-negotiable. And Mary incorporated both of them into the master plan, beautifully," Brown adds.
    Long before the Browns moved to The Gatesworth, Charlie was a familiar face to residents and staff, including director of operations Bob Leonard. "I was here every month, having lunch with some of my classmates from CBC. That's how I got to know Bob, and I must say, he was the catalyst behind our decision to move," Brown says. "We didn't want to, even after June had a stroke and life in our two-story house became very difficult for her. But Bob suggested we just come and take a look. And he was so patient when we kept changing our minds! It's turned out to be a very good decision."
        And although she wasn't enthusiastic about moving, June is also delighted with her new home. "I knew it would be OK," she says. "But I had no way of knowing how happy we were going to be! We love to entertain and we can have friends over on the spur of the moment, because housekeeping maintains the apartment so perfectly. Or we can go downstairs to one of the restaurants." At the mention of restaurants, her husband smiles broadly. "And the food!" he exclaims. "Chef Brian Hardy does an amazing job—the food is fantastic in every restaurant."
    It's a happy ending for a move that began with such uncertainty. "As it turned out, June was in the hospital when we moved. So I had to make all the decisions on my own, with Mary's help and advice. And I wanted it all done when June saw it for the first time," Brown says. "Everyone kept saying What do you think she's going to say when she sees it? I have to admit, I didn't know! But when June came home, it was all perfect—right down to the pictures on the walls."
    Recalling that day, June smiles and nods. "It was just beautiful."  LN
---
On the Cover: When they moved from their Des Peres home to the West Wing of The Gatesworth last year, June and Charlie Brown enlisted the personalized move-in services of in-house moving coordinator Mary Kidwell to organize the details. Opened in 2009, the West Wing added 38 luxurious apartments to the The Gatesworth campus. For more information, call 993-0111 or visit thegatesworth.com. Cover photo by Jason Mueller
Be the first to know
Get local news delivered to your inbox!