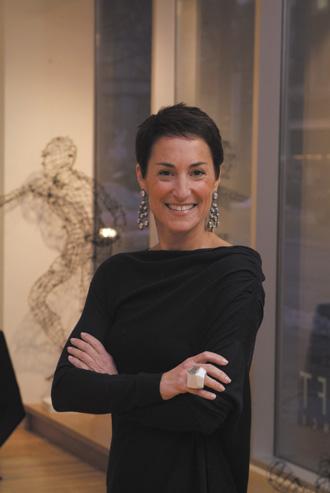 "When the curtain goes up, you feel this cold air from the audience—you can't see them, but you hear little stirrings. I'm telling you, it gets in your blood and in your bones. Any dancer will tell you this!"
Describing the moment she first fell in love with the arts, Susan Sherman recalls the memory with perfect clarity. She was six years old, performing in her first ballet recital. "I'm sure a symphony musician would say the same thing, or an artist anticipating a gallery opening. The arts are a rush!"
Fortunately for St. Louis, Sherman brought her lifelong enthusiasm along when she she moved here 18 years ago. "St. Louis opened its arms to me," she says. "When I began to volunteer, I felt embraced by the arts community. I think it's why I have been so happy building a life here." She is the former chair of Contemporary Art Museum St. Louis, served on the board of COCA and was named 2006 Woman of Achievement by Grand Center's Visionary Awards.
In addition to her considerable service as a volunteer and board member, Sherman has also worked 'in-house' at the Atlanta Ballet, the New York Philharmonic, and New York's Lincoln Center. Having lived in cities acknowledged as 'arts capitals,' she would like to see St. Louis promoted the same way. "We have so many world-class institutions, it's silly for us not to be recognized along with these other major cities," she says. "We have a great quality of life here. When my friends visit from New York, they cannot believe the architecture, Forest Park, and the incredibly high caliber of the arts institutions! There's a great story here and I don't know why it hasn't been told." Cities like Atlanta and New York, she explains, are well marketed to the rest of the country. "They have these big PR machines behind them that really get the message out. That's why they get the Olympics and the Super Bowls and things like that. I just think that we could do a better job."
In addition to promoting the city's visual and performing arts, Sherman also envisions new venues of artistic expression. "I would love to see a fashion museum—or something similar to the Costume Institute at the Met—showcasing the inspiration for designs, how something is crafted, why certain products are packaged and presented in a certain way," she explains. "No one really 'owns' fashion in St. Louis. It's often used as a theme for an event or a trunk show, but what about the intellectual side of the industry?" Sherman's love of fashion is evident in her newest project, Fashion Lab, a partnership with Craft Alliance, Saks Fifth Avenue and Washington University. The program launched earlier this month at the Kranzberg Gallery. "It's a genuine fusion of fashion and art. I really think it's a groundbreaking program that could be a model for other museums around the country."
The biggest challenge to the arts, Sherman believes, is leadership and engaging new audiences. "I hope we continue to market the arts to all St. Louisans, making them feel ownership and pride in what the city offers, but most importantly engaging them, helping them realize the joy of the experience," she says. "Whether it's bringing in Cameron Silver from LA to produce a vintage couture fashion show, or hosting a Dance St. Louis gala at Busch's Farm with Joe Buck (Take Me Out to the Ballet), the intent should be attracting new audiences, and working tirelessly to keep them happy and fully engaged, so you end up building lifelong relationships."
Be the first to know
Get local news delivered to your inbox!