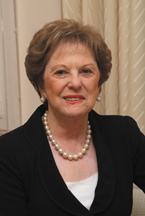 Peggy Ross will tell you that she does not do nearly as much as she used to, say 20 years ago. But that's hard to believe. A graduate of Washington University in psychology and social work, Ross has dedicated herself to helping others access higher education. She is a force behind the Scholarship Foundation of St. Louis and its ScholarShop.
Ross co-chaired the capital campaign with Chuck Cook to enlarge the ScholarShop's Clayton location. "Everyone felt that if we could make it bigger, we could make a lot more money," she says. "We raised $3.3 million, and we were able to double the size of the shop." She is also proud of the Foundation's interest-free loans, and just as delighted with the student loan 'winners,' who repay within five years, enabling more students to get a post-secondary education. "We recycle!" she quips, noting that last year, 760 students were awarded scholarships.
Her involvement started 15 years ago, with the Scholarship Foundation's 75th anniversary gala, which Ross committed to chair. She fell in love with the Foundation, served on the board for 10 years and became a vice president. After a decade she retired to spend more time with her family.
Proud of the Scholarship Foundation's work in supporting non-traditional students in the greater St. Louis and surrounding areas, Ross focuses on bettering lives and, "ultimately, the community" by raising money for the Foundation.
She is presently on a committee of six, "all former board members who just can't give up the organization," to celebrate the Scholarship Foundation's 90th anniversary in November. Tip: It will involve Kim Clark of U.S. News and World Report.
"I really don't think you can spread yourself too thin," she says of volunteering. Yes, she has another all-embracing passion: nursing. Ross sits on the board of Goldfarb School of Nursing at Barnes-Jewish College. She believes wholeheartedly in its work. "If you don't have good nurses, you might as well forget everything," she says. She vowed years ago she would help them and continues to make good on it. "I don't just go to board meetings. We think about things, we act on things," she says.
Fitness, diet, health? Yes, yes, and yes, all very important to an active lifestyle, Ross agrees. So is family, and caring for one another. Ross and her husband, and also her married daughter, son-in-law and two grandchildren, get out and about in St. Louis, enjoying the Science Center, the zoo, the Botanical Garden, and the Historical Society. "The city is rich with things to do," she says. "Live every day, keep busy and keep yourself going."