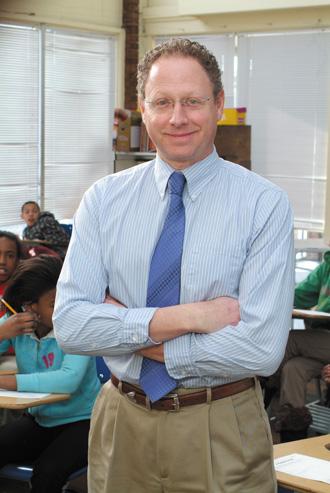 As a self-described 'puny kid' growing up in St. Louis, Marshall Cohen had such poor self-esteem that he almost flunked out of school. "Everything was a disaster," he says. "I was always being bullied in school." And then Cohen talked his parents into the purchase that would not only change his life, but would later inspire him to improve the lives of thousands of other kids.
"I saw this plastic weight set at Venture for $19.95. I got it in the spring, and I worked out every single day," he says. "In the fall, the bullies stopped picking on me and became my friends. I wasn't puny anymore!" The main thing was, I built up my self esteem and I felt better about myself."
Years later, observing the increasing gang violence around his family's downtown business, Cohen was inspired to use his own positive experience to give neighborhood kids the same opportunity. "I was working at Globe Drug and I would see all these kids," he recalls. "This was right around the time when gangs were becoming more prevalent and crack cocaine was taking over the neighborhood. I knew I wanted to do something."
The 'something' was Lift for Life Gym, a place for kids to strengthen their bodies and learn how to make positive life choices. Cohen is the founder and executive director of the Cass Avenue facility, which he says is a second home for many kids in the neighborhood.
"It all started with weightlifting," he says. "But this is a safe environment where children can play, dance, do their homework and make friends." Lift for Life gym also serves food five nights a week. "Many of the kids exist on snacks and fast food," he explains. "We're addressing this by providing balanced, nutritious dinners. For some of the children it's the best meal they get all day. We didn't realize how great the need was. Many would not get dinner if they didn't eat at the gym."
The programs and services at Lift for Life Gym are provided free of charge, says Cohen. Funding is provided by private donors and special events, including the annual St. Louis Microfest, billed as the city's 'largest variety craft beer tasting festival.'
When Missouri passed legislation in 1998 permitting nonprofit organizations to open a school, Cohen and his wife, Carla Scissors-Cohen, saw another opportunity to help city children. "The gym was going well and the kids were getting physically fit, but they were still struggling in school," he explains. "So, in 2000 we opened Lift For Life Academy, the first independent charter middle school in the city of St. Louis. Our focus was middle school, because we felt that those kids were more susceptible to dropping out and we wanted to get them caught up."
Since opening in 2000, the academy has added higher grade levels, and next year will have its first graduating class. And although the students consistently outperform their peers in comparable districts, Cohen believes they can do even better. "We're working very hard to get where we want to be. There's nothing more gratifying than giving kids and teenagers the tools they need to succeed."