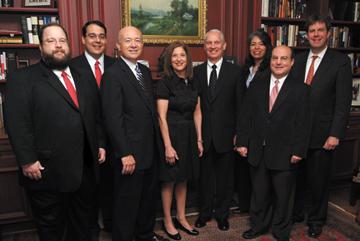 Some women might take offense if their husband compared them to a pit bull, but not Susan Hais. Her husband and law partner of more than three decades uses the term lovingly to explain her success in what was once only a man's world. Founder of the law firm Hais, Hais, Goldberger and Coyne, Susan Hais has earned a reputation for being a successful divorce lawyer who pulls out all the stops.
"Clients love her," Sam says. "She thinks like Churchill: Never, never, never, never give up." Susan confirms that. "I can't stand unfairness," she states. So when did all this purposefulness start? In part, during her entry into the law profession in 1974, at a time when female attorneys were not nearly as commonplace as they are today. "I had to be better," she says, "more prepared. I wanted success more, more than anything." Witnessing gender discrimination firsthand, combined with growing up in an achievement-driven household, laid the groundwork for the powerhouse her law firm would become.
"We have a passion for justice and, some have said, a reputation for results," says Sam, who joined his wife's practice after years as a judge. The firm's reputation has attracted both male and female clients, perhaps for different reasons, Sam ventures. Women may prefer female attorneys when relating the personal issues surrounding divorce, and men might believe that female attorneys have an edge with judges when it comes to family law cases.
Susan agrees. "Sometimes women are embarrassed to talk about the issues," she says, referring to infidelity, financial improprieties and other highly personal topics. And, she notes, women undergoing a divorce can be disillusioned with men, in general. "A lot of females are very angry at their spouses," she says. On the flip side, men may believe that a powerful female attorney is more likely to intimidate a stay-at-home spouse.
Both Haises advocate a 'proactive approach' to family law. As Susan puts it, "A significant number of people come to us and want to preserve their marriage, but they have early misgivings." She urges all spouses to be vigilant in participating in family finances. All parties to a divorce case should understand how much money comes in, goes out and if/how funds are invested. "Don't wait until you're bleeding to go to the doctor," adds Sam. Although some people may find such a conversation off-putting, Susan suggests that they remember, "It's not just one person, it's both your financial lives."
"When you get to court," Sam Hais concludes, "everyone wants to be amicable. But you can't expect it to be amicable." That's why you have to count on an attorney who is tenacious, he says, and with Susan, you know what you're getting. As Susan puts it, "I can't stand to lose."