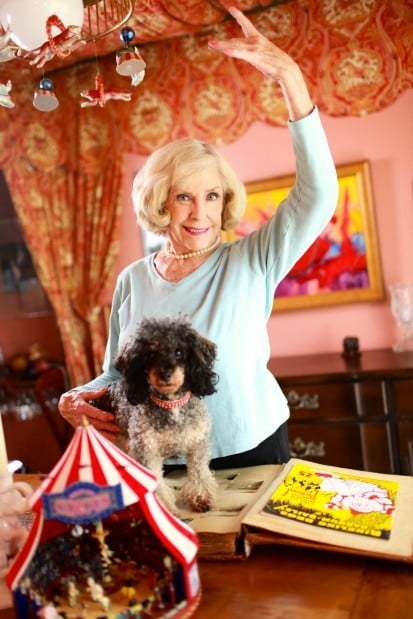 Elizabeth 'Bunny' Wight Herring, who swung from a trapeze to celebrate her 80th birthday, has never been particularly interested in contemplating what she can't—or shouldn't—do.
Born into a prominent Ladue family, she attended Mary Institute and an East Coast boarding school, and then went to New York City to study at the prestigious American School of Ballet. Her parents assumed that she might dance professionally for a few years with a highbrow company, then marry well and pass her days sipping tea with other privileged and sheltered society matrons.
Herring, however, had other ideas. She joined the circus, married a cowboy and lived an improbable, adventure-packed life that she recounts in a recently published autobiography, Still Swinging on Wonderland.
"I've been lucky, I suppose, to have the nerve to do what I wanted," she says.
At 86, Herring still marches to the beat of her own drummer. And she's helping others through her involvement in several charities, like the Fathers' Support Center, which provides services for men who want to learn to be responsible fathers, and the YMCA, where she's just begun volunteering with an adult literacy program.
For the past decade, she's also been passionately involved with Prison Performing Arts, a program that fosters the intellectual and personal development of incarcerated individuals through a variety of artistic disciplines. Herring has shared the stage with convicts in Shakespeare plays, taught poetry to juvenile delinquents and led young women awaiting trial in ballet lessons.
"It's not about these girls becoming dancers," she explains. "Most of them have been abused—physically and sexually. Through ballet, they are able to take back ownership of their bodies by learning strength and grace, and to hold their heads high."
Herring's return to the barre marks the completion of one of her life's dizzying circles. Sixty-five years ago, a woman from Ringling Bros. and Barnum & Bailey Circus visited her school in Manhattan to recruit dancers.
"I'd always loved the circus," says Herring. "And it sounded like such a thrill, so I auditioned."
Dressed simply and without makeup, the classically trained Herring stood out among the glamorous Broadway showgirls who had also shown up. "I was just in awe of them," she recalls. "But the recruiter wanted serious dancers. And so I was hired."
Of course, Herring still needed to break the news her parents. "I called up Mother and said, 'I've got a job!' And she asked with which dance company. And I told her about the beautiful costumes I'd get to wear and how I'd get to see the country. Then she asked me again, 'Which company?' So I finally told her—and there was just silence."
Dismayed, Herring's father contacted his lawyer to see if her contract could be nullified, while her mother rushed to New York to bring her home. But Herring was adamant and eventually wore her parents down—with the promise that she would still make her formal debut. Thus began three memorable years beneath the famous Ringling Bros. big top.
Herring met her husband in another place no one thought she ought to be—a saloon. On vacation with her family at a Wyoming dude ranch, she was "bored stiff" and decided one night to sneak into town. Behind the swinging doors, she found the bar packed with rowdy cowboys and lumberjacks. But she set her sights on a rancher who held court in a back room, dealing poker.
His name was Skyler Herring, but everyone called him "Swede." And Herring left the sparkle of the circus to become his wife, beginning a marriage that lasted more than 50 years.
"I don't know which my parents thought was worse, the circus or the cowboy," she says. But after she and Swede began having children, a truce was reached. Her parents owned land in Pike County, Mo., and offered it to the young couple to farm. They accepted, and the farm remains in the family today.
After her children grew up and left home, Herring went to work as a real estate agent, and used the commissions she earned selling rural tracts to city slickers to travel the world. Later, she enrolled at Washington University, graduating at 60 with a bachelor's degree in English, soon followed by a master's.
After her husband's death in 2005, Herring returned to St. Louis full-time and threw herself into philanthropic work. The décor of her condo illustrates the various eras in her colorful life—a ballet-themed bedroom, an equestrian motif in the living room and a dining room decked in brocade evoking a circus tent.
She also has paid tribute to significant moments with several tattoos, including the motto of her boarding school, Esse Quam Videri, which encircles her ankle. Although the prisons she visits mandate conservative clothing, the ink often peeks from beneath her trouser leg, catching the eye of curious convicts. "It always takes them by surprise!" she says, clearly pleased.
The motto, by the way, means 'to be what you seem.' Elizabeth Herring is that—and quite a bit more.