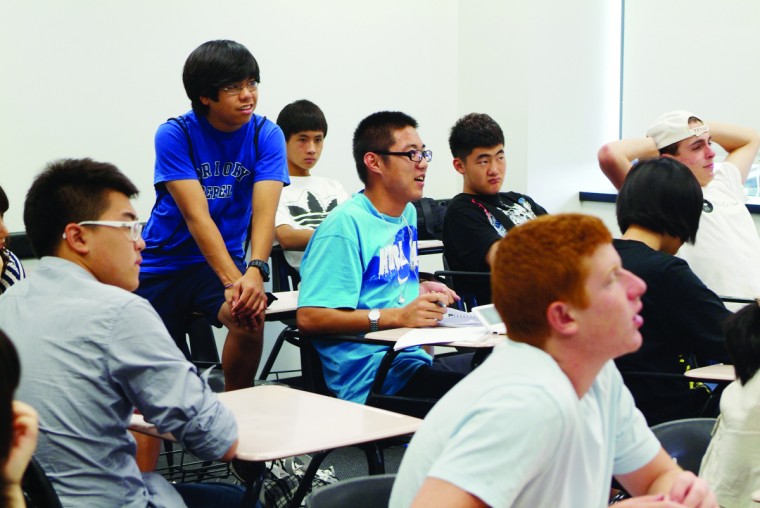 After traveling almost 7,000 miles to St. Louis, 38 tired but enthusiastic Chinese teenagers logged another 85 miles or so to Hannibal to visit caves, board a riverboat and see that famous whitewashed fence. The Mark Twain adventure was just one of several field trips for students attending last month's Saint Louis Priory's Chinese Summer Institute. "I don't think many of these kids had ever been on a boat like that, or in a cave, for that matter," says institute director Tony Finan. "It was definitely something new!" The Chinese students were joined by Priory students, and a few from Villa Duchesne, providing everyone with a cross-cultural experience and a chance to form international friendships.
This was the inaugural year for the institute, created in partnership with Saint Louis University to take advantage of the many educational venues in the area. "Some of the better Chinese high schools are trying to emulate the better schools in this country," Finan explains. "Our goal is to illustrate the merits of the United States, the Midwest and St. Louis in particular. There's a huge demand in China to send their kids to American universities, but typically, when Chinese students come here, they go to either coast and learn about New York or California." Additional field trips provided a genuine St. Louis experience, says Finan. "We went to the Missouri Historical Society, toured the Arch, saw a concert at the Missouri Botanical Garden and a show at the Muny."
Culinary traditions were incorporated, too. "We had a picnic in Forest Park with Hodak's chicken, and Amighetti's sandwiches at the concert. They liked pizza and barbecued hamburgers, but they were all surprised at how sweet everything tasted. They're not used to that much sugar in their food." The St. Louis experience also included a trip to City Hall, Finan adds, where Mayor Francis Slay welcomed the students with a presentation about the city's history.
The academic calendar included classes in American literature, environmental biology and archeology. "All the kids went to an archeological dig on the SLU campus," Finan says. "They were just digging away, making friends and having a great time."
An American summer wouldn't be complete without baseball, and Finan says the busy itinerary included a River City Rascals baseball game. "And, of course, the other uniquely American sport is football, and they actually got to play. We outfitted them in shoulder pads and helmets, and we even had jerseys printed with Chinese characters. Their faces just lit up—it was priceless!" Describing the play by play, Finan laughs. "It was hilarious!"
Managing the logistics and the full schedule was sometimes challenging, Finan says, crediting his assistant Ryan Niemann with making everything go smoothly. "He was indispensable! He made sure everyone got where they needed to be—he's done a great job!"
Finan says Priory plans to send some students to Beijing next year. "We offer classes in Mandarin at Priory, and now a number of our students are working on that skill."
From riverboats to dragon boats, Saint Louis Priory is definitely making a China connection.