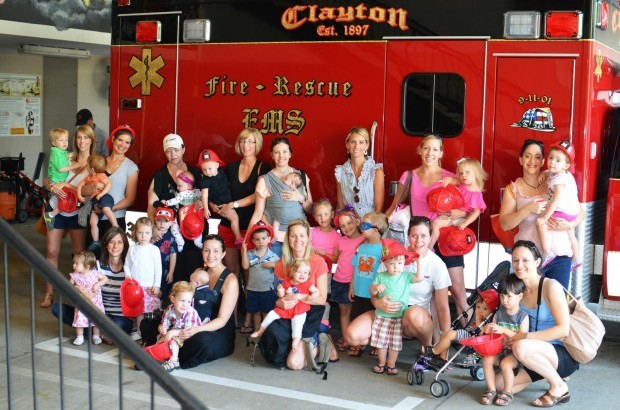 Imagine this: You're in a room, exhausted and surrounded by people who won't stop screaming. You can try to hold conversation, but it's often a futile attempt. When the shrieks subside, it's time to act as personal chef, chauffeur or nurse before the howling commences again. This chill-inducing scene isn't straight from a horror blockbuster—it's a very possible, isolating reality for stay-at-home moms. The International MOMS Club, with its new suburban St. Louis chapter, is here to end the seclusion.
"We are geared towards stay-at-home moms, because we're trying to provide support to moms who run around with their kids all the time," says chapter founder Sharon Parks, noting that working mothers also are welcome to join. "It's not easy. I have a 4-year-old and an almost-2-year-old. Being a stay-at-home mom can be very isolating."
This isolation was the driving force for the group's founder, Mary James of California, who decided in 1983 she wanted to join a daytime organization that allowed her to bring her young children. Since then, her creation, the MOMS Club (which stands for Moms Offering Moms Support) has expanded rapidly, exceeding some 100,000 members throughout more than 2,100 U.S. chapters.
"We started in April and now have about 25 members," Parks says of the St. Louis County – Central Mo. chapter. "Now that we have a great base, I think we're going to keep growing. I know a lot of moms in the group who are bringing other moms in." Club activities are across the board, ranging from monthly member meetings to playgroups to MOMS Night Out. Parks says the chapter is currently laying the foundation for a book club and philanthropic projects. The group also goes on occasional outings, such as its recent child-friendly tour of the Clayton firehouse.
The socialization aspect of the group is, among other things, about "being able to vent with other mothers," says Parks. "It's all about the companionship, the advice and the support." She notes that everything from colicky babies to seasonal allergies is discussed among other mothers who truly understand and have advice to share. But the perks are not only related to childcare—it's simply a way to make friends. "You meet other moms, and it's good for socializing for the mother and the children," says Parks, a St. Louis transplant who was formerly the president of her previous hometown's MOMS Club chapter. Upon moving, much like the original MOMS Club founder, Parks started this chapter to fill the void she found in her area.
"I don't know how you make friends otherwise, when you're a mom and you're home," laughs member Lindsey Mocca. "I've talked to other moms at the park, but it's not like, Hey, we should hang out!" Mocca, a stay-at-home mother to a 3-year-old and 6-month-old, says that although she is from the area, her friends work, which makes it hard to socialize. "You need out of the house, and your kids will benefit from this," she says. "Even if they're babies, you still need out of the house. I wish I had found this when my daughter was born!"
For more information, visit centralstlcountymoms.webs.com.