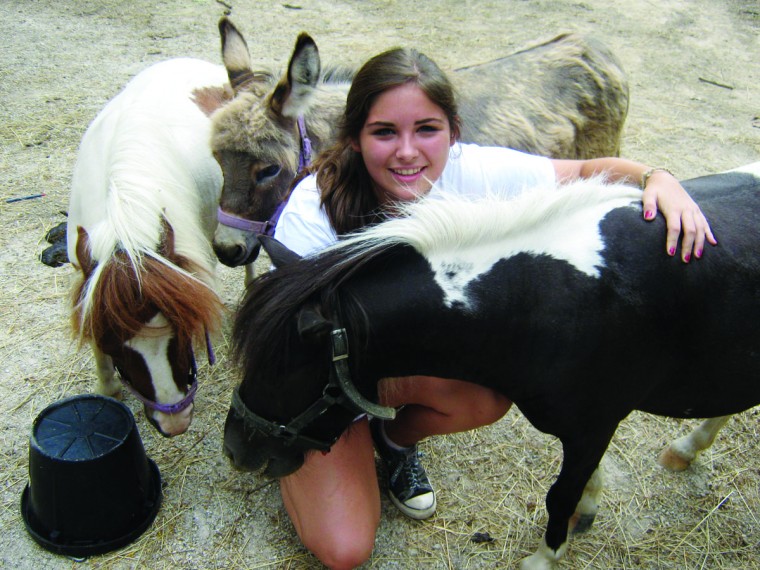 On a typical day at summer camp just a few hours down I-44, enthusiastic young campers can look forward to a full day of swimming, fishing, or tiedyeing a T-shirt—and walking a llama. And instead of singing about the kookaburra, they have an opportunity to get up close and personal with the Australian laughing bird.
"Lemurs are one of the favorites, and we have sloths, Canadian lynx, a baby porcupine, marmoset, pocket monkeys and a baby camel named Malichi," says Lori Martin, owner of Cub Creek Science Camp at Bear River Ranch, the only overnight animal camp in the U.S. "We have about 300 animals and 100 different species. The enclosures have been made so the kids can go in with the animals and learn how to take care of them. The goal is to teach them to appreciate the animal kingdom, as well as responsibility." The zoo is not open to the public, and does not offer tours, she adds. "It's just for the kids."
Founded by Martin and her husband, Scott, Cub Creek camp will celebrate its 20th summer in 2012. "It began because I love animals and I love science. I took vacation time from my full-time job and held three weeks of camp, with 10 kids each week. We brought in some animals and put in aquariums, and the kids just loved it! Spending time with the animals was one of their favorite things." The camp has expanded every year in its current location and now includes 15 airconditioned cabins. "We've expanded the dining hall four times," Martin notes. "We figure we'll stop growing when we don't need more space, but so far that hasn't happened."
Martin says the camp has a comprehensive science program that focuses on problem-solving. The subject matter is serious, but the courses are not. "We have physics, where the kids learn to shoot rockets, and chemistry, where they make crazy concoctions." Cub Creek also offers culinary science, but Martin says the animal science and junior vet programs are the two most popular.
Because it is a learning camp, the programs are divided into two sections: junior camp for ages 7 to 11 and senior camp for ages 12 to 17. "They're typical kids who love doing new things and love learning," Martin says. "And of course, they have a love of animals and nature. Some of the campers tell us that when they first arrived, they didn't think they loved science, but they loved animals. And by the time they left, they loved science, too!"
The newest project for Martin and her husband is the development of an animal camp in Jamaica. "We just purchased 3 acres on the north coast, and we're starting a marine biology program. We've planted an orchard with mango, papaya and bananas, and we're 'swimming distance' to the reef." The Martins have always enjoyed diving in Jamaica, she adds. "The science camp began by taking what I love and sharing it with kids, so it's just a natural step to share my love of the ocean with the kids, too."
Be the first to know
Get local news delivered to your inbox!