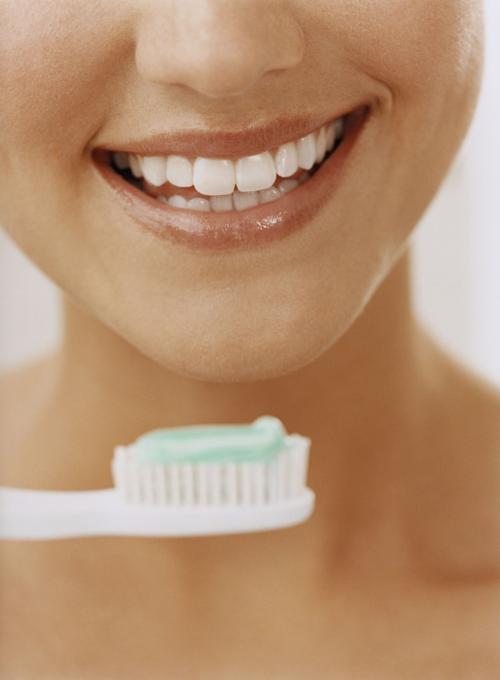 From childhood on, we're told to brush our teeth at least twice a day. Toothpaste is a staple of oral hygiene, and there are aisles full of different brands, formulations and flavors in drugstores across the nation. What should you look for when choosing toothpaste?
"Fluoride is the most important ingredient in toothpaste," says Dr. D. Douglas Miley, periodontics program director for the Saint Louis University Center for Advanced Dental Education. "Numerous clinical trials have shown it to be effective against tooth decay, and most toothpastes in the United States contain fluoride." The best evidence for the effectiveness of a fluoride toothpaste comes from the Cochrane Database of Systematic Reviews, he adds. "This review looked at 70 clinical trials on the effectiveness of fluoride toothpaste, and found clear evidence that the use has a caries-inhibiting effect. Also, there was no evidence that the effectiveness was dependent on background exposure to fluoridated water."
Beyond fluoride, toothpaste may contain an abrasive ingredient to help remove stain buildups on teeth. "Commonly used abrasives are calcium carbonate, dicalcium phosphate, silica or sodium bicarbonate," Miley says. "Abrasives also have an important role in the availability and rate of release of fluoride."
Other mysterious-sounding ingredients may include glycerol, propylene, glycol and sorbitol. "One of these should be the first one to three ingredients in the paste, and helps to prevent water loss so that your paste doesn't harden," explains Dr. Kevin Postol of Postol Family and Cosmetic Dentistry.
Some toothpastes contain pyrophosphate, which inhibits tartar formation. However, Miley notes that, while these products have been shown to be effective in clinical trials, there is no definite evidence that they are equivalent to regular fluoride toothpaste.
"Toothpastes for sensitive teeth typically contain potassium nitrate or strontium chloride that act by blocking dentin tubules," Miley adds. "These desensitizing toothpastes can be very effective, but vary greatly between individuals."
Triclosan is another ingredient added to some toothpastes. This antibacterial agent is added to reduce plaque and gingivitis, Miley says. "Evidence-based research has shown that Triclosan reduces plaque, gingival inflammation and gingival bleeding. This would be beneficial in patients with periodontal disease."
No matter which toothpaste you choose, the way you brush is more important, notes Kay Degunia, a dental hygienist who works with Postol. "The proper technique in brushing is needed, along with daily flossing, to remove the plaque and debris between your teeth," she says. "All the other things are added features with the paste, such as cavity protection, fighting gingivitis, plaque and tartar build-up, freshening breath, reducing sensitivity, and whitening. These features will not be an added benefit if you're not properly removing plaque and debris that build up throughout the day."
Those who are worried about toothpaste ingredients can still reduce plaque by brushing without toothpaste, although cavity protection will not be as great. Postol urges people to relax. "No, we are not ingesting large amounts (of toothpaste)," he says. "It is used more as a surface cleaner with foaming agents that help get the paste into areas the brush cannot reach. At most, you would get cold sores, sore spots or sloughing of tissues (as a result of irritating ingredients); and once discontinued, the symptoms normally go away."
Miley suggests consumers look for the American Dental Association (ADA) seal when purchasing toothpaste. "The FDA has requirements for these products, but they do not actually test toothpastes," he explains. "The ADA conducts extensive testing to determine whether they meet specific criteria for safety and effectiveness. These tests include clinical studies in humans and laboratory studies. The products that demonstrate safety and effectiveness will have the ADA seal on their label."
Be the first to know
Get local news delivered to your inbox!