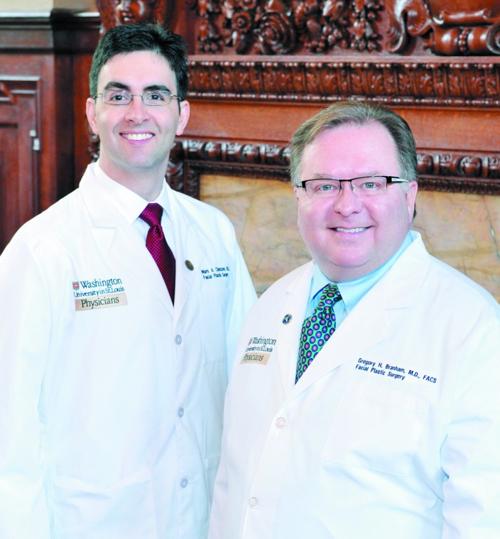 Traditionally a time for reflection and evaluation, January often means a fresh start. And if your mirror isn't reflecting the glowing complexion you'd like to see, a laser or chemical peel could be just the thing to brighten your 2012. And winter, it turns out, is just the right time. "This is an ideal time of year to consider a skin rejuvenation procedure," says Dr. Gregory Branham of Washington University Facial Plastic Surgery Center. "There's less worry of sun damage to newly treated skin, and you can 'hibernate' for a week or so while any redness diminishes."
While chemical peels and laser resurfacing can make dramatic improvements to the skin, the two procedures utilize different techniques and tools. "A laser resurfacing uses a fractionated CO2 laser that can be used on the entire face or neck, but also can target a specific area to smooth lines and wrinkles or correct skin discoloration," Branham explains. "A chemical peel treats 100 percent of the skin's surface; it improves and smoothes the skin by removing damaged outer layers." Downtime matters, he adds. "With a chemical peel, you're ablating the entire surface of the skin, so it takes longer for the skin's surface to be replenished." Light chemical peels, usually performed in a series of six to eight over several weeks, require minimal downtime, he explains. "A medium peel, because of deeper penetration into the skin's layers, will produce more redness and require about a week of recovery."
Treatment with the CO2 laser requires less downtime than a chemical peel, explains Dr. Mark Checcone, also of Washington University Facial Plastic Surgery Center. "A fractionated laser 'fractions' the beam into small dots, so you treat a certain percentage of the skin," he explains. "There's less downtime because the lasered areas spur new skin growth and collagen formation, while the preserved layers aid in migration of the cells." Different skin problems utilize different types of lasers, Checcone says. "An IPL (intense pulsed light) laser will target brown spots or surface blood vessels." Because the IPL works by targeting skin pigment, it's not always the best choice for men, because the laser will target the dark pigment in their beards, he adds.
Skin resurfacing is often used in combination with other procedures, like fillers or a facelift, for the most effective results. The order of treatment depends on the patient, Checcone says.
For many patients making the investment of time and money in a cosmetic procedure, one often-expressed concern is how long the results will last. "Think of these procedures like your cardiac health—a major cosmetic procedure is analogous to heart surgery— but it's your regular diet and exercise that keeps your heart pumping and healthy. That needs to be done for your skin, too. So it's important to be on a regular program of moisturizers, skin protection and deep cleansing to keep your pores open, and keep the skin tone and texture healthy."
Be the first to know
Get local news delivered to your inbox!