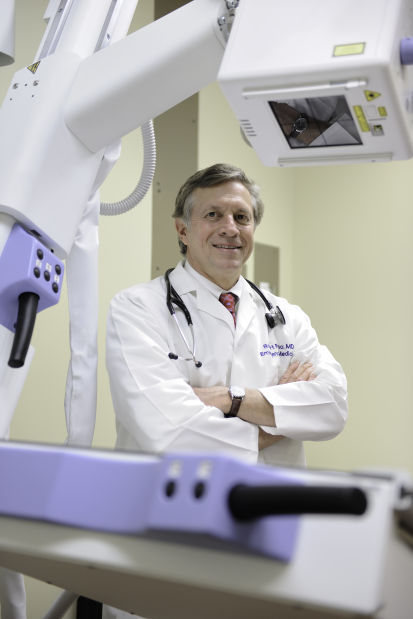 It's after business hours and your child has a cough, an earache, maybe even a broken bone. The primary care physician isn't in, and the problem doesn't seem serious enough for the emergency room. For these minor medical emergencies, families can turn to St. Luke's Urgent Care Centers.
Seven area locations are open 8 a.m. to 8 p.m. daily, 365 days a year (with the exception of special holiday hours) for quality and convenient care. In addition, St. Luke's Convenient Care Center inside Dierbergs in Des Peres is available from 10 a.m. to 6 p.m. Monday through Saturday and 10 a.m. to 4 p.m. Sunday. "Patients don't need an appointment, the wait-time is short—typically 15 to 30 minutes—and there are extended hours, which makes it very convenient for people to come in and receive care. And we have a very caring and experienced staff," explains Dr. Robert Paino, medical director of the centers.
The staff, including board-certified physicians, nurse practitioners, registered nurses, and X-ray and lab technicians, is equipped to treat minor medical issues, from a sore throat, cough, vomiting, diarrhea, earache or urinary tract symptoms, to broken bones, cuts needing stitches, and animal or insect bites.
Paino says when patients are uncertain whether to go to an urgent care center or the emergency room, they should think about the significance of their symptoms. "If you feel you are having a possible life-threatening problem, such as severe shortness of breath or chest pains, call 911 and go to the emergency room," he notes. "But for minor emergencies, our urgent care centers are very capable of taking care of any issue that is [treatable] by a primary care doctor."
At the centers, staff members treat many patients who don't have a primary care physician, Paino says. "We have primary care physicians' offices right next door to most of our urgent care centers, and many of them are taking new patients, so patients are referred to a primary care doctor upon leaving a center." This helps with patients continuity of care, Paino explains, as the primary care physicians have access to the patients' medical records from the centers.
The St. Luke's Hospital-owned urgent care centers have been treating St. Louis County and St. Charles County families with state and national patient care standards for more than 30 years, Paino says. "St. Luke's is traditionally a leader in urgent care in the region. All of our staff is fully equipped to treat families' minor medical emergencies."
ON THE COVER: St. Luke's Urgent Care Centers are open 8 a.m. to 8 p.m. daily at seven convenient locations: Ladue, Creve Coeur, Kirkwood, Ellisville, O'Fallon, Weldon Spring and Fenton. Pictured: Deb Baysinger, Dr. Robert Paino, Dr. Barbara Ellzey. Photo by Michael Jacob Photography Inc. For more information, call 205-6200 or visit stlukes-stl.com/urgent-care.