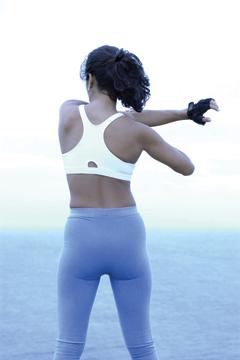 The term 'sports medicine' may conjure an image of a doctor rushing out on the field to assist an injured baseball or football player. But weekend warriors are just as likely to need a little medical attention, maybe more likely, than their professional athlete counterparts. 
    "Sports medicine deals with the prevention, treatment and rehabilitation of injuries and conditions related to today's active lifestyle," says Dr. Timothy Farley of Orthopedic & Sports Medicine Inc. "All ages suffer from activity-related injuries. That can include a 15-year-old cross-country runner with a stress fracture and a 65-year-old weekend tennis player with shoulder pain."
    Physicians who specialize in sports medicine are often orthopedic surgeons who have completed an extra year of post-doctoral training and are certified by the American Orthopaedic Society for Sports Medicine. Non-physician health professionals, such as personal trainers, physiologists and specialty-based rehabilitation experts, similarly can earn certification from the American College of Sports Medicine.
    "It's my goal to get patients back to their pre-injury level of activity," Farley says. "Generally speaking, most patients don't want to cut back or change their lifestyle. A soccer player with a ligament tear in the knee wants to play soccer again, not give it up for the Latin Club at school." Farley adds that he considers a range of treatment options, from rehabilitation to medications to surgery.
    "The trick is to have the ability to discern between injuries that cause pain and those that cause damage," he says. "In the former case, it is always appropriate to exhaust non-operative methods of treatment. In the instances where damage can occur from lack of surgical treatment, a more aggressive approach is required. Fortunately, the vast majority of injuries and conditions can be safely and effectively treated non-surgically."
    Sports medicine specialists don't just treat injuries, however. "Prevention is another thing we're passionate about," says Dr. Christopher Rothrock, a specialist in sports medicine and arthroscopic surgery at St. Louis Orthopedic Institute. "One of the biggest trends we've seen is the rise of young female athletes, and they're more at risk for some types of injuries than their male counterparts." Knee and shoulder injuries are among the most common.
    Rothrock says that stretching and strengthening are important to safe exercise. "We deal with a lot of overuse injuries," he notes. "People train too hard, too fast. For instance, someone who makes a New Year's resolution to run a marathon in April is in danger of injury. Proper warm-ups and appropriate intensity are key." He recommends aerobic walking, strength training and a regular fitness program for all weekend athletes.
    Matthew Berman, D.C., of Berman Chiropractic and Wellness, incorporates sports medicine into his practice as a member of Professional Sports Care/PGA-certified, which he describes as "a chiropractic sports medicine organization founded to provide highly trained and experienced chiropractic physicians to pro golfers, golf programs and recreational golfers."
    Berman says that golfers are especially susceptible to low-back injuries. "From a strictly bio-mechanical viewpoint, having the body in a stationary, flexed posture as the primary position puts the muscles of the lower back in an engaged state," he says. "Having the arms hang freely in front of the body magnifies the deep muscle activation. Add the rotation and torque required to achieve a full shoulder turn at backswing, and you now have full demand of all lower back muscles, ligaments, intervertebral discs, facet joints and joint capsules."
    With golf season just getting into full swing, so to speak, Berman expects an influx of low-back complaints, especially because many golfers 'play through the pain.' "The fact that pain is usually present when you play is reason enough to be seen by a chiropractor trained in golf injuries," he says. "You may be able to play because you are altering your swing and compensating by overloading other areas of your body, which is not a beneficial direction to take."
    Berman sums up in accord with his colleagues in allopathic sports medicine: "I would recommend seeing a sports medicine specialist to anyone from serious athletes to weekend warriors. We will not only help improve your game but also work to help prevent future injuries so you can stay in the game!"