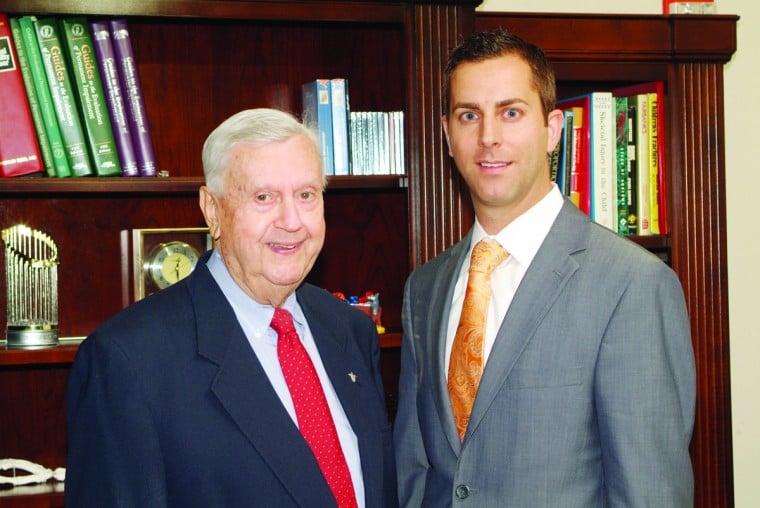 At the beginning of his second year at the Saint Louis University School of Medicine, Jason Young enrolled in neuroanatomy, a course that was graded either pass, fail or honors (for students scoring in the top 10 percent). The professor mentioned that Jason's father, Paul, and his sister, Julia, had both received honors in the class. "No pressure, right?" jokes Jason, now an orthopedic surgeon at Orthopedic Associates. And if paternal and sibling performance wasn't enough motivation, Young had another reason to do his very best: His professor, the much-loved and respected Dr. Paul A. Young, is his grandfather.
After more than 60 years as an educator at SLU, Dr. Paul A. Young was honored in August 2011 with the dedication of Young Hall on the university campus. Describing his contributions to the institution, university president Lawrence Biondi said, "It is clear that Paul's legacy of great teaching lives within these walls."
The Young name is prefaced by "Dr." throughout the St. Louis community. Dr. Paul H. Young, son of Paul A. and father of Jason Young, is a neurosurgeon at St. Anthony's Hospital and a clinical professor at SLU; Jason's sister Julia is a pediatrician with Docs 4 Kidz in Sunset Hills; sister Jennifer is a former military nurse; and younger sister Jacqueline is a psychologist. Their careers occasionally overlap, Jason says. "My grandfather wrote Basic Clinical Neuroanatomy, a textbook that has been translated into several languages, and my sister, Julia—who's a really fantastic artist—did the illustrations for later editions of the book," he explains. "And my father's work in Kenya, where he has established a neurosurgical training program, began with Julia's desire to do community service while she was still in med school." Jason is especially proud of his father's work on behalf of the underserved in thirdworld countries. "I can't fathom doing something like that, but that's the kind of guy my dad is—he thinks of an idea and then just does it!"
Although he was interested in medicine and science from an early age, Jason Young says he sometimes wondered if it would be his career path. "I was always amazed watching how people responded to my father and my grandfather. I'd be at the mall with my father and someone would approach him, saying Dr. Young, thank you so much! You operated on me five years ago and made my life so much better! And my grandfather's students just absolutely loved him." While he knew he wanted to have the same positive effect on people's lives, Jason wasn't convinced medicine was the right path. "The question I always had was Did I have it in me? I saw how hard my father and grandfather worked to get where they were. I really credit them, and my sister, too. They all told me: Set your goals high, don't stop until you get there and don't let anybody tell you no, because you can do it."
That tradition of determination is still very apparent in his grandfather's approach to life. "I asked my grandpa about his teaching, because I thought He teaches the same course over and over ever year, so does he still need to prepare? He told me he prepares for each lecture as if he's never given it before," Jason says.
"That's the kind of passion I have always been around. I only hope someday I can do it half as well as he does!"