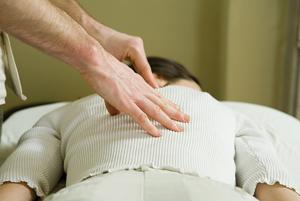 Complex problems aren't usually solved by simple fixes, which is why chronic pain is so insidious. "Pain is often multifactorial," says Dr. Rajiv Yadava, an osteopathic physician specializing in neuromuscular/skeletal medicine. "A patient may have had injury, may be suffering from mental or emotional stress, may not be getting enough rest, or may have had an inadequate diet."
    Yadava emphasizes the importance of reviewing a patient's complete medical history in order to help identify which factors may be contributing to chronic pain. "The key is to treat the patient who has a disease, not treat the disease that has a patient," he adds. "When you experience stress, it affects the facilitation of nerve fibers in the spinal cord and can result in pain," he explains. "You may feel stimuli differently depending on how hypersensitive that system is. Someone with chronic pain who gets a minor illness or has any degree of stress can experience a flare-up."
        Yadava treats patients with a combination of therapies, including acupuncture, homeopathy, trigger injections and osteopathy, designed to address the various factors that may be causing pain. "If the patient does not exhibit an adequate response to these therapies, we may add dietary changes," he says. "However, I don't want my patients to spend a lot on supplements if they don't need to, and most patients, about 98 percent, will respond to the other therapies."
    Matthew Berman, a chiropractic physician with Berman Chiropractic and Wellness, also takes a multifaceted and individualized approach to chronic pain treatment. His patients, who often complain of back pain, benefit from electric stimulation and heat, spinal decompression, chiropractic adjustments, and cold laser therapy, sometimes all during one treatment session.
    "I do this to get them feeling better as soon as possible," he says. "Then I do stretching in the office and give them stretching exercises to do at home. During the last stage of treatment, I give them strengthening exercises to stabilize the back and core musculature."
    Cold laser therapy is a non-invasive treatment used for numerous types of acute and chronic pain, Berman  says. His practice uses an FDA-approved system that delivers photons of light to surface tissue, driving energy down to damaged cells. "Light energy of the correct wavelength and power can dramatically increase the healing rate of damaged cells, allowing the body to heal itself at an accelerated rate," he says.
    In general, Berman notes that chiropractic medicine can be beneficial for anyone who has chronic pain that results from nervous system irritation, injury or damage. "This is due to its action on the nerve roots," he says. "Moreover, chiropractic is effective in reestablishing normal function of muscles and joints, helping eliminate the root causes of chronic pain."
    Anne Roulo, a chiropractic physician with Integrative Healing Arts, agrees that alternative therapies can be useful in the treatment of chronic pain. However, she notes that patients sometimes need to balance alternative treatments with medications or surgical procedures. "The best strategy is to fix what you can and see where you are, then determine if pharmaceuticals and/or surgery are necessary to manage any remaining pain," she says. "The more conservative the treatment, the better."
    Alternative medicine helps the body heal itself by removing dysfunction, she adds. "Pain is your body's signal that something is not functioning the way it should and needs attention. Dysfunction can be structural (musculoskeletal), nutritional, an acupuncture meridian imbalance or an intolerance to life stress," Roulo says. With no known side effects, alternative treatments alone are the answer to some patients' pain.
    When considering any potential treatment approach, it's always best to do your homework and seek professional advice. "The nature of chronic pain is that it advances and gets worse over time unless it's properly treated," Roulo says. "Alternative medicine, such as acupuncture, is a wise method of pain management. It can find and address the dysfunction and causes of pain specific to the individual. It's beneficial to overall health and cost effective to keep the body functioning at its best."