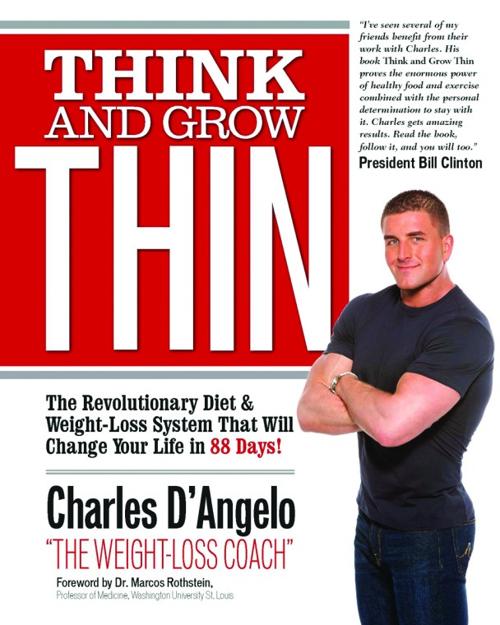 Entire bookstore aisles are devoted to the subject, and every January those aisles are populated by people seeking help with a New Year's resolution, perhaps the same one they've made for many years.
But while there is no shortage of how-to books about weight loss, there has never been a definitive solution for the millions of people struggling to lose weight, whether it's 10 pounds or 110. "Something's been missing out there—in the diet books, the exercise DVDs, the programs," says weight loss coach Charles D'Angelo. "It's like a jigsaw puzzle: people have all these puzzle pieces, but they're missing the lid to the box. They don't have the picture of how it's all supposed to go together."
D'Angelo's system, recommended by a number of local physicians (some of whom are successful graduates) teaches people how to bring all the pieces together. "By defining the whole picture, and explaining exactly what you need to do, you change your mindset and learn how to think about food and exercise the right way," he says. D'Angelo says what people struggle with most is their own belief system. "They label themselves as an undisciplined fat person, and because they buy into that label, it becomes very difficult to operate outside of it," he explains. "Once you make the connection in your head— I'm a fit person, but I'm carrying around a lot of extra weight—you've begun to change the mindset that's held you back." For most people, he adds, weight is circumstantial. "Being healthy is a result of consistently taking responsibility and controling your behaviors." Changing the way a person thinks is the core of D'Angelo's new book, Think and Grow Thin: The Revolutionary Diet and Weight-Loss System That Will Change Your Life in 90 Days! "It's not a diet book," he emphasizes. "This is a system of learning how to think about food, exercise and most important, yourself." The book, currently available in stores, is endorsed by former president Bill Clinton and others.
Five years in the making, his new book reflects D'Angelo's own painful struggle with obesity. "This is coming from a guy who's been there. By the time I was 17 years old, I weighed 360 pounds," he says. "I was always 'different' as a child. I was bullied and took comfort in food, which led to obesity and just exacerbated the bullying." D'Angelo believes his ultimate victory over his weight gives him a unique perspective. "I've been to the dark side," he laughs. "And lived to tell the tale." It's truly moving, D'Angelo says, to be able to help people with similar struggles. "I've had young people come to me on the brink of suicide because they have been so ostracized and bullied for being different."
The mindset change that leads to successful weight loss is a lifelong change, D'Angelo says. "It's not like people come to me, lose the weight, and now they can eat what they want and never worry again." He compares the process to fine-tuning a piano. "Think of a baby grand," he says. "Sometimes the strings become weakened and have to be pulled taut again. It's the same with weight loss. A person doesn't have to come to me to have that done, but many do."
D'Angelo's roster of success stories includes Sen. Claire McCaskill, who recently lost 50 pounds through his personal coaching. And although many of his clients are politicians, he jokes that there's no particular agenda. "This is a completely non-partisan effort! It's all about anyone becoming the best they can be."