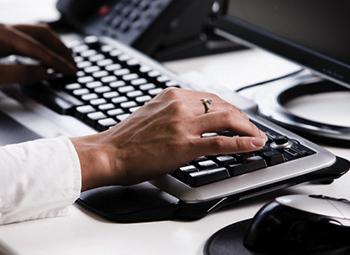 For those of us who use our hands for repetitive motions, such as typing, sewing or playing an instrument, carpal tunnel syndrome is a threat. "Any repetitive movement can cause it, not just the typical computer overuse," says Rob Elder, DC, of Metro Chiropractic and Nutritional Wellness Centre in Creve Coeur.
The National Institute of Neurological Disorders and Stroke describes the carpal tunnel as "a narrow passageway of ligament and bones at the base of your hand. It contains nerve and tendons. Sometimes, thickening from irritated tendons or other swelling narrows the tunnel and causes the nerve to be compressed. Symptoms usually start gradually. As they worsen, grasping objects can become difficult."
Women are more likely to suffer from carpal tunnel syndrome, perhaps because a female's carpal tunnel is narrower. Tingling, numbness and pain in the wrist and forearm are early indications of possible carpal tunnel syndrome.
Treatment may involve a variety of approaches, including wrist immobilization with a splint, anti-inflammatory medications, exercise, corticosteroid injections, massage, acupuncture, yoga, chiropractic adjustment and surgery. "We focus on addressing the direct cause of the carpal tunnel, which can be misalignment or dysfunction of the wrist bones," Elder says. "We also use specific nutritional products to decrease the inflammation and pain. We've had very good results with this approach."
Despite the numerous treatments available, carpal tunnel syndrome can be a stubborn foe. Recovery may be lengthy and the condition may recur, says Matthew Berman, DC, of Berman Chiropractic and Wellness in Clayton. He notes that the chiropractic approach to carpal tunnel syndrome typically involves examining the entire spine, rather than just the wrist.
"The first area I examine is the neck," Berman says. "It's here that a group of nerves known as the brachial plexus comes out of the mid- to lower neck region, then branches out to the arms, hands and fingers. If there is pressure on any of these nerves, the result may be carpal tunnel syndrome. It is not uncommon to have neck involvement when the symptoms occur in both hands. Likewise, if there is pressure on the nerves in the shoulder area, elbows or wrist, the symptoms may also appear."
Chiropractors use spinal adjustments to relieve pressure on the nerves. Adjustments to the wrist itself also help to relieve pressure at the site of pain. By determining the cause of the syndrome, the patient also will be able to make necessary behavioral adjustments to help prevent recurrence. For instance, if keyboard work is determined to be the primary factor in the development of carpal tunnel syndrome, the patient must consider ways to improve posture and remove strain from the wrist while working.
Berman says that in addition to chiropractic adjustment, patients who seek chiropractic care for carpal tunnel syndrome also may receive ultrasound treatments to reduce inflammation, electro-therapy to strengthen muscles in the forearm, and soft tissue massage to stretch contracted tissues.
"Remember, any repetitive motion can cause carpal tunnel syndrome," he says. "Regular chiropractic care and massage is great for preventive care, as well as helping prevent any further damage and helping your body recover."