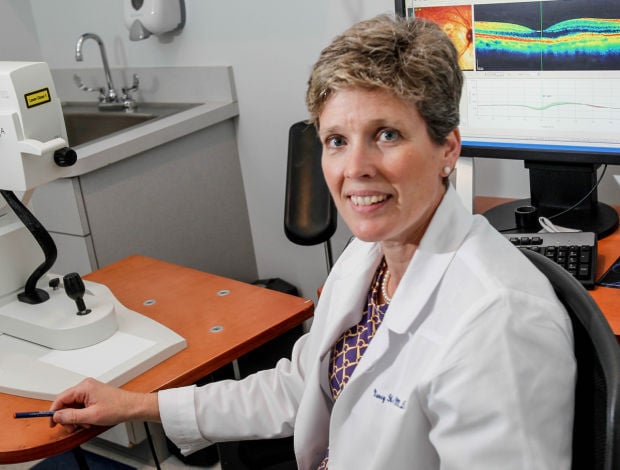 Age-related macular degeneration (AMD) is one of the leading causes of blindness and, until recently, there have been few treatment options available. Local citizens who have dry AMD now may help pave the way for a treatment breakthrough as subjects in an international study.
Dr. Nancy Holekamp, director of retina services at Pepose Vision Institute, is enrolling subjects for a study of a new injectable drug therapy. Pepose is one of 150 American research sites testing the new drug, along with 150 international sites that will track the progress of 1,900 patients given lampalizumab, a drug injected into the eye that appeared promising in phase I and II trials by reducing the disease progression. Holekamp explained more about the study to LN.
Who exactly qualifies to be a subject in this new study?
We will be enrolling 20 to 25 patients with dry AMD in both eyes. All patients will be over age 50.
You have been treating macular degeneration with injections for some time. How is this new treatment different?
The injections for AMD that you may have already heard about are for patients with wet AMD. Now, following phase I and II clinical trials, we are testing a different type of injection for dry AMD in phase III clinical trials. (Note: Dry AMD affects 80 to 90 percent of indi-viduals diagnosed with AMD.)
What is the current treatment and prognosis for AMD?
AMD remains the leading cause of legal blindness in the United States for people over age 65. Wet AMD is when abnormal blood vessels grow under the retina and leak fluid and blood (hence, the term 'wet'). Wet AMD can lead to legal blindness within days or weeks if left untreated. However, fewer people are losing vision from the 'wet' form of AMD thanks to injec-tions of a class of drugs into the eye that converts the wet AMD to dry AMD.
Unfortunately, there is currently no treatment for dry AMD, and it can lead to legal blindness slowly over many months to years. Thus, if a person has even dry AMD long enough, they will lose vision due to the disease. This new drug, lampalizumab, is being studied as an agent to slow the progression of dry AMD and thus prevent vision loss long term.
Please explain how lampalizumab works and what scientists hope to see in results?
Scientists have linked abnormalities in the complement system (a natural disease-fighting system in our bodies) to dry AMD. Lampalizumab tries to minimize the effects of one of the abnormalities in the complement system, thus decreasing the progression and severity of dry AMD. Because dry AMD progresses slowly, it will take approximately two years to see the ef-fects of lampalizumab in the clinical trial.
How did you become involved in this research?
I worked with a company called Genentech to bring the injections for wet AMD to FDA approval. Now Genentech has developed injections of lampalizumab for dry AMD. I want to be a part of this exciting next step in treating AMD.
What is the most important thing you think our readers should know about this topic?
Advances in medicine come from patients, doctors and companies working together in phase III clinical trials to bring new medications to the market. The lampali-zumab phase III clinical trial is one of these efforts. Currently, there is no treatment for dry AMD, and this is the most promising drug to date.
Be the first to know
Get local news delivered to your inbox!