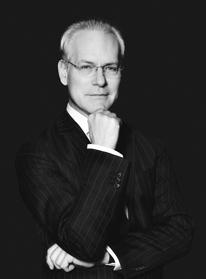 Author and Project Runway co-host Tim Gunn will bring his signature style and expertise to St. Louis May 8 as host of the 2010 Fashion Show at Plaza Frontenac. Also the host of his own television show, Tim Gunn's Guide to Style, Gunn is the chief creative officer of Liz Claiborne Inc. and former associate dean of Parsons The New School for Design. He's been described as "the only man most women would ever welcome into their closet." In an interview, Gunn chatted about his upcoming visit to St. Louis.
LN: We're very excited that you will be in St. Louis to show us how to 'make it work.' Does your advice change for women depending on where they live in the U.S.?
TG: The classic rules of silhouette, proportion and fit are true anywhere on the planet. But there are regional apparel 'codes' and I have great respect for those. I don't believe in the concept of a 'Midwest' or 'East Coast' sensibility, however, because the terms are too broad. There's a great deal of sophistication in St. Louis, for example, but let's just say that same sophistication won't be found everywhere in the Midwest.
LN: Women trust you with their style concerns. What is their most frequent issue?
TG: Most of the time, it's the all-encompasing 'How do I look?' Fashion is so intimidating to people—often they just want reassurance that they are 'doing it right.' There are few aspects of life that stir up as much emotion as fashion. For many people, the idea that they might not be 'doing it right' is just so unnerving.
LN: Turning that around, is there one issue you wish they would address?
TG: Absolutely! Ninety out of 100 times, the mistake is made when choosing a size. When you head to the fitting room, take a variety of sizes and really pay attention to what fits you the best, even if it's different from what you're used to. Many women wear their clothes too big because they feel more comfortable in more fabric, or that's "just the size I've always been," but it's important to remember that fabric adds volume, and the more volume your clothes have, the more volume you will appear to have. It isn't necessary to have enough room to go out and play sports! Wear the proper size for a week, and it will feel like the right size. And of course, there is the opposite problem: clothes that are too small just make you look like a stuffed sausage.
LN: Your list of fashion 'don'ts' for women over 40 includes capris. Why?
TG: Capris should be over at age 13. The basic problem is that capris visually cut off the leg—and that's just not a good look for anyone. Leggings have the same effect, cutting off the line at the ankle. Why not just wear tights for a longer, uninterrupted look?.
LN: About those 'over 40' rules? Do they change again, say, after 60?
TG: While I do believe that it's important to be 'age-appropriate,' there are other factors that should guide style decisions. We did a style makeover for a tall, beautiful woman last fall in More, and I asked her why she dressed like an old lady, because her wardrobe was so frumpy. There's no reason why clothes should ever announce, I am now officially a matron. And of course, if you're fit and look great, that does give you a certain amount of license in your choices, too.
LN: Your list of wardrobe essentials includes a bonus of one indulgent, trendy item. Any suggestions for what that might mean this spring?
TG (laughing): People just hate it when I don't name a must-have item, but it's really about that fashion indulgence you just "have to have." That might be a fabulous graphic cuff or an embellished cardigan. What are you yearning for?