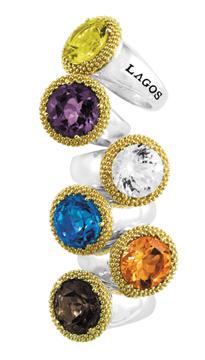 Whether you're accenting a little black dress or adding some bling to your weekend denim, the must-have accessory this season is black and white jewelry, says Mona Kohn, manager of The Diamond Shop.
     "Think black diamonds and white gold," she explains. "It's such a versatile look, not just because it goes with so much in your wardrobe, but because it's an elegant color scheme for almost any jewelry design. Contemporary pieces are gorgeous in black and white, but the combination is equally stunning in a Victorian-style pendant or bracelet."
    Although brides have traditionally chosen a white diamond for their engagement ring, Kohn says, black diamonds enjoyed a big-screen debut earlier this year in Sex and the City 2, when Carrie Bradshaw's elusive Mr. Big presented her with a five-carat black diamond engagement ring. True to the newest must-have color scheme, the black diamond was set in 18-karat white gold, surrounded by 80 white diamonds.
    Round diamonds have long been the first choice for solitaire engagement rings, says Kohn. "Round diamonds will be around forever because they're such a classic choice. A round diamond solitaire is especially beautiful in a 'halo setting' with a circle of smaller diamonds surrounding the center stone," she says.  A diamond ring can be further customized with different choices in metals, Kohn adds, such as setting a white diamond in pink gold, or a yellow diamond in 18-karat yellow gold. And although the round cut is popular, Kohn says that cushion-cut diamonds—square-shaped with rounded corners—are making a comeback.
    If your jewelry wardrobe could use an infusion of color, you have lots of choices this season, says Breah Saettele of Saettele Jewelers. "Big color is hot right now!" she says. The 'Passion' ring collection from Lagos, describes Saettele, features large amethyst, citrine or blue topaz stones on a polished sterling silver band. "Sterling silver is a popular choice because it makes jewelry so affordable," she adds. For diamond jewelry with a culinary reference, the Lagos collection also includes Diamonds and Caviar™ — rings, earrings and bracelets with pavé diamonds set in 18-karat gold, accented with sterling silver beading. "This collection is so versatile!" says Saettle. "The bracelets are fun to stack, and you can use any of the pieces to dress up a casual outfit, or wear them out on the town."
    Sterling silver teamed with semiprecious stones was featured prominently at the recent JCK show in Las Vegas, says Katie Wielansky, a buyer for Michael Genovese Jewelers, who attended the annual industry event in June. "Many of the rings had 14-karat gold accents, but the absolute must-haves were silver necklaces with colored stones like blue or purple amethyst, and blue topaz."
    Genovese brides favor white gold for their engagement rings, says Wielansky, and design choices are virtually unlimited. "We do a lot of custom work," she explains, "So brides can really chooose any diamond shape or color, and we can craft their dream ring to their exact specifications. The important thing is to make sure the bride has a ring that she will love forever."