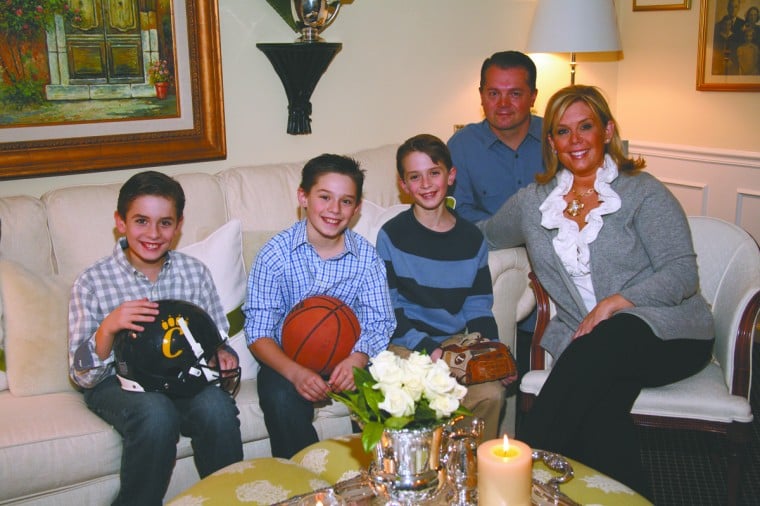 When twin boys (Jack and Matt, now age 11) came along for Julie and Jeff Brooks, the new mom and dad decided it was time to head west in search of a larger home and outdoor play space for their growing family. And it's a good thing they did, because two years later, the Brookses welcomed Ben, now 9, to their family.
LN: WHY DID YOU CHOOSE CHESTERFIELD AS YOUR PLACE TO CALL HOME?
Julie Brooks: We needed a bigger yard for the boys. And as it turns out, they are really into sports. We are at the Chesterfield Valley Athletic Complex most of our time because our kids play baseball, basketball and football.
LN: WHAT DO YOU LIKE ABOUT LIVING IN THERE?
JB: Chesterfield has this great sense of community. Also, my husband and I are regulars at Annie Gunn's. Of course, when we're in Clayton or downtown, we're at J. Buck's or Joe Buck's, but if we're staying a little closer to home, we're at Annie Gunn's talking to our favorite bartender, Eve. We like to go to Galaxy 14 Cine, and when it comes to shopping, there's lots of fun stuff like Meka Boutique. And my kids love Sarah's Cake Shop glitter bites! I also love my gym, Illuminate Gym, and my trainer, Kelly.
FACTS & FIGURES
City of Chesterfield
Incorporated in 1988
Population: 47,484
Mayor: Bruce Geiger
FUN FACT:
Known as the 'City of Volunteers,' Chesterfield once encompassed six towns, including Bellefontaine, Lake (formerly Hog Hollow), Gumbo, Monarch, Bonhomme and Justus Post's Chesterfield.
NEIGHBORHOOD NOTES
Chesterfield is a great community that appeals to a variety of lifestyles. It offers wonderful parks, top-notch schools and a reasonable commute in any direction. Residents take great pride in the neighborhoods and enjoy convenient services within their own community. —Susan Hurley, Janet McAfee Real Estate