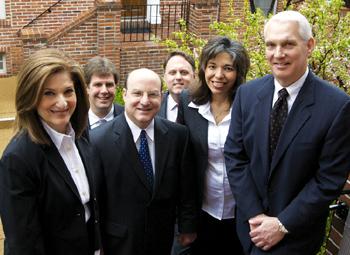 When attorney Susan Hais, founder of Hais, Hais, Kallen & Goldberger P.C., graduated from Washington University as an undergraduate in 1970, her sights were set on a Ph.D. in English and a career as a college professor. But soon after starting a master's program in the subject at Saint Louis University, Hais discovered a passion for law that has resulted in a long career and a reputation as one of the area's most successful domestic law attorneys.
"As a student of English, my main interest was in Charles Dickens, a great social critic," says Hais. Did the famed English novelist inspire Hais' own social inclinations? Perhaps, she says. "I was thrilled with my literature classes, but realized I was more passionate about law and how I could use it to help others, so I decided to enter law school." At a time when women had just begun to make inroads in male-dominated fields like law, it wasn't a common path. "I remember very clearly the day I went to visit Richard Childress, then dean of SLU's law school. He was delighted with my decision and remained supportive of me and the other women in my class throughout our studies," she says.
To say Hais was outnumbered by male peers during her years in law school would be a gross understatement. "I was in classes of 200 students, and maybe six or seven of them were women. But I never felt at a disadvantage. In fact, I felt the opposite, I felt accepted and supported by my classmates and professors, many of whom I remain friends with today. Law school was a wonderful experience," says Hais.
Looking for a job was another matter. "I wanted to be a criminal lawyer, and when I graduated, I visited criminal law firms in the area looking for a job," she recalls. "I almost always got interviews, but mostly because the partners were astounded a woman was even applying for the job and curious to meet me. I heard it all. I was often told it was too 'rough' a field for a woman. One lawyer said, 'If I were going to hire a woman, I would hire you. But I'm never going to hire a woman.' You couldn't say that sort of thing today. But I was never discouraged. If anything, I felt good about being on the cutting edge of something. I found it all very exciting."
Hais figured if she couldn't find a job, she'd just start her own firm, which she did years later. "I eventually landed at a small firm that had a criminal lawyer and one who did civil work, including personal injury and domestic work," she says. It was while working there that she discovered her passion for domestic law, and she eventually quit and decided to open her own practice.
Hais' gender quickly became an asset at that point in her career. "In family law, people wanted to hire females. Some clients were professional women who loved the idea of having a woman representing them," she says. Her many male clients were also happy to have a woman lawyer, if for different reasons. "My male clients felt like I had an edge in court, and they were right to a certain extent. When dealing with the issues of children, women, marriage and relationships, they felt more comfortable pouring their hearts out to me than to men," she says.
Juggling her own family was hectic at times, but Hais managed with the same determination she applied to her studies and career. "Having my two children was the best decision I ever made. I was pregnant with my first when I opened my practice. When the time came for the baby to arrive, I continued working as I was rushed to the hospital to deliver, even dictating from the gurney," she recalls. As her children grew, Hais says that support from her husband, Sam, formerly a judge and now a partner in her firm, was invaluable. "We were a team. I'd get up around 5 a.m. and work for awhile before getting the kids up and off to school. Often, my husband would pick them up in the afternoon, taking a recess from court until the sitter arrived," she says. "You manage by working around the kids' schedules. If it's something you want in your life, you make it happen."
Hais' practice quickly became busy, and soon she hired associates and paralegals. Today, Hais, Hais, Kallen & Goldberger has six lawyers, six paralegals and other support staff. But she says the firm has done all the growing it's going to do. "Firms practicing domestic law shouldn't get too big, in my opinion. To practice this area of law effectively, you can't be passing cases on from lawyer to lawyer to lawyer and having people tell their stories to seven different lawyers. These are people's lives you're dealing with, and it's too personal for a large law firm to handle."
Much has changed about the industry since Hais hung out her shingle years ago. "Back then, everything moved at a much slower pace. We didn't have faxes or e-mails, so everything took longer," she says. "It has become highly complex. At the center, it's business litigation, with overlays of custody and other very emotional issues. It's more aggressive, more litigious and requires much more skill to do effectively."