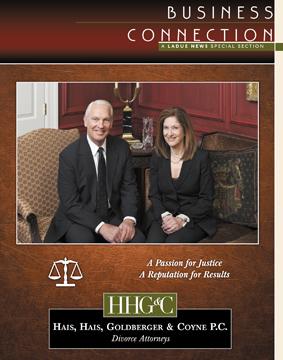 Even the most amicable of divorces can be fraught with emotion and difficulties, so it's important that you have an attorney on your side whom you can trust. "You have to be comfortable telling them the worst, most personal things that are going on in your life," says Susan Hais of Hais, Hais, Goldberger, & Coyne. "You don't want someone who seems apathetic or dismissive."
As veteran divorce attorneys, Hais and her husband and business partner, Sam Hais, and their partners Elliott Goldberger, Kerry Coyne, Amy Dennis and Robert Dennis occasionally meet with people who are unhappy with their choice of attorney. Usually, Susan Hais says, this problem can be avoided by the client doing some research before making a decision. "A doctor, therapist, clergyman, friend or family member can be a good referral source," she says.
"When someone comes highly recommended, what is repeated most often about them is that they'll go to bat for you no matter what. That they'll put a client's concerns uppermost is a characteristic that make people sit up and notice," Sam says. "It's usually a matter of getting what you pay for—value received, in other words."
At the first meeting with a lawyer, there are several questions worth asking, Susan notes. The first thing to consider is whether the lawyer truly focuses on family law. "A lot of people say they do family work, but it's not really their concentration; you really have to do just that," she says. "The field is complicated. New cases come down every week, and we keep up with them. You need to be in the field 100 percent of the time."
If the entire firm deals solely with family law, that can be a bonus as well, Sam says. "Here, we have a weekly meeting where we discuss many of the cases that we deal with, with the entire staff," he says. "The client gets the knowledge and wisdom of all eight of our lawyers, as opposed to just one, as it would be if they were dealing with a solo practitioner or a lawyer at a large firm."
Getting a lawyer with extensive courtroom experience is vital as well, Susan says. "You absolutely do not want a lawyer who is afraid to go into a courtroom," she says. "It's not that you want a domestic relations litigator because you expect to be litigating necessarily, but it is a wonderful insurance policy." A lawyer with more litigation experience often has a better knowledge of each judge's inclinations regarding various issues that might arise, she says. "Each judge is different, and it's very important to know who is who." A lawyer who knows the judge's stance might be able to better advise the client.
"Also ask, Are you going to be my lawyer or are you going to turn me over to someone else?" Susan says. Some law firms have one person dedicated to bringing in business, who then turns over the case to another lawyer. If you are comfortable with the lawyer from the first meeting, you want to keep contact with that person throughout the case, she says.
Building strong attorney-client relationships has been key to their firm's success, Sam says. "We sincerely appreciate our clients for making our work for them so rewarding and fulfilling. This has been a wonderful year for us," he says. He adds that the firm has plans to expand and move to larger quarters in March of next year. LN
---
Hais, Hais, Goldberger, & Coyne, at 100 S. Brentwood Blvd. in Clayton, concentrates its practice in the area of family law. The firm will be announcing its new location soon. For more information, call 862-1300 or visit their new website, hhgc-law.com.