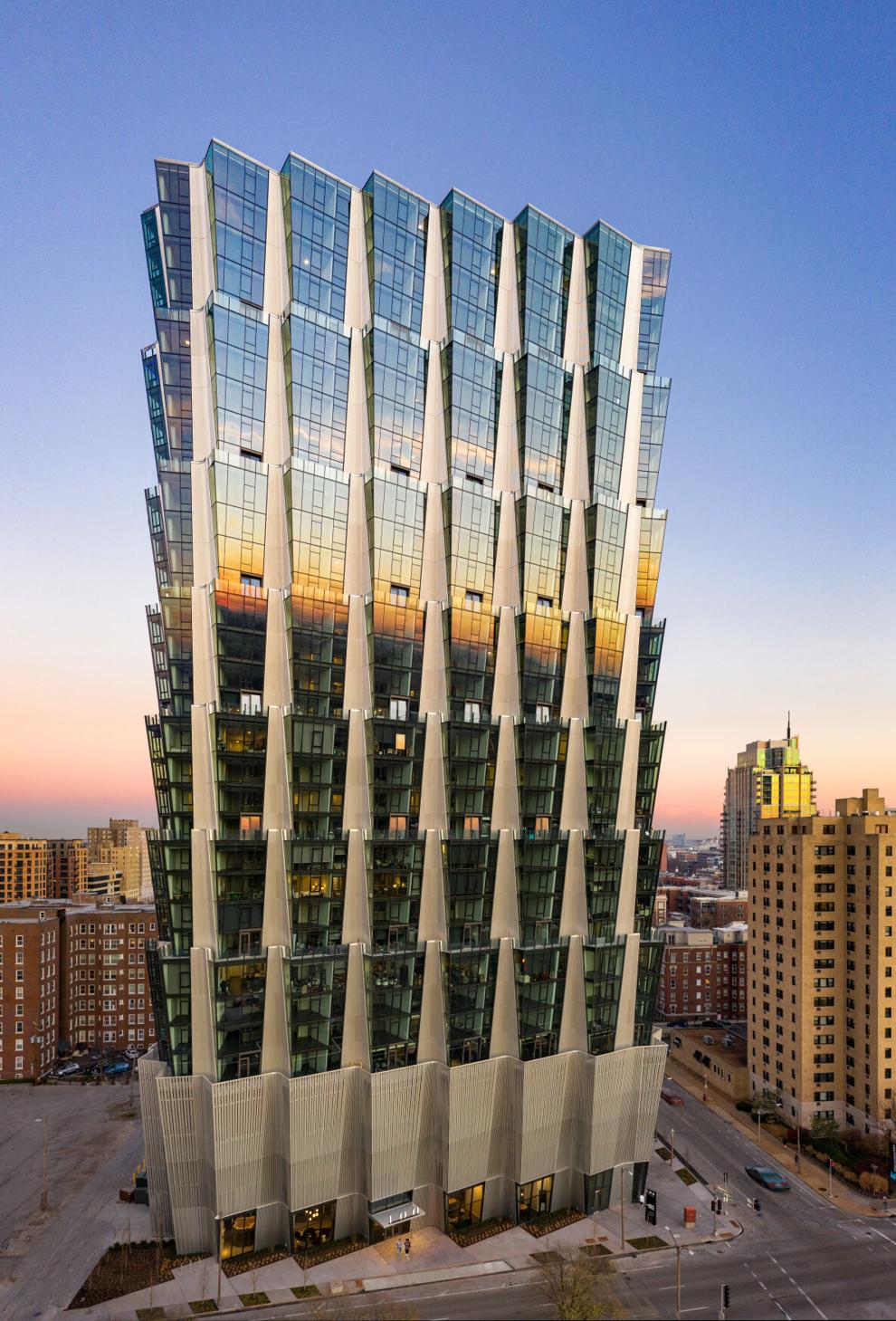 One Hundred Above the Park is extremely hard to miss. If you've driven on the east side of Forest Park or in St. Louis' Central West End neighborhood in the past three or so years, you've seen the construction and now completion of the 36-story luxury apartment building that dominates the surrounding skyline – a building that was designed to maximize elevated views of St. Louis' distinct architecture and panoramic urban vistas.
Officially opened in September 2020 and standing 380 feet tall on 1,300 acres on the corner of West Pine and Kingshighway boulevards, One Hundred Above the Park gives residents never-before-seen angles of Forest Park, as well as sweeping views of the Gateway Arch. "St. Louis has such an impressive tradition of architecture and landscape design, and we carefully considered that history in designing One Hundred," says Juliane Wolf, design principal and partner of Studio Gang, the Chicago architecture group that designed the building. "The tower's distinctive shape is designed to be seen 'in the round,' with each angle offering its own subtly unique presence. [Al]though it has a presence of its own, we also designed it to resonate with its context – picking up cues from Forest Park and from the buildings that define the edge of Kingshighway Boulevard."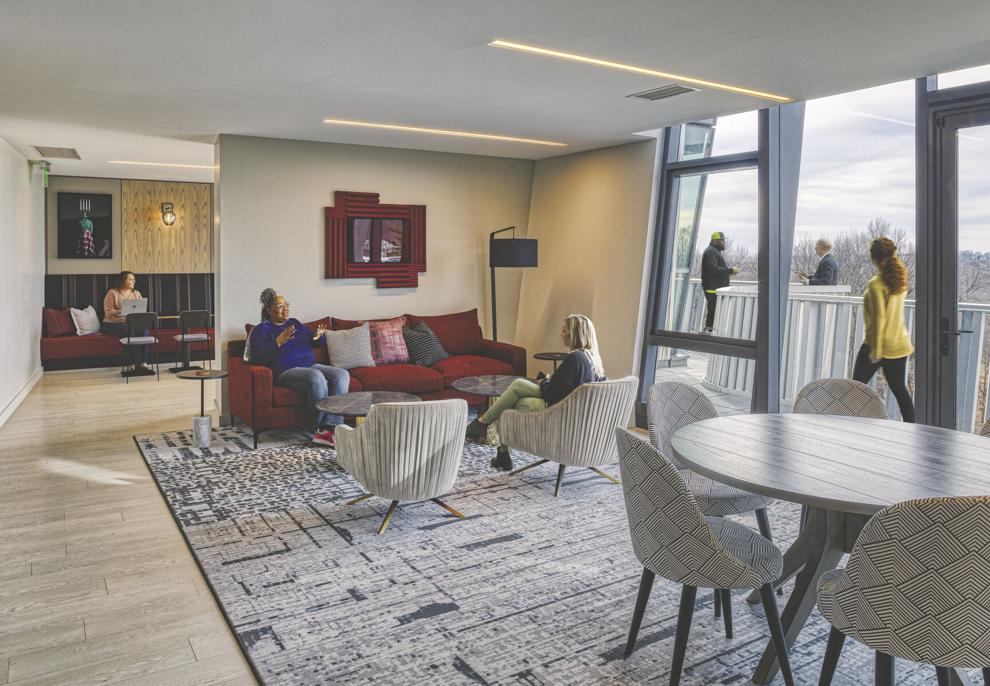 Each of the living rooms in the 316 units features double-exposure corner windows that enhance the amount and quality of daylight in the apartment. "Floor-to-ceiling glass is precisely angled to maximize natural light and sweeping panoramic views," says Greg Guttman, chief marketing officer of Mac Properties, the building's developer. "Residents will see the first light of a waking city and the setting sun over the park below."
The angled windows also increase energy efficiency by reducing solar heat gain in the summer, when sun angles are steeper, and also by allowing for lower winter rays to penetrate. One Hundred is Green Globes Certified for sustainable and energy-efficient design by Green Building Initiative and was designed by renowned architect Jeanne Gang (who was named one of the 100 Most Influential People in 2019 by Time Magazine) of Studio Gang. The building's leaf-shaped footprint – inspired by the flora of nearby Forest Park – and stacked-tier design maximize its performance and reduce overall energy load. Generous outdoor balconies atop each four-story tier offer private terraces for a quarter of the apartments. The first six floors form a controlled-access underground parking garage with electric car-charging stations and secure bike storage, and the seventh-floor shared amenity space includes a fitness center and party and game rooms, as well as an outdoor pool and sundeck with grills, dining areas and outdoor fireplaces.
"Outdoor space was a key goal of the design, too," Wolf says. "By stacking the floors in the way we did, we created ample outdoor space with both private and shared terraces."
More than a dozen units are still available at press time – studios cost $2,200 per month, one bedrooms range from $2,500 to $3,350, two bedrooms from $3,750 to $4,455 and three bedrooms from $5,250 to $6,630.
The hallmark corner views and bright lighting alone impress when first walking into one of the apartments, but the modern and spacious spaces also showcase 9-foot ceilings, hardwood floors, stainless steel appliances and quartz countertops in the contemporary open kitchens, and full-size, in-unit washers and dryers.
Additional residential perks at One Hundred include personal storage units, an indoor dog-grooming station and covered dog run, 24-hour maintenance and lobby attendants on duty, and a retail space on the ground level, which currently has Pilates Lab as its first occupant. Plus, residents can join the One Hundred Club, which partners with neighborhood businesses to provide discounts and exclusive offers such as $250 off the membership activation fee and 10 percent off rentals for DriveBLACKTIE (a car subscription and rental service), free men's haircuts at Cutters & Co. at the nearby Chase Park Plaza and other deals at Pilates Lab, Vin de Set, Lazy Tiger and elsewhere.
"Neighbors have had a chance to meet each other and form relationships," Guttman says of One Hundred's two years open to renters. "There's a heavy event program that provides opportunities for residents to engage in social spaces and form a community."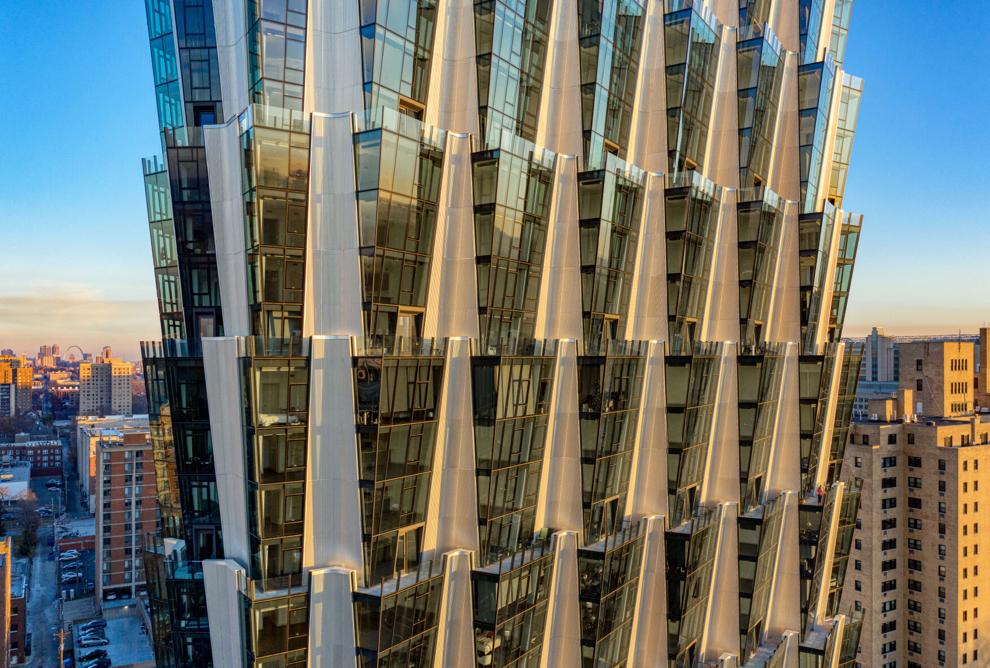 At its core, One Hundred is all about linking the richness of St. Louis' historic architectural past with an optimistic outlook for the future, as well as linking residents to all that Forest Park, the CWE neighborhood and the city in general have to offer.
"Forest Park is such an important part of the St. Louis landscape, so we designed the building in a way that would create as much connection to it as possible," Wolf says. "We wanted there to be pedestrian connectivity on the street level to ensure the park would remain integral to the neighborhood experience."
One Hundred Above the Park, 100 N. Kingshighway Blvd., St. Louis, 314-310-0819, liveat100.com