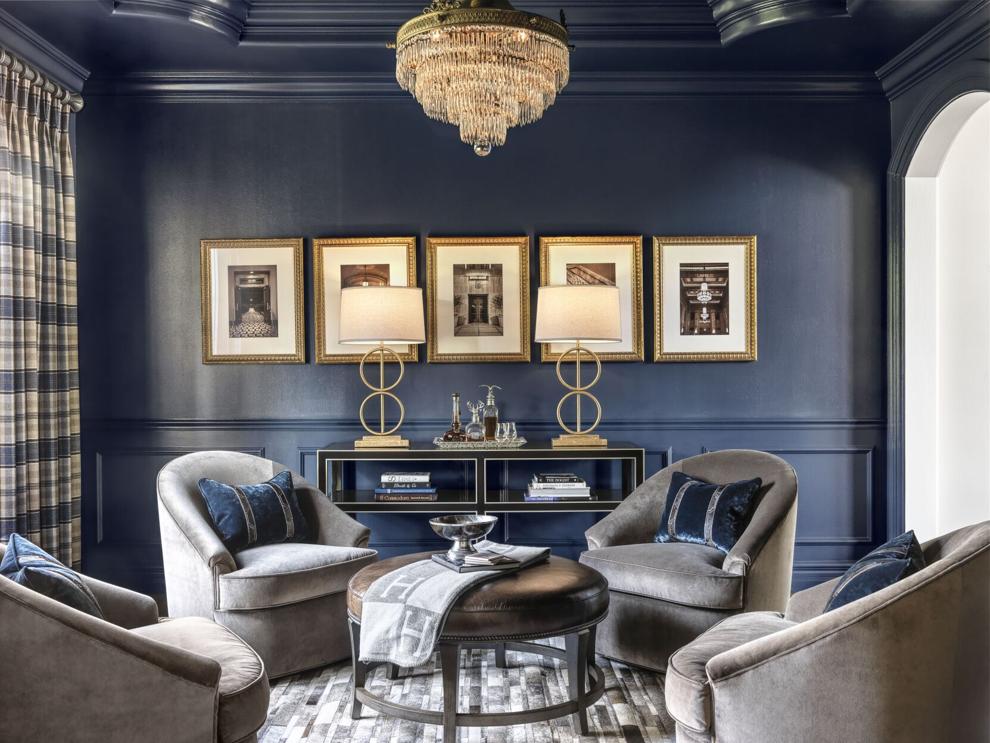 A formal dining room is now a parlor packed with pattern, texture and personality, thanks to Liz Basler at Castle Design.
"Our client is an incredibly well-mannered, gracious Southern woman, and she invites people to sit down, have a conversation and have a bourbon," Basler says. "They like to visit with friends and enjoy time with them, so they wanted to create spaces that allowed them to entertain in a stylish way."
Basler kicked off the redesign by painting the walls, millwork and ceiling in a rich navy blue, which is beautifully accentuated by gold touches and classic English plaid window dressings in blue and beige.
"The space is a mixture of timeless design and menswear," Basler says. "It's a stylish, comfortable place to gather for gracious living, which is an homage to this lovely family and how they conduct themselves."
The space features not only fantastic new accessories – like the luscious mink-colored velvet barrel chairs, weathered leather ottoman and patchwork hide rug – but also family heirlooms.
"She has some really fantastic legacy pieces; the picture frames are from their family," Basler says. "The chandelier is a heritage piece from her grandmother. I love the idea of mixing some of the heritage pictures and the light fixture with more traditional items. I think the space turned out lovely."