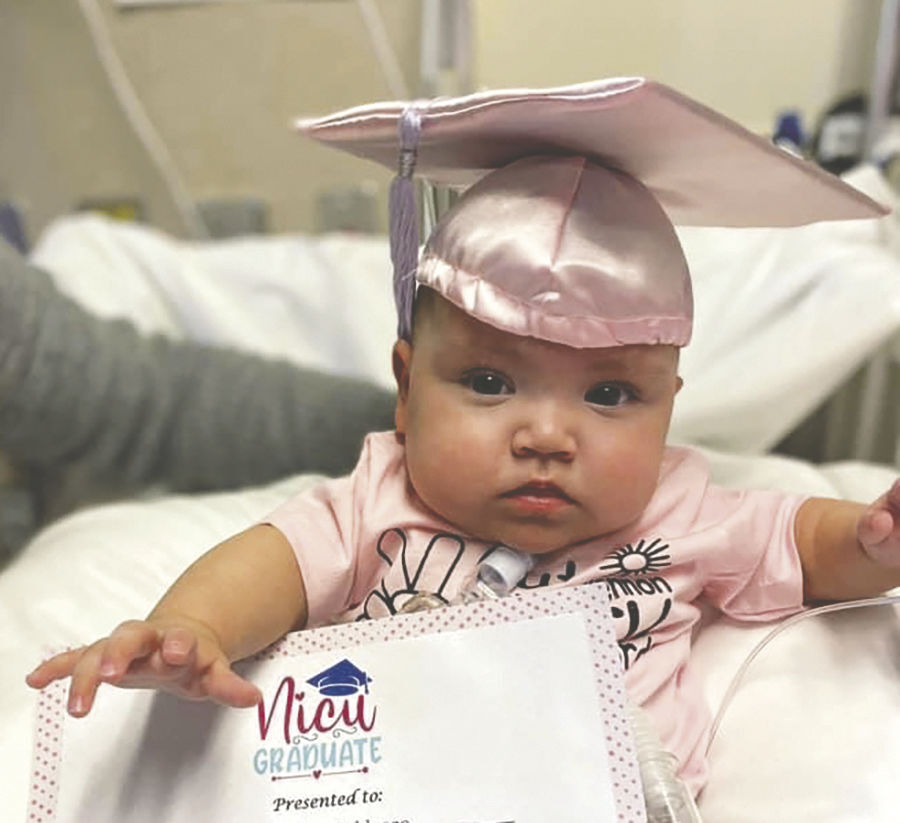 The mission of SSM Health Cardinal Glennon Children's Hospital states: "Through our exceptional health care services, we reveal the healing presence of God." The SSM Health Cardinal Glennon Children's Foundation works to support the children's hospital, allowing it to provide its lifesaving care to every child and family in need.
Children like that include newborn Hailey, pictured here. After a complicated pregnancy led to a premature birth at 26 weeks, Hailey was born weighing 1 pound, 10 ounces. Immediately thereafter, she was transferred to the Neonatal Intensive Care Unit at SSM Health Cardinal Glennon for the best chance of survival.
It was a challenging first few months; Hailey developed klebsiella pneumonia, along with bronchopulmonary dysplasia, a form of chronic lung disease. These were serious medical conditions – extremely difficult for underdeveloped, premature babies to manage.
"Her doctors told me that she needed an emergency tracheotomy," says Jennifer, Hailey's mother. "It would be a risky surgery, but I couldn't give up on her. I had to put my faith and trust into her Cardinal Glennon team."
That faith and trust paid off; the skilled physicians at SSM Health Cardinal Glennon performed her surgery and gave Hailey another chance at life. After 277 long days, she left the hospital and started the next chapter of her healing.
Hailey is now a happy 1-year-old child with a big personality. While she still has a long road to recovery ahead, Hailey continues to show her strength and bring joy to her family and care team. "Every minute I get to spend with my daughter is because of Cardinal Glennon and the amazing people in the community who help this special place," says Jennifer.
You can support Cardinal Glennon children like Hailey by giving through the Tree of Hope end of year giving campaign this holiday season. Through giving to the SSM Health Cardinal Glennon Children's Foundation, your donation will go toward improving the technology and facilities needed for the hospital to continue providing live saving care to children who need it most.
SSM Health Cardinal Glennon Children's Foundation, 3800 Park Ave., St. Louis, 314-577-5605, treeofhope.org