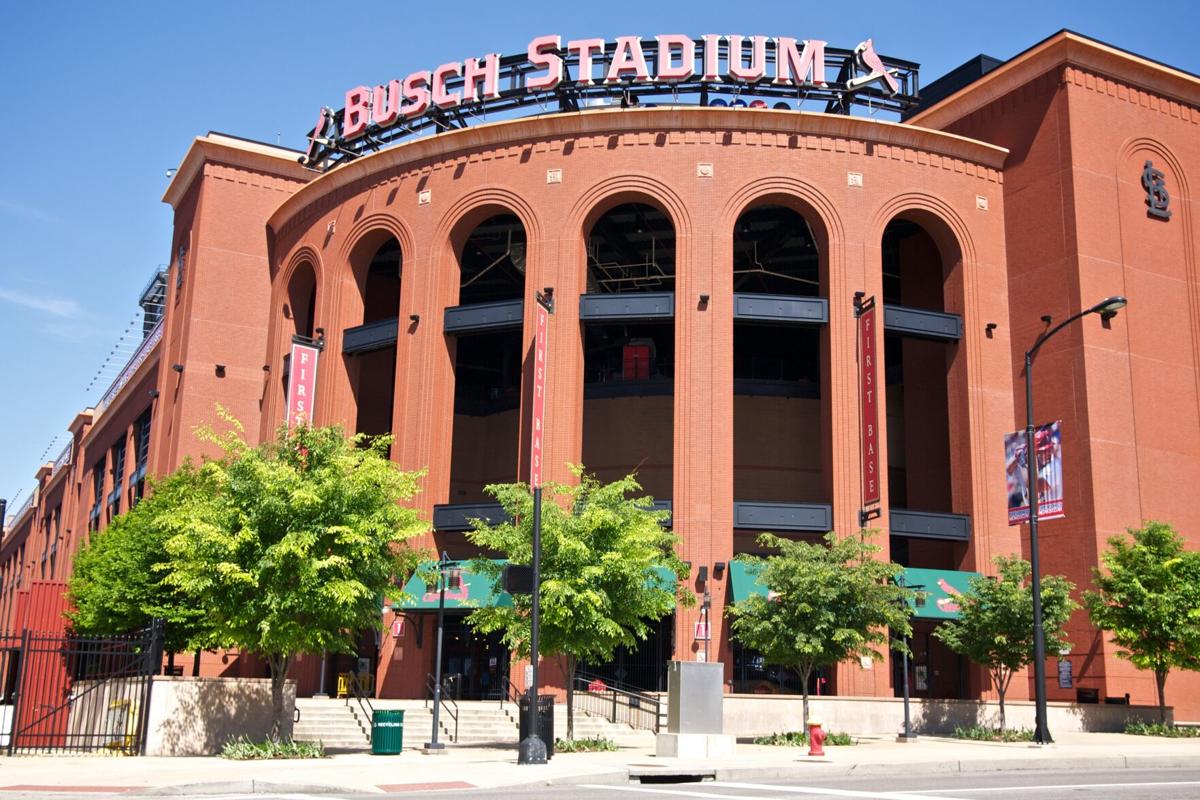 You can see a bad movie, you can have a bad meal at a restaurant, and you can attend a bad concert. But in St. Louis, the one thing you can't have is a bad time at Busch Stadium while watching the Cardinals play baseball.
The game can have a bad result, sure, but it's next to impossible not to enjoy a summer night at Busch watching Yadier Molina throw out a runner or Alex Reyes notch a save.
Even if you aren't a hardcore baseball fan, you can still enjoy the experience. The stadium's always spotless, the grass is always green, the hot dogs always smell good and the beer's always cold. The ballpark is also a place where you can take a date and talk all night long while the game's going and not miss a thing. Other sports are frantic, but at a baseball game, you can find out how your date's day went in just one long at-bat.
We didn't experience it last year at all. But this year, Busch is back, baby! Attendance is still limited, but the stadium will open to full capacity on June 14. "Getting guests back is the best part," says Matt Gifford, VP of stadium operations. "Going through 2020 … was not a great experience, and just not seeing friends that you would normally see was tough. For me, I enjoyed running into old friends from Springfield or passionate fans from St. Louis. We just missed making Busch Stadium the focal point."
And as much as many would like to be able to go masks-off at a game, it's not recommended to do so unless you are fully vaccinated. The stadium's safety policies state: "Fans that are not yet fully vaccinated are strongly encouraged to wear masks at all times inside the stadium, including the seating bowl, unless actively eating or drinking."
Another difference this year is that the stadium has gone cashless. If you come in with cash, you can buy a gift card at the stadium and use that while you're in the building. "It's just becoming a trend all over the country," Gifford says. "Most businesses are doing it now."
An additional major change at the stadium is in terms of ticketing. Tickets are now completely mobile, and paper tickets are things of the past. Gifford notes that although it's different from what visitors are used to, people are growing accustomed to it.
You also won't be seeing a particularly favorite tradition at the ballpark for the time being: beer vendors. Gifford assures us that, of course, they're not gone for good and says that when they return, they'll be cashless, also.
One adaptation that Cardinals fans will really like is new safety measures. There's now more netting to protect fans from wicked foul balls. In recent years, there have been quite a few serious injuries from hard-hit fouls. So the organization has now raised the net behind the backstop by about 6 feet. It's also extended the net from where it used to be at the end of the dugout to the edges of the field box seats. According to the organization, the added netting hasn't affected sight lines at the game. "Fan safety has been and will always be our No. 1 priority," Gifford says.
Food's a necessity at all Cardinals games, of course. Gifford believes stadium food service has really stepped up its nacho game specifically. An incredible variety and the ability to build your own plate are the biggest selling points. Because of COVID-19, specialty menu items aren't completely back yet, but they will be. The hot dogs and beer will never go away, thankfully. And if you're hungry for more substantial food items, Ballpark Village has added a few new restaurants this year, such as Sports & Social.
The Busch Stadium experience is also important to the players. It's the reason Nolan Arenado has been trying to get traded to St. Louis for years, and it's the reason he might finish his career as a Cardinal. And if he does, mark my words, he'll go to the Hall of Fame wearing a Cardinals cap – and one day, there'll be a Nolan Arenado statue outside of Busch Stadium.
"The aura of coming here and watching the fans react so positively to Cardinals players and opposing players is unique," Gifford says. "Cardinals fans are not always one-sided. They cheer for great players."
One day soon, that stadium will be packed again to 45,000. One day soon, there'll be standing ovations for Waino, Yadi and Goldy. One day soon, there'll be families enjoying a true, classic baseball experience.
Gifford put it best: "Watching a grandparent with their grandchild on their lap and enjoying a Cardinals baseball game is as good as it gets."
Frank Cusumano is a 17-time Emmy Award-winner on KSDK-TV; he also hosts The Pressbox on The All New 590 the Fan from 10 a.m. to noon each weekday and contributes to The Dave Glover Show on FM NewsTalk 97.1. Follow him on Twitter @frank_cusumano.