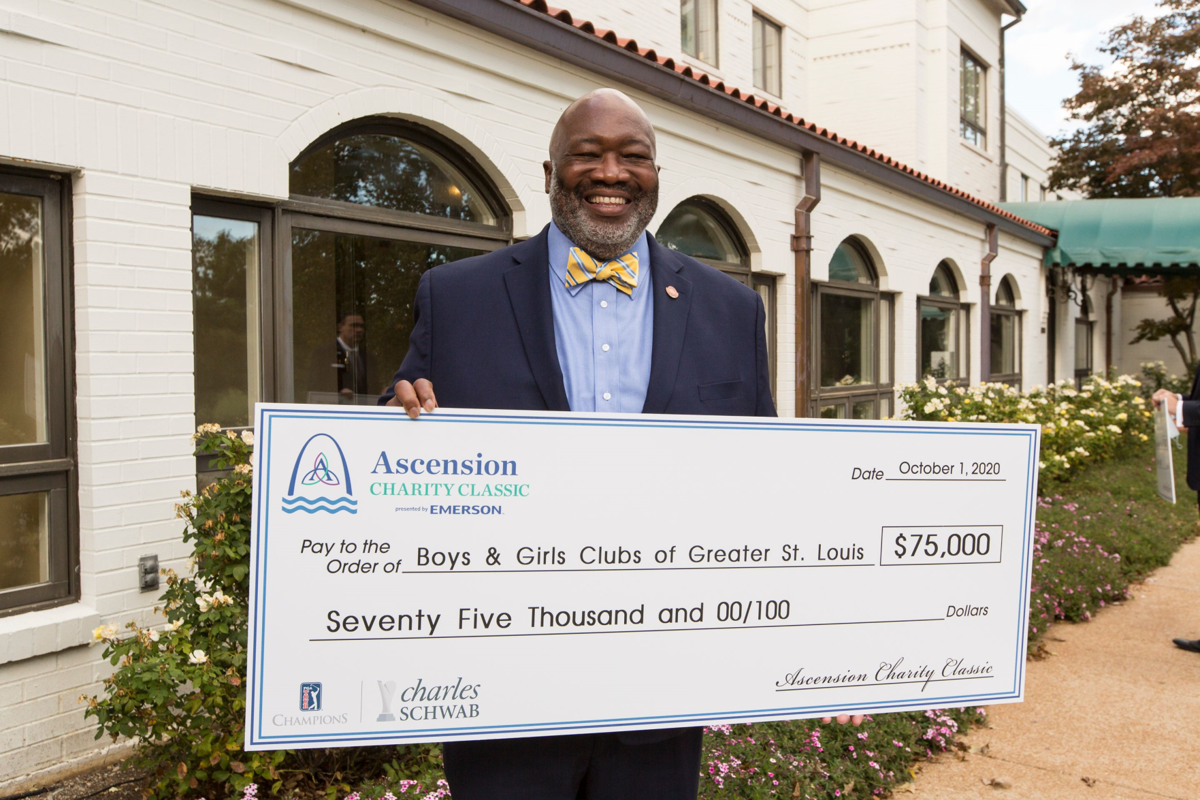 Although COVID-19 delayed till next year the return here of professional golf, the Ascension Charity Classic presented by Emerson officially started counting down to 2021 with a $225,000 donation to metro area organizations.
With its first tournament now scheduled for next Sept. 6 to 12, the classic recently hosted a round of golf at the tourney's host venue, Jennings' Norwood Hills Country Club. The event included a virtual conversation with golf legends Jack Nicklaus, Tom Watson and Hale Irwin moderated by PGA TOUR Champions professional and Ascension Ambassador Billy Andrade.
"It is such a privilege to be a part of an event that is positively impacting St. Louis and North County in my home state of Missouri," Watson says. "I'm excited to see professional golf return to a region that is filled with passionate, dedicated fans with a history of charity giving and community engagement."
During the event, the classic announced the donation to support north St. Louis County communities, with $75,000 given to each of the tourney's three primary beneficiaries: Marygrove, the Urban League of Metropolitan St. Louis and Boys & Girls Clubs of Greater St. Louis.
"While we're disappointed that we had to postpone the inaugural Ascension Charity Classic presented by Emerson, we're delighted that we were still able to deliver charitable donations to our three primary beneficiaries," says Nick Ragone, Ascension executive vice president and chief marketing and communications officer.
"The St. Louis community has rallied around this event and understands the impact it will have on North County for years to come. We're already planning for a spectacular inaugural event in September of 2021."
Biermann Repeats Championship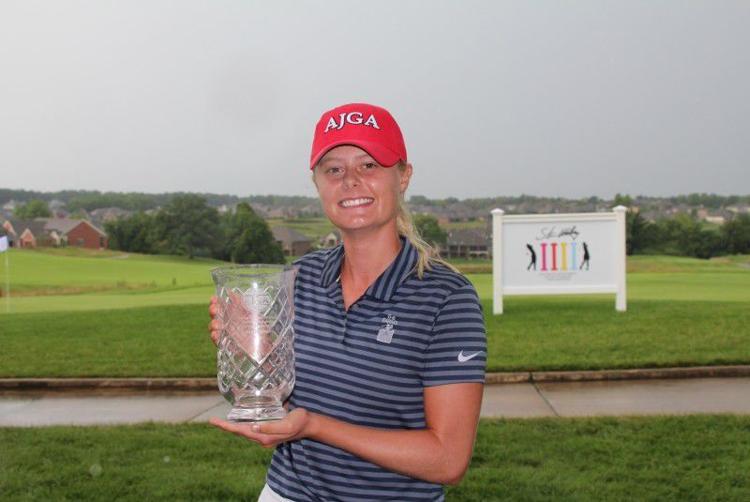 Lafayette Lancers senior Brooke Biermann – one of the area's top young female golfers – recently won the Suburban Conference Yellow Pool girls golf championship at Crescent Farms Golf Club in Crescent, roughly half an hour's drive southwest of Ladue.
Biermann, who has committed to attend Michigan State University in East Lansing, shot a 1-under 71 to earn medalist honors by seven strokes.
"Brooke had a solid day," says coach Katrina Clark of Lafayette High School in Wildwood. "Her round got a little shaky in the middle, but she was able to turn it around with two birdies on the closing stretch."
Biermann previously won the league title as a sophomore. "It is nice to see her reign as conference champ again," Clark says. "I know she has bigger goals for the season, but starting as conference champ is always nice."
Schilps Capture Father/Son Championship
David and David Schilp, playing out of Bogey Hills in the 14- to 17-year-old flight, shot a 3-under par 69 to win this year's Salomon Father/Son Championship on the South Course at Whitmoor Country Club in St. Charles.
Teeing up for the championship were 50 teams.
In the 18-to-23 flight, Bob and Clayton Cissell, the 2011 Salomon champs from Bogey Hills, captured the honors, carding a 73, while Persimmon Woods' Chris and Ben Blase shot 74 for second place.
In the 14-to-17 flight, Carl Benbrook (Persimmon Woods) and grandson Mason shot a 74 to capture the honors in their flight.
Johnson Takes District Championship
Ellie Johnson, a junior at Town and Country's Westminster Christian Academy, recently won her first district championship by shooting a 4-over-par 75 to capture medalist honors in the Class 2 District 1 girls' golf tournament at Meramec Lakes Golf Course in St. Clair.
Johnson finished the front nine 1-over-par 37, battling the wind on the back nine but holding on despite a triple bogey on 16. She recovered and scored a five-shot victory.
Whitfield Wins in Florida
In mid-October, Jeff Whitfield of Weldon Springs finished 13th in the 32nd Senior PGA Professional Championship in Port St. Lucie, Florida, to win $4,810.
Be the first to know
Get local news delivered to your inbox!