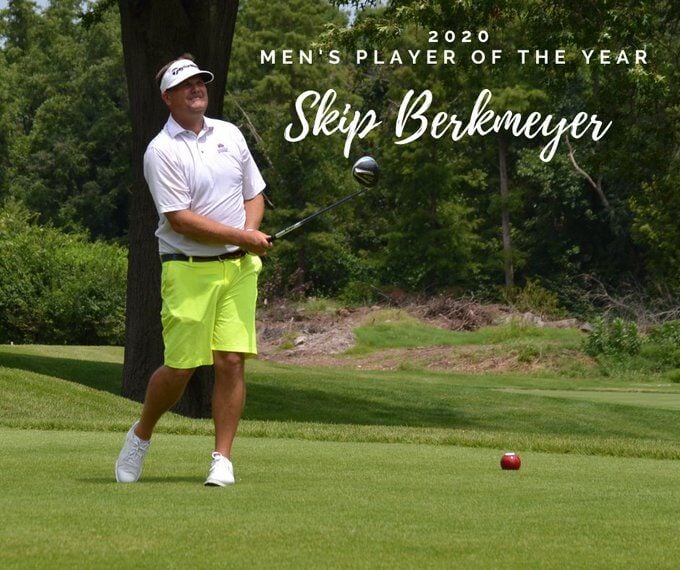 MGA Player of the Year Award Again Goes to Berkmeyer
Although COVID-19 restrictions caused the 2020 golf season to start late, local golfers hope for a return to normalcy this year, with the Missouri Golf Association naming Town and Country's Skip Berkmeyer, after an impressive season, as its Player of the Year – Berkmeyer's sixth time winning the top award.
Last year, Berkmeyer topped two competitions, with the first being the Jefferson City Country Club's Four Ball tournament in May with his partner, Hunter Parrish, and the second being the MGA Stroke Play Championship in July – his third time winning that event. (In 2020, Berkmeyer also placed in both the Missouri Amateur Championship and Mid-Amateur Championship, each of which he's won thrice.)
St. Louis' own Ellen Port, the Women's Senior Player of the Year, tied for ninth in the Women's Amateur Championship with a three-round total of 216. That finish earned Port third place in the Mid-Amateur (25+) Championship division. The strongest finish for Port – an inductee into both the MGA Hall of Fame and the St. Louis Hall of Fame – involved her seven-under total at the MGA Senior Amateur in Sedalia.
Springfield's Wayne Fredrick earned the Senior Player of the Year designation. He and his partner, Brian Haskell, won the Men's Senior Four-Ball Championship at Bogey Hills Country Club in St. Charles. In the Missouri Amateur Championship, Fredrick shot 73-75 on a 36-hole course, qualifying him for the round of 64 before he was eliminated. Also, in September, he fell just shy of winning the Senior Amateur Championship, tying for second after hitting 70 and 73.
Finally, Jessie Meek, who played for the University of Missouri-Columbia, landed the Women's Player of the Year designation. She won her second MGA major title at the 2020 Mid-Amateur Championship in Camdenton, in mid-Missouri.
Legends Luncheon Launches in July
With tickets for the 2021 Ascension Charity Classic presented by Emerson now on sale, tourney officials have announced a new charity event to be headlined by golf's greatest champion, Jack Nicklaus, and Missouri native and World Golf Hall of Famer Tom Watson: Legends Luncheon, taking place July 29 at Norwood Hills Country Club in Jennings.
On Sept. 11, Nicklaus also will return here to play nine holes with Watson and two others at the Legends Charity Challenge.
The ACC – an official PGA TOUR Champions event owned and operated by the St. Louis nonprofit Tournaments for Charity – will run from Sept. 6 to 12. The 54-hole stroke-play golf tourney features 78 PGA TOUR Champions professionals competing for a $2 million purse at Norwood Hills.
June Sees Pepsi Little People's Golf Championships
From June 21 to 23, the 48th annual Pepsi Little People's Golf Championships for boys and girls ages 3 to 18 will take place on two Quincy golf courses. It allows younger players to gain competitive experience; it also lets players and their families reconnect with old friends and make new ones.
During the international event's first 47 years, players have hailed from every state and almost 40 other nations. The event lets all players potentially qualify for or gain points for other major junior golf tourneys, among them the IMG Junior World, Future Champions Golf and PLAY Junior Golf Tour of Canada. Players also gain rankings from Junior Golf Scoreboard, Sagarin and Global Junior Golf Rankings.
Trophies go to the top three finishers in each division, with medals going to the fourth through sixth places in the 10-to-18 age divisions. All nontrophy winners ages 3 through 9 receive participation medals.
Ancillary events actually start June 20 with the annual Applebee's Parent-Child tourney, an optional nine-hole alternate-shot event featuring one adult or sibling and one Pepsi Little People's participant.
A practice-round day on June 21 for all participants includes the Applebee's Closest to the Pin contest on the ninth hole at Quincy's Westview Golf Course; its winner earns a $75 gift certificate from the Westview Pro Shop. After that comes the annual Family Celebration Picnic for all participants, families, friends and sponsors.
For entry forms and information on this year's Pepsi Little People's, visit its website, littlepeoplesgolf.com.