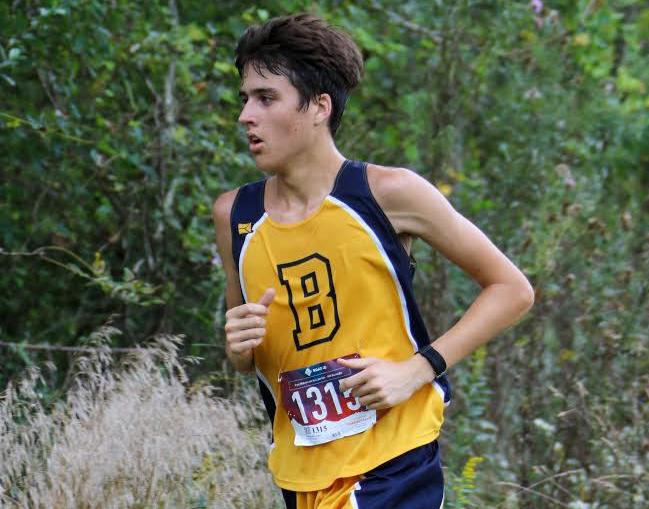 Nathaniel Doty couldn't pass another runner who had fallen.
The senior at Ladue's John Burroughs School was within reach of a top-25 finish at the Class 3 state championship cross-country meet in early November when he came across a competitor who was struggling to finish the race. Doty saw him fall once, then twice. Then instinct took over.
"I can't say there was too much thinking going on in that moment," Doty recalls. "After 17 minutes of hard running, the last thing that crosses your mind is any sort of thought."
Doty picked up Noah McMullen, a junior at Lutheran High School of St. Charles County, and helped him walk the final 10 to 20 meters to cross the finish line. In doing so, Doty dropped eight spots and finished 33rd overall – out of medal contention.
He doesn't regret a thing. His team feels the same.
"The reaction was overwhelmingly positive," says Doty, who admits to being unsure how his coach or his team would react. "It was kind of nice to know that losing a few places was the right thing to do."
John Burroughs cross-country coach Christine Bugnitz – who has served in that role for 26 years – notes that Doty's act of selflessness isn't common, especially from someone about to medal. But, she says, Doty helping a fellow runner wasn't surprising at all. It's just how he's wired.
"He has an incredible perspective on everything, and you saw it in action," Bugnitz says. "He truly didn't care – he knew the medal was on the line, and that just wasn't in the equation."
The coach describes long-distance runners as a different breed; she notes a sense of camaraderie is almost hardwired into the sport. Doty agrees.
"I think that there's two things: One is that it's a self-selecting group of people who enjoy the hurt a little bit [and] seeing how far they can go," Doty says. "Two is that running creates people like that. You'll find quickly that it's kind of hard to have a big ego in running because it'll swallow you, but it'll build you up in a way you didn't expect."
Although Doty didn't medal, Lutheran St. Charles presented him with a special plaque commemorating the act of character. As Doty jokingly puts it, "It's a lot bigger than a 25th-place medal!"
More than just sportsmanship prevailed for John Burroughs that day – the boys managed to finish fourth overall at the meet, while the girls won the state championship.
For Bugnitz, Doty's sacrifice made these achievements that much sweeter: "What he did was the icing on the cake."
John Burroughs School, 755 S. Price Road, St. Louis, 314-993-4040, jburroughs.org