As we work to navigate and understand race relations in our community due to the unrest currently being felt nationwide, we look to prominent Black leaders here for their perspectives and voices. Within our local athletic community, there are a few voices that currently stand out.
There's no athlete more revered in this town than National Baseball Hall of Famer Ozzie Smith. Smith is no stranger to racial inequities and says that in 1982, he was a passenger in a car driven by the equally admired Willie McGee when they were pulled over by the police without cause. When Smith asked the police officer what they had done to justify the stop, Smith says he vividly recalls the officer replying, "Nothing yet."
In another striking example of prejudice against local heroes, Brian Jordan, another star Cardinals player, was driving in a car with teammate Ray Lankford. Again, the two had done nothing wrong when they were pulled over by the police.
"I was trying to calm Ray down, and I just politely said, 'Excuse me, officer, can you tell me what we did wrong?'" Jordan recalls. "This was right after the Rodney King situation, so it was sort of scary situation. The officer never told me what we did wrong. He told me to get out of the car, and I was arrested. It was unbelievable. I asked him, 'Why are you arresting me?' And he looked at me and said, 'You're mouthy.'"
As many accounts as there are of people experiencing this sort of injustice, there are also examples of leading local athletes working to better race relations on a large scale. One such figure is former St. Louis Rams stalwart Aeneas Williams.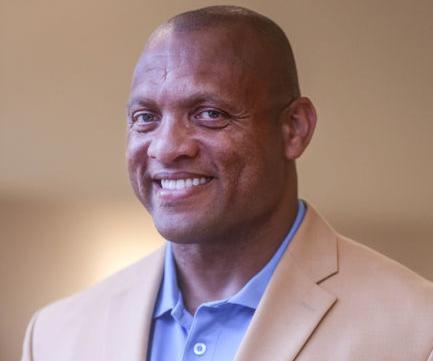 After the completion of his Pro Football Hall of Fame career, Williams became the founding pastor of The Spirit Church in Bridgeton. Six years ago, during a time of unrest in Ferguson, Williams worked to create spaces for a dialogue among protesters, and he's been doing the same for protests this summer. His message in both times has remained the same.
"Treat all our citizens as equals," Williams says. "If we could just abide by the Constitution, which says, 'We hold these truths to be self-evident, that all men are created equal, that they are endowed by their creator with certain unalienable rights.'"
Another athlete leader speaking out in this time is Lovie Smith, the first African American head coach to advance to the Super Bowl. Smith is also the first African American to be the head coach at the University of Illinois at Urbana-Champaign, his current position. A surprising ratio of note is that there are 130 Football Bowl Subdivision coaches, but only 14 of them are Black. "There's a responsibility that goes along with that," Smith says of his success.
Locally, though, you might know Smith best as the former defensive coordinator for the St. Louis Rams. Whatever locker room he's running, Smith is known to never raise his voice and maintains a consistent calming presence. At 62 years old, the Texas native says he has unfortunately encountered quite a bit racism throughout his life. He advises his players that if they want change, they must vote.
"Some things as a head coach, you must do," Smith says. "To me, [voting] is one of those social things that I think everybody should be involved in and do. I look at racism a little bit like I look at sin. Sin isn't going anywhere. You just have to deal with it."
Be the first to know
Get local news delivered to your inbox!