Port Wins Metropolitan Senior Amateur Championship
In a career of manifold highlights, St. Louis native Ellen Port keeps setting golf records.
Most recently, Port made history in August by becoming the first woman to win the two-day Metropolitan Senior Amateur Championship at Sunset Hills' Sunset Country Club, her home course. She shot the third-lowest total score in the championship's history, finishing 5-under with rounds of 72-67 for a 139 and tying the championship lead in birdies, with nine.
"It was fun to play well on home track, beat 'Old Man Par' and take a few men down with him," Port says.
Of the George F. Meyer Trophy, which now has her name etched on it, the seven-time USGA champion and 16-time Metropolitan Women's Amateur champion remarks: "That's a beautiful trophy, and like I said in my speech, that trophy doesn't know if it's a man or a woman holding it – it just knows it's someone who loves golf.
"I know that Rick Meyer's father, who donated it, would be tickled because I love this game and the people who play it."
Fromuth Keeps Landing Laurels
St. Joseph's Academy golf coach Carol Fromuth will be inducted into the St. Louis Sports Hall of Fame in one month, on Nov. 8.
St. Joseph's Angels won the Class 4 state tournament last fall to extend their state record with a 10th title. In winning, the Angels did something no other Missouri girls golf team has ever managed: capturing their fifth straight crown, the first four of which came in Class 2 before the state expanded classes last year.
Earlier this year, in January, the Coaches Association of the National Federation of State High School Associations named Fromuth its 2019-20 coach of the year for girls golf. Similarly this year, the Missouri State High School Activities Association named her its coach of the year.
Record Attendees Flock to New Tourney …
The three-day mid-September Ascension Charity Classic set an attendance record for a first-time tourney of the PGA TOUR Champions, with a total of 51,000 fans viewing the senior golfers' play at Jennings' Norwood Hills Country Club.
On the second round, the crowd hit 18,000, while 17,000 attended the last round – the largest attendance of the season on the senior tour.
Norwood Hills will host the tourney for four years.
And Toms Tops That New Tourney
David Toms beat Dicky Pride with a par on the first hole of a playoff at the Ascension Charity Classic on Norwood Hills' tree-lined West Course.
Notably, on that course, Ben Hogan won the 1948 PGA Championship for his second major title.
"It was tough to play – you had to pay attention to what you were doing out there," Toms says. "You had to hit your second shots in the right place to even have an attempt at a putt. So I think, first year, man, it went really well. It was supported by the community – fans came out [and] the weather was tremendous. A little bit breezy, but this time of year, you'll take this every day."
Migdal, Straub Qualify for U.S. Mid-Am
In August, Sam Migdal and Eric Straub earned the two qualifying spots to the 40th U.S. Mid-Amateur at the Metropolitan Amateur Golf Association's qualifier at Marion, Illinois' Kokopelli Golf Club.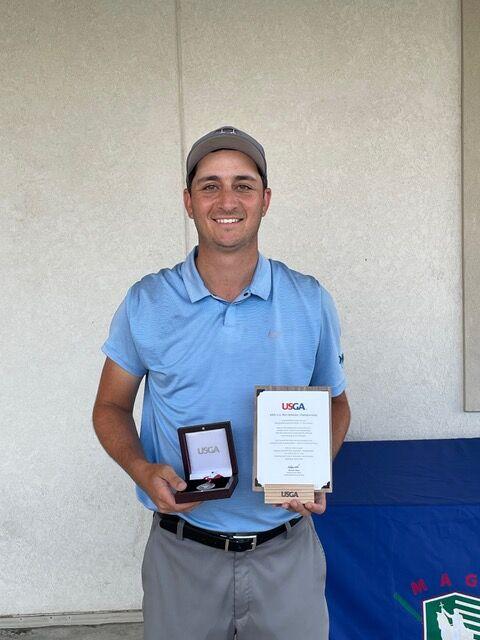 Migdal took low-scorer honors and claimed the first qualifying spot after a 5-under 66. He previously qualified for the U.S. Mid-Am in 2018, when the championship took place at North Carolina's Charlotte Country Club.
Straub earned the second qualifying spot after a three-man playoff, chipping in for an eagle on the second playoff hole after shooting a 3-under 68.
The 40th U.S. Mid-Am took place at Sankaty Head Golf Club in Siasconset, Massachusetts, just after press time, from Sept. 25 to 30.
U.S. Amateur
Max Kreikemeier reached match play in his first U.S. Amateur, tying for 20th in stroke play.
In August, he, Christopher Ferris and Zach Shirley all played in the 121st U.S. Amateur at Pennsylvania's Oakmont Country Club, having qualified for it in a two-day event at Eureka's Aberdeen Golf Club.
In the Round of 64, Kreikemeier lost 2 and 1 to Argentina's Mateo Fernández de Oliveira, who birdied on Nos. 4 and 6 and never lost that advantage.
Ferris and Shirley missed the cut. Ferris shot a 17-over 157 in his two rounds of stroke play, while Shirley went 19 over, with a 159.