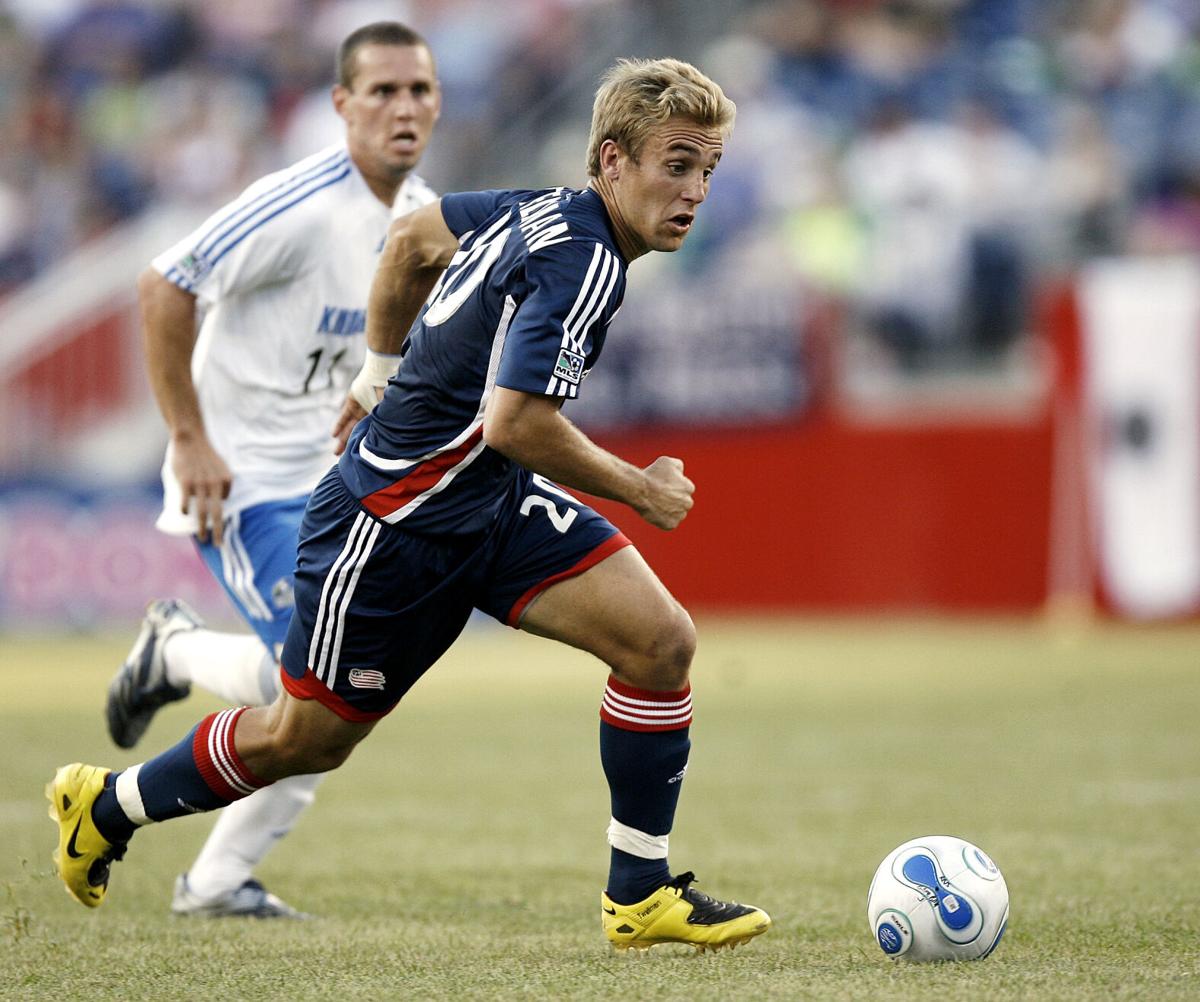 Taylor Twellman might be the most compelling soccer figure in St. Louis' history. Although he might be outranked statistically, if you put the whole package together – on-field performance with off-field and on-camera presence – he is No. 1.
That's not to say his athleticism isn't flat out amazing. We're talking about a young man who played four total sports in high school. In the fall, when he wasn't scoring goals in soccer, he was kicking field goals in football. He also played some basketball as a point guard in the winter, and he was so gifted in baseball, he was offered a contract by the Kansas City Royals. Did I mention he can also really hit a golf ball?
Twellman was a dominating goal-scorer. He scored 115 goals while playing for St. Louis University High School, including a stunning 47 in one season alone. In his first year at the University of Maryland in College Park, he was an All-American with 16 goals. In his first year in MLS, Twellman scored 23 goals. Three years later, he was the MVP of the league, with 17 goals. Concussions cut his career a little short. However, Twellman became the youngest and fastest player to reach 100 goals. His 101 career goals still rank fifth all-time.
Twellman went on to become the face and voice of soccer on national television. An instant hit, he later signed a whopping eight-year contract. If there's any soccer event televised on ESPN, Twellman's a part of the coverage. He's candid and captivating on the air. When you see him on the screen, you don't change the channel. We recently sat down to talk life – and soccer.
Any doubt in your mind that MLS will be a big hit in our town?
No. I know the DeWitts are very interested because I think they know the younger fan wants to go to a soccer game. They don't want to sit through three hours of a baseball game. I think this thing is going to throw a huge wrinkle into the St. Louis sports landscape. There are few if any cities in the United States where soccer is in the fabric of the city from 1930 on. It's literally going to transform the city of St. Louis. St. Louis is behind the eight ball, and the Taylor family is using soccer to grow the city.
You had to deal with some serious concussion issues. How's your health now?
It's good – [but] not great all the time. I have had to make some real sacrifices in my life to make myself feel better. I haven't been able to really work out in 12 years. This is all part of it. My platform on this earth and with my foundation, [Think Taylor,] is to help kids take ownership of their brains and their own education around that.
Do you think it's a good idea to restrict head balls in youth soccer?
Great idea. Our brains don't develop as males till we are 16 and as females till they are 14. How could you ever put someone in harm's way when you don't have to? When I went to Barcelona, I never saw one kid head a ball the entire time. We are talking 11-, 12- and 13-year-olds.
If there were no soccer in this world, you would have done what?
Played golf.
What would you give to be 25 years old and scoring goals again?
The league has grown big-time, and I literally just missed it – just missed it. When I see the stadiums being built [and] the money being made, it's so great. You are going to have a $300 million stadium in St. Louis. I am looking forward to broadcasting that first game in St. Louis. I just don't look back very often.
Best player ever from St. Louis?
Tim Twellman [Taylor's dad].
Everybody in the Twellman family basically became a great soccer player. Can you describe what the games were like in the backyard?
World Cup 2026.
What famous person were you surprised that they knew who you were?
Paula Abdul.
What happens first – St. Louis CITY SC wins a championship or the U.S. wins a World Cup?
St. Louis CITY.
Sum up your life in soccer.
It was my destiny. I probably had a bigger love for baseball, and I know I had a bigger love for golf. Yet I was destined to do what I did and play at a high level. I was destined to have concussions. I was destined to use my platform to help educate others. And the only way I was going to do any of this was to play soccer. This was my destiny.