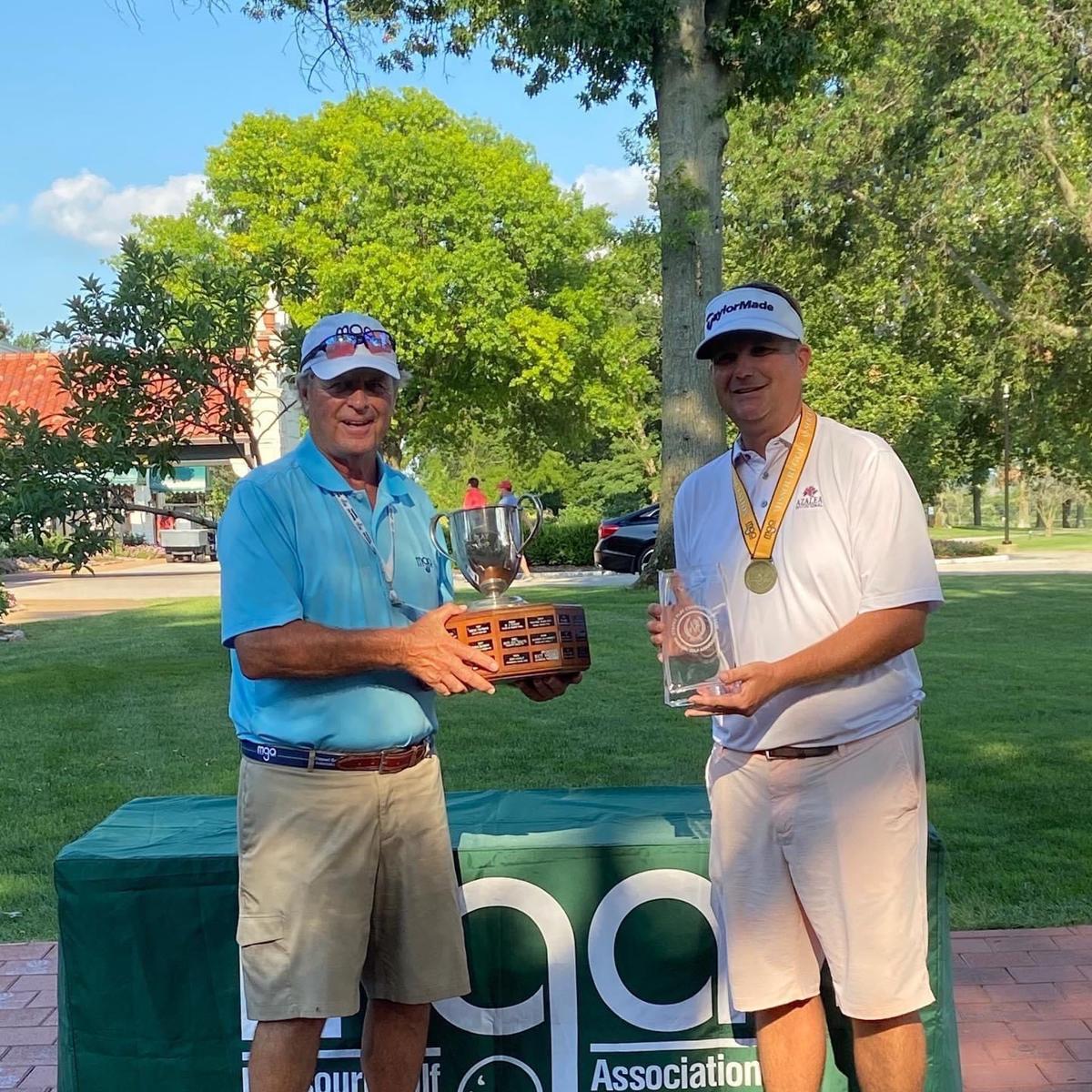 Whitfield Earns Local PGA Pro Championship
Jeff Whitfield of Weldon Springs captured the recent Gateway Senior PGA Professional Championship at Normandy's Glen Echo Country Club, placing him among 264 PGA pros to compete in the 32nd Senior PGA Professional Championship from Oct. 15 to 18 at the PGA Golf Club in Port St. Lucie, Florida.
Whitfield turned in a winning total of 3 under-par-139 to capture the Normandy championship. Bob Gaus of St. Louis tied him with a score of 139, but lost after the first playoff hole. Joining Whitfield and Gaus in the Florida championship were Jimmy Bals and Rob Sedorcek, both of St. Louis.
Started in 1989, the Senior PGA Professional Championship takes as its model the PGA Professional Championship, with a field of 50-and-older senior PGA professionals; this year, such players advanced through 41 Section Championships conducted from June through August.
The top 35 finishers in the national championship earn a berth in the 82nd KitchenAid Senior PGA Championship, taking place next May 27 to 30 at Southern Hills Country Club in Tulsa, Oklahoma.
Giesedieck Men's Championship Goes to Landry
Jason Landry of Chesterfield won the 101st Giesedieck Men's Championship in 20 holes over Crimson Callahan at Weldon Spring's Persimmon Woods Golf Club.
In total, 83 players teed up at the tourney, which the St. Louis District Golf Association sponsors. Callahan, a senior at Springfield's Missouri State University, ranked as top seed; Landry, the No. 11 seed.
In the semifinals, Callahan defeated Drew Pranger in 19 holes. Landry stopped Missouri State sophomore Max Kreikeimer of Wildwood 2 and 1.
In the final match, the early lead alternated. Callahan chipped in an eagle 3 on the par 5 eighth hole and then jumped to a four-shot advantage at the 11th. Landry birdied the 13th, though, and chipped in for a birdie on the 14th, before winning the 15th – leaving him one hole down to Callahan.
Still one hole down on the 18th, both players reached the par 5 in two, with Callahan making a great approach shot from the deep rough. Landry made a great two-putt birdie, while Callahan three-putted to take them to sudden death.
Landry then won with a birdie on the 20th, winning the championship.
Thirdsies: Berkmeyer Again Nabs Stroke Play Championship
Skip Berkmeyer of Town and Country recently won the 2020 Missouri Stroke Play Championship for the third time, having previously captured the title in 2013 and 2016.
The 23rd edition of the four-round event took place at Norwood Hills Country Club in Jennings.
Berkmeyer finished with a 9-under par score of 271. He shot rounds of 68, 71, 69 and 63. Finishing second was Ryan Sullivan of Arnold at 275.
Earlier this summer, Berkmeyer reached the semifinals in the Missouri Amateur at Ozarks National Golf Course in Hollister, and last year, the St. Louis Sports Hall of Fame inducted him.
Ferris Aces Metropolitan Amateur
Christopher Ferris, a University of Missouri-St. Louis senior, won the 30th Metropolitan Amateur Championship in spectacular fashion.
Eight shots behind the leader, Chris Kovach, heading into the tourney's final round, Ferris occupied an ever-distant second place. In the second round of play, Kovach shredded Meadowbrook Country Club in Ballwin; tallying 13 birdies and five bogeys over his first 36-holes, he tied the tourney's 36-hole scoring record – although that remarkable pace faltered in the final round, when he posted a 4-over 76.
After an opening 70 and a second-round 74, Ferris was even-par but still far from Kovach. Closing the front nine with four birdies on the fifth through eighth holes, he gained six shots on Kovach.
Out in 31, Ferris, a Lindbergh High School graduate, mellowed on the back nine needing to make up three shots as they stood on the 15th tee. He carded birdies on the 15th and 17th holes, while Kovach dropped a shot on the par-3 17th, leaving the duo tied at the 18th tee.
Under pressure, Kovach made a double-bogey six to Ferris' par, essentially handing the trophy to his opponent.
COVID-19 Postpones HOF Induction
Chesterfield's Scott Thomas – currently the golf coach for men and women at Town and Country's Maryville University – will have to wait till 2021 to be inducted into the Missouri Golf Association's Hall of Fame in Jefferson City because of concerns over the novel coronavirus.