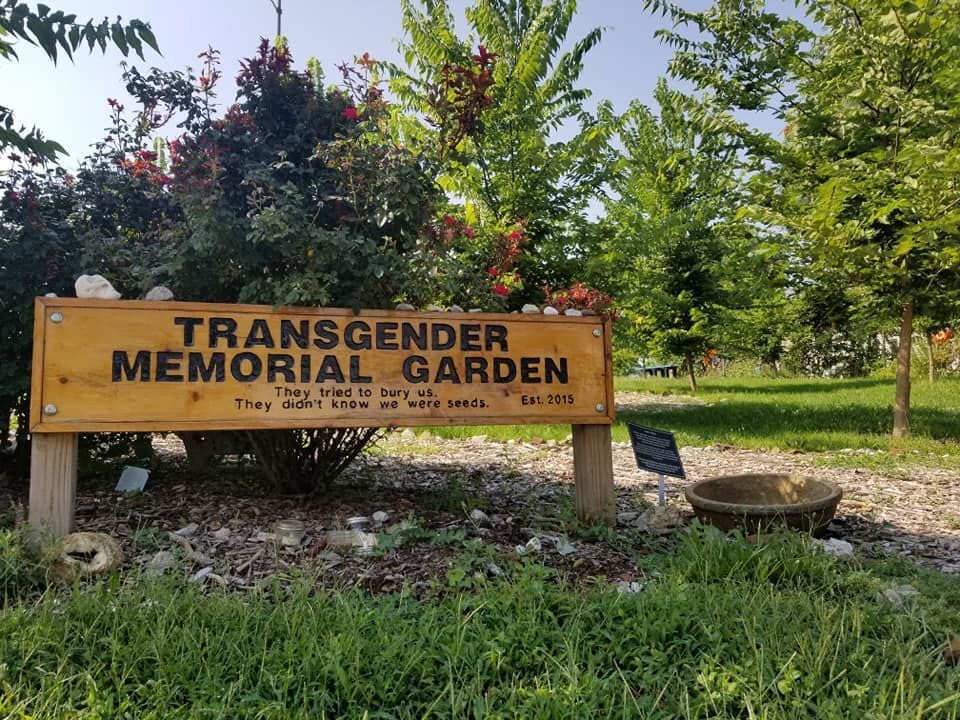 The first transgender memorial in the U.S. – and only the second of its kind in the world – can be found here in St. Louis. In March, the Metro Trans Umbrella Group acquired the Transgender Memorial Garden, which honors transgender individuals, with motivations to use the space in a way that further benefits the community.
"[The memorial] is a place of grief and hope," says Sayer Johnson, the group's executive director and co-founder. "It's a small slice of earth dedicated to our survival and resilience."
Located in the Grove business district, the wedge of land on which the memorial lies provides a place for individuals to reflect on the community and their personal journeys.
In 2015, members of the trans community and allies began the makeover of a vacant lot to create a park that would memorialize transgender people who have been killed for their gender expression across the country. The aim, according to a St. Louis Public Radio article on local activist Leon Braxton, who spearheaded the initiative, was to build a space that offered solace and allowed people reprieve from living in fear.
Construction of the memorial began in 2015, with community contributors pitching in to transform the land into a park. In total, 34 trees, both hackberry and redbud varietals, cover the park – 24 of which came from the St. Louis Board of Aldermen's president, Lewis Reed, through the Plant4PeaceSTL initiative. Monetary donations supplied materials for a butterfly garden, and benches were donated by St. Louis' #Boom Magazine and local counselor Cindy Betz. A winding path through the park completes the serene setting.
"This spot is important to so many humans," Johnson says. "We need folks to go out in small groups and weed. We also need financial resources to maintain and enhance the land. We are doing our best to secure the land for future generations."
The garden serves renewed purpose through the group, which uses the space to host community events. However, the garden's future is uncertain as financial sourcing for nonprofits, particularly through the pandemic, proves challenging.
The memorial's entrance sign, crafted by garden director Jarek Steele, bears a quote by Greek poet Dinos Christianopoulos that serves as a reminder of the power, though, in community strength. "They tried to bury us," it says. "They didn't know we were seeds."
To contribute to the Metro Trans Umbrella Group and the Transgender Memorial Garden or to learn more about them, visit stlmetrotrans.org.
Transgender Memorial Garden, 1471 S. Vandeventer Ave., St. Louis, stlmetrotrans.org/#memorialgarden